New House/Apartment Checklists (131+ Things to Buy!)
Moving into a home of your own for the first time is exciting and terrifying. Your parents have built up their supply of essential and non-essential items over the years, but you are moving into a blank canvas.
Unless you are on an unlimited budget, you will need to carefully choose between essential and nice-to-have items to live comfortably in your new home.
What are the household items needed for new homes?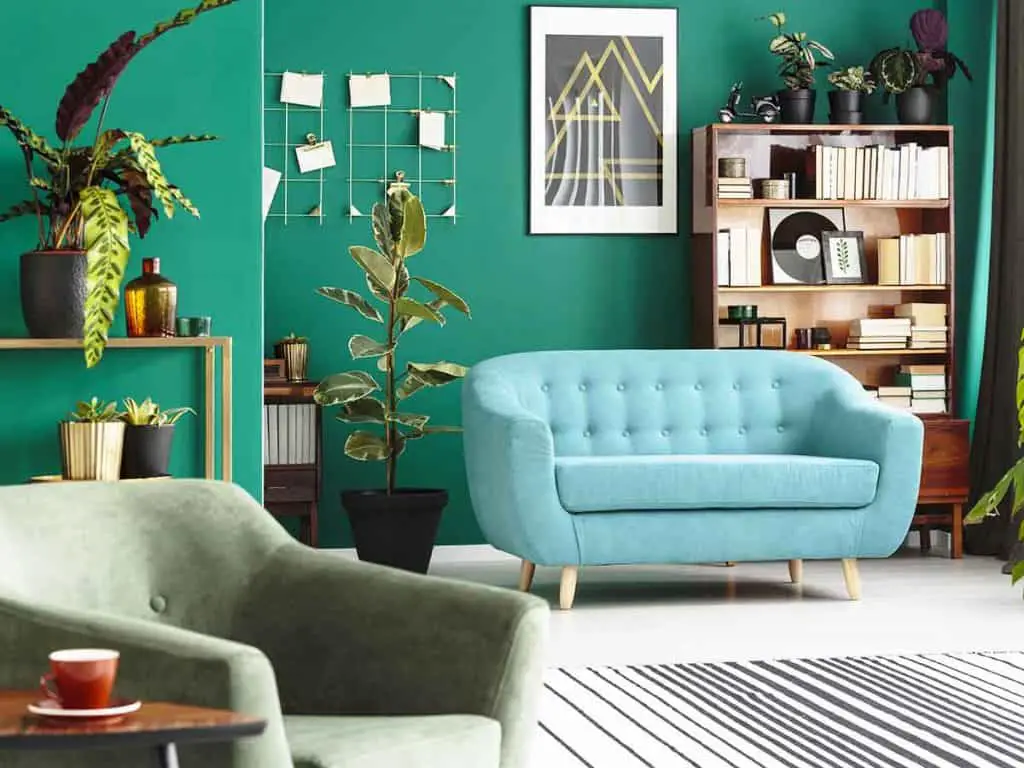 What to Buy for a Living Room?
The living room is where you spend your wide-awake hours, entertain your guests, and sometimes the living room doubles as working and exercise space.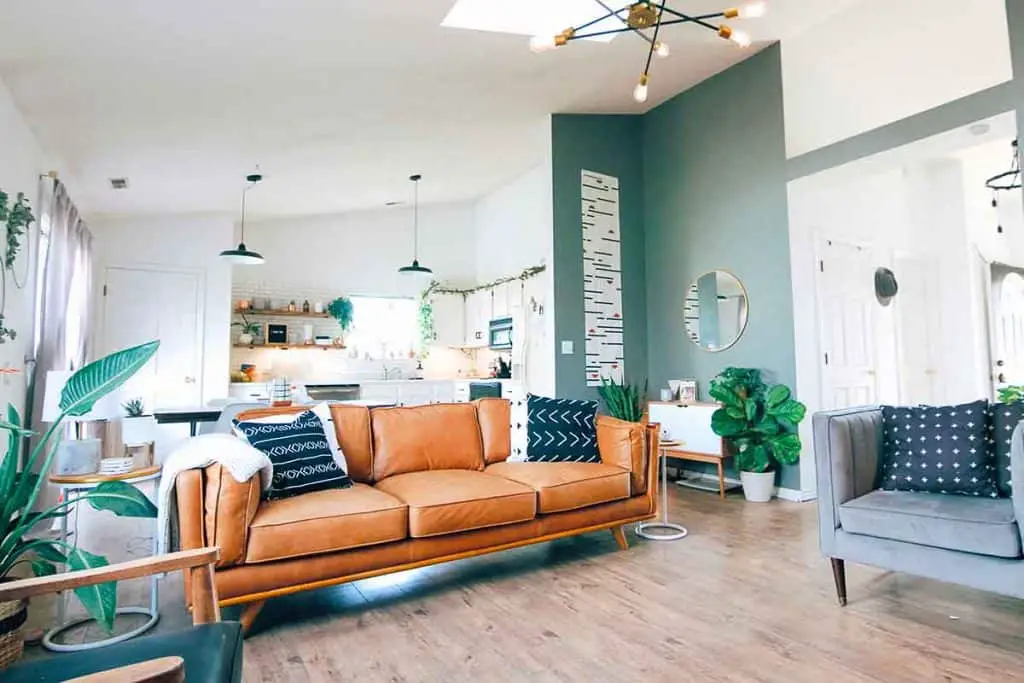 Essential Things for a Living Room
The essential things to buy for a living room include:
Something to sit on.
Things to store your stuff.
Places to display your stuff.
Seating Arrangements
You may be young and flexible and happy with a couple of bean bags, but your older relatives and friends will find that difficult.
Do you really want your grandmother to need a lengthy session with a physiotherapist before visiting you?
Possible seating arrangements include traditional upholstered couches and chairs, or you can invest in one couch with some extra seating for guests, such as cushions on top of storage chests or dining room chairs pressed into service, as necessary.
You can buy new, second hand or get creative with upcycling some pallets to provide comfortable seating to get you started.
Most people agree that the couch or sofa is the essential item around which the living room color scheme and the rest of the room revolves.
Storage and Display
You have stuff – books, laptops, ornamental items, keepsakes, and whatever else makes you happy.
Some of that stuff will live with you in your living room. If you choose to have a TV or watch Netflix on your laptop, you need somewhere to stand it.
What furniture you need for storage and display depends on how much and what type of stuff you have or intend to acquire.
Typical living room furniture (not all of which is essential for you) includes:
Bookcases – useful for storage and display of more than books.
Low cupboards – storage and display space.
Coffee tables – somewhere to put your current magazine and cup of coffee.
Mid to high cupboards – valuable storage space for board games, drinking glasses, and general stuff.
Cube units – you can mix and match display and storage.
Optional Items for Your Living Room
What you like and what you can afford when you move in will dictate how much of this stuff is appropriate, but other things to buy for a living room include:
Television, and a TV stand or wall mount.
Radio/music player/digital assistant.
Extra chairs and recliners.
Plants.
Rugs.
Side tables.
Bar carts.
Candles.
Throws.
Cushions.
Side and standard lamps.
Magazine racks.
Wastepaper bins.
Desk and chair – standalone or fold-up versions if space is limited.
Wall-mounted shelves.
Footstools with storage.
Clock.
Curtains and lampshades.
Drink's coasters.
Things to Buy for a Living Room as Gifts
Obviously, friends and relatives can donate money towards more expensive items, but you often want to give a small, thoughtful gift to keep or brighten someone's day.
Lovely housewarming gifts for the living room include:
Household plant in a beautiful pot – you can pick it for air quality, feng shui, or just as a lovely addition to any home.
Flowers and a vase – fresh flowers lift the spirits, and an artistic vase will see years of use.
Fruit and a ceramic bowl – a practical and charming housewarming gift.
Photograph frames – include a special photograph memory if appropriate.
Bar cart and a bottle of champagne or wine and glasses.
What About Dining?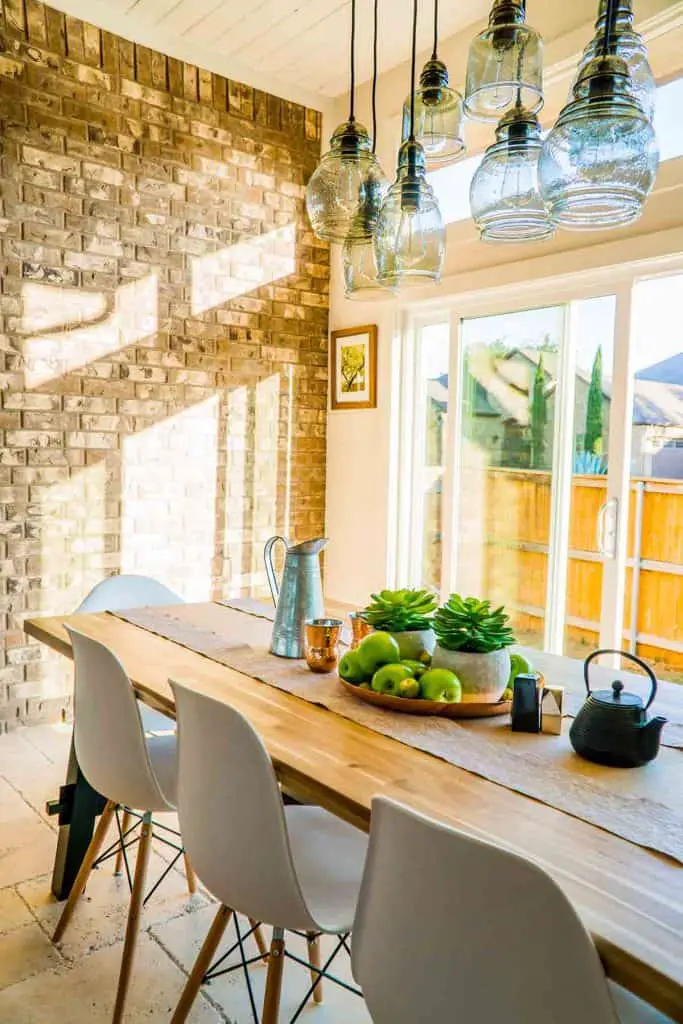 Modern living does not always include a dining table and chairs, but civilized living and inviting friends for a meal requires somewhere to sit and eat comfortably.
Your dining area may be a separate room or part of the kitchen or living room. You can get space-saving tables and chairs that condense into a neat package when not in use or a glorious full dining table and chairs combination.
A table can serve as an office desk or craft space when not in use – a bar cart loaded up with essential supplies is a straightforward way to change function.
The other dining essentials include dishes and cutlery. Optional extras include table linen and placemats.
If you have a separate dining room, sideboards or dressers are helpful storage spaces for crockery, cutlery, and table linen.
Gift Ideas for a New Home: Dining
It is worth checking with the recipient what they already have for dining, but safe gift items include:
Placemats – you can't have too many.
Tablecloths – find out if it is a rectangular or circular table.
Cocktail shaker and glasses – not essential but add a fun element.
Table centerpiece – a candle display works best for most occasions.
Salad bowl and servers.
Chocolate fondue.
Cheeseboard with a selection of cheeses and a bottle of red wine.
Things to Buy for a New Kitchen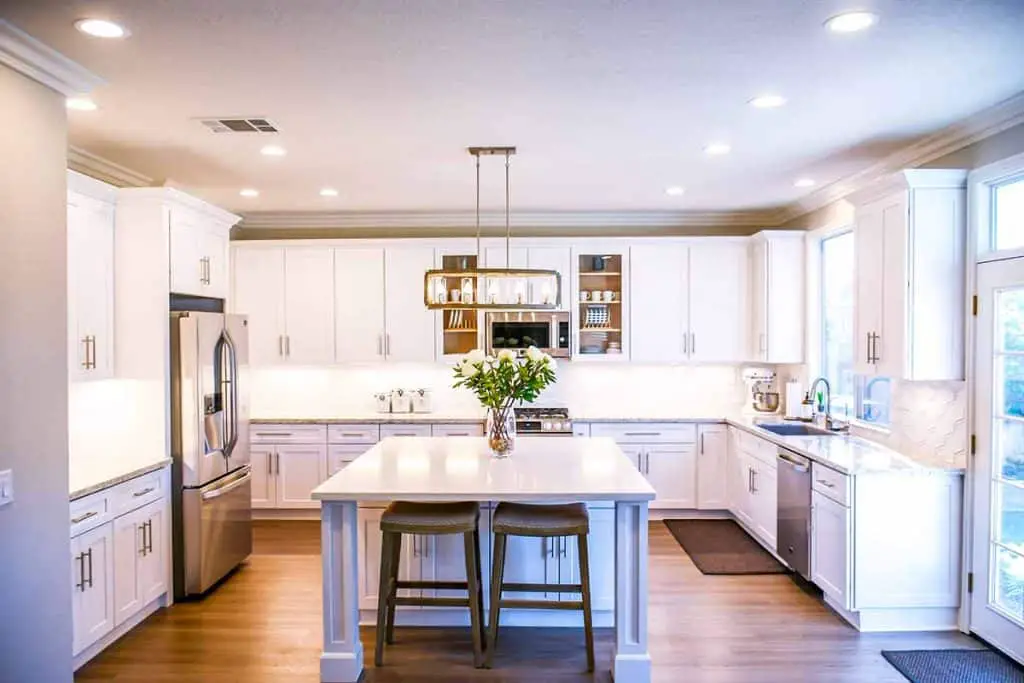 Essential things to buy for a new apartment kitchen depend on the existing kitchen and if appliances come with the house.
The complete list of kitchen appliances for a new house includes big ticket and small ticket items:
Fridge/Freezer – independent or combined.
Oven/grill/hob – standalone or in combination.
Microwave.
Washing machine/Tumble drier – alone or as a combination.
Dishwasher.
Food processor – one machine that does it all or a selection of smaller appliances.
Nespresso machine or Espresso machine – life is too short to drink bad coffee.
Kettle.
Toaster/hot sandwich maker/waffle maker.
Electric knife sharpener unless you have chef quality skills with a knife steel.
Juicer or blender – fast nutrition for busy people.
Slow cooker.
Rice cooker.
The must-have home appliances essential for you will differ depending on what you cook and how you use your kitchen.
Other things to buy for a new kitchen:
Tea towels.
Washing cloths, sponges, scrubbers, and dish soap.
Potholders – insulation for your hands and work surfaces.
Pots, pans, and casserole dishes.
Kitchen tools – slotted spoons, wooden spoons, fish slice, garlic press, tongs, and as many other tools and gadgets you can dream up.
Knives and a block for storage.
Food storage boxes.
Consumables – foil, paper kitchen towel, and cling wrap.
Washing up basin and drainage cart.
Chopping boards.
Kitchen cart.
These items may be small or portable, but they should complement the kitchen color scheme.
Best Kitchen Gifts for a New Home
The new homeowner will probably cover their essential items for a new house kitchen, so you are best to go with cute and slightly frivolous gifts.
That does not mean they can't be practical and useful but think laterally.
Wipe clean notice board – you can attach it to the fridge with magnets or wall mount for essential shopping lists.
Utensil's pot – handy to keep those wooden spoons and other cooking essentials in one place and next to the hob.
Interesting kitchen gadgets – melon baller, kitchen timer, and decorative measuring cups and spoons are all potential gifts.
Cute set of oven gloves and tea towels.
Housewarming selection of hot beverages – tea, coffee, and hot chocolate. An espresso maker is versatile, capable of making an assortment of drinks.
Growing herbs for the windowsill.
Engraved chopping board.
Recipe or cookbook holder – space-saving.
His and her aprons and a chef's hat for a fun gift.
Things to Buy for a Bedroom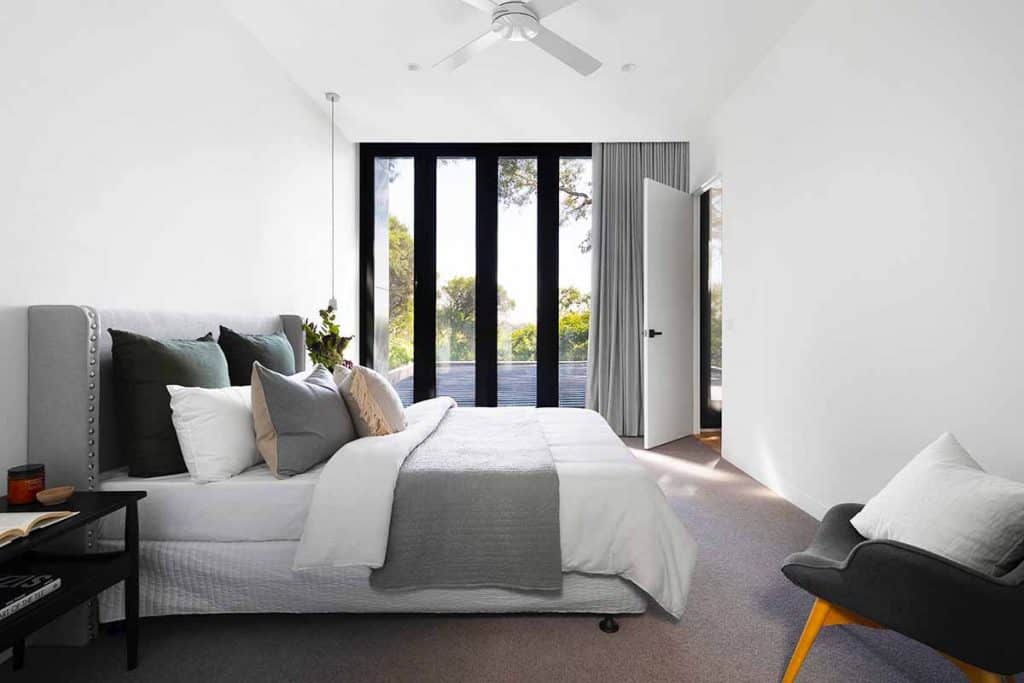 Top of the things to buy for a bedroom is a bed – people on a budget get creative with pallets and mattresses, but your sleep is vital for your wellbeing.
The best advice is to invest in the best quality mattress. It is nice to have a beautiful bed frame, but the mattress is where all the action takes place, and you spend a third of your life in bed.
Essential bedroom items:
Bed frame – lots of choices, and you can get storage underneath.
Mattress – invest the bulk of your budget in this item, and your back will thank you.
Pillows, duvet, and blankets – quantity and type depending on sleeping preference.
Bed linen – at least two sets (one on and one in the wash), but three is better.
Bedside table – possibly with drawers for underwear and other items.
Furniture – if you don't have built-in clothes storage, you need furniture to provide hanging and drawer space.
Door draft stopper – to block draft, noise, light, and smell.
Optional extras:
Colorful throws and cushions.
Bedside lamps.
Rugs.
Hot water bottles or electric blankets.
Bedroom kettle and tea set for peaceful early morning moments.
Pictures or other artworks.
Bedroom chairs.
Humidifier – if you live in a dry climate, a humidifier makes breathing easier.
Excellent bedroom gift items for a new house:
Scented drawer liners.
Candles or scented diffusers.
House plants – living plants promote peaceful thoughts.
Hot water bottle with a cover.
Shoe rack – shoes get everywhere, and a place for them helps free up other space.
Always try to tie in with the bedroom color scheme when buying furniture or accessories for the bedroom.
Things to Buy for a Bathroom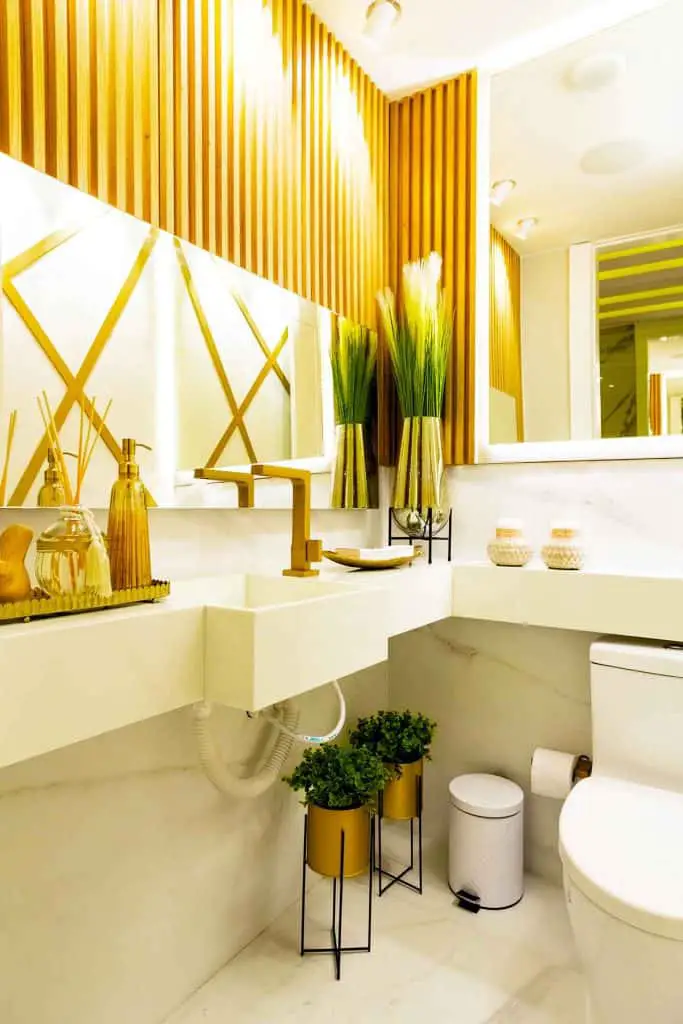 You may want to remodel the bathroom and incorporate a new color scheme, but the essential equipment (bath, shower, washbasin, etc.) is in place.
The essential supplies for the bathroom include:
Towels – bath, hand, and face cloths.
Bathmats.
Cleaning materials.
Waste bin with a lid.
Laundry basket.
Mirror.
Storage – a bathroom caddy of some kind to keep your lotions and potions in one place.
Optional extras:
A showerproof Bluetooth speaker – never miss a phone call and enjoy singing in the bath.
Dehumidifier – if you extract the moisture from your bathroom, it will save you from the misery of mold and dampness.
Best housewarming gifts for the bathroom:
Ornamental air plants – these plants love bathrooms and get all the moisture they need from moist air.
Ornaments with a beach theme -shells and ships.
Luxury bath products.
Things to Buy for a Garage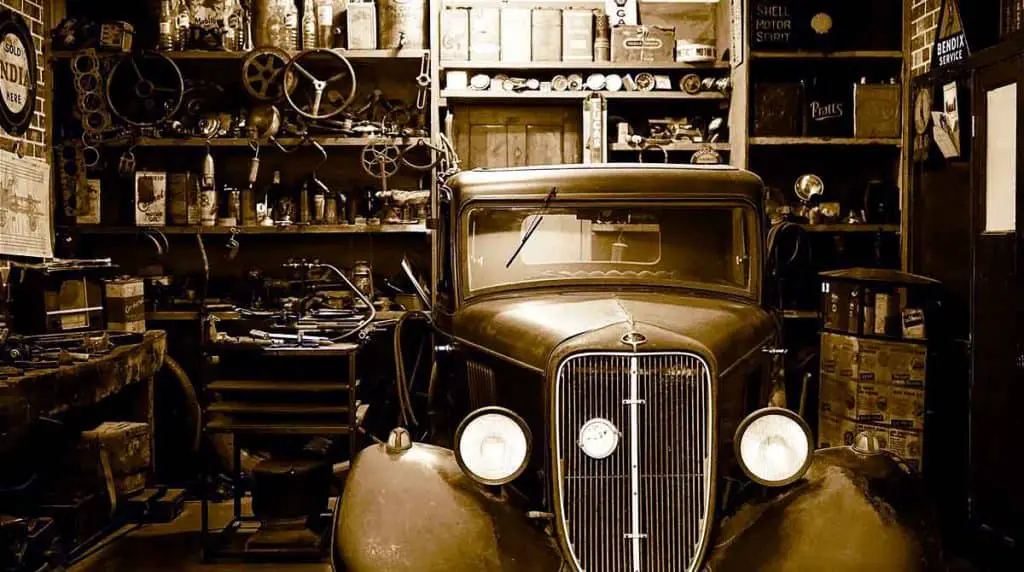 The garage tends to be the place where you store items that don't fit inside your home, like seasonal decorations and sports equipment.
The best things to buy for a garage include industrial shelving and an essentials tools kit.
Essential tools for a garage include:
Hammers.
Wrenches.
Screwdrivers: Philips, flathead, and electric screwdrivers.
Hex keys.
Saws.
Tape measures.
Adhesives: Glues for plastics, wood, metal, and masonry.
Toolbox.
Power tools.
Shop vac.
Storage racks.
In time you will use your garage to store tools for yard and garden maintenance unless you opt to buy an additional shed.
You may use your garage as an extension of your kitchen and utility room with a chest freezer and laundry equipment.
Your garage will fill up with time, and when considering household items needed for new homes, equipping the garage is not an immediate need.
Things to Buy for a Yard
Most people moving to a new home concentrate on fitting out the house's interior, and the yard comes later.
But maintaining your yard is necessary, and you will soon need to consider:
Trash storage – you might want to separate recyclables, and you will want to protect your trash from pests and vermin.
Yard brush and snow shovel – winter is always coming.
Garden tools – generally letting nature grow unchecked results in future problems.
Hand pruners.
Pressure washer.
Leaf blower/collector – depending on fallen leaves being an issue.
Machete – if you have a large, overgrown yard to clear.
Barbecue – who doesn't love grilling outside.
Pizza/bread oven – if you have a passion for wood-fired pizza.
Outdoor seating and tables.
When you get set up and turn your attention to the yard, you may want to add pots for plants, children's play equipment, and perhaps a hot tub for a relaxing evening under the stars.
Best Appliances for a New Home
A new house appliances checklist is never completely comprehensive because there are always more gadgets on the market.
The essential appliances revolve around food preparation, entertainment, and keeping your new home clean.
Essential Appliances Checklist
Vacuum cleaner – robot or human-operated you need something to lift the dirt. Some models also wash carpets and soft furnishings.
Laundry equipment – washing machine and tumble drier. You can dispense with the tumble drier if you get enough dry weather and have space for a clothesline.
Cooking equipment – oven, grill, hob, food processor, kettle, microwave, fridge, freezer.
Entertainment – TV, radio, and playing music.
Optional Appliances Checklist
Steam cleaner – fast and hygienic for hard and soft surfaces, superb for bathroom and kitchen cleaning.
Coffee machine – Nespresso or espresso.
Dishwasher – not wholly essential but a nice-to-have.
Optional kitchen equipment – slow cooker, rice cooker, stick blender, juicer.
Dehumidifier – makes a big difference to keeping your home free from mold and condensation, saving you time and money on maintenance.
Humidifier – depends on where you live, but healthy living requires some moisture in the air. A whole-house humidifier is optional but more effective in maintaining the indoor humidity at your desired level.
Pressure washer – useful for cleaning down yards and walls.
Weed gun – chemical-free way of stopping weeds growing in your yard.
Digital assistant like Alexa or Google – does more than internet searching, you can use it to switch on lights, play music and act as a PA.
Air conditioning unit, cooling fans, heating appliances – useful to increase the comfort levels in your home.
Electric iron – a small device but vital to keep you looking good.
Best Gifts for a New Home
Housewarming gifts fall into the following categories:
Living plants and fresh flowers – a wide choice to suit all budgets.
Scented air – candles, diffusers, and oil dispersers for a fragrant gift.
Consumable – gift baskets of spices, beverages, fruit, gourmet food, and wines.
Practical – kitchen gadgets, bed, and table linen.
Decorative – pictures, ceramics, and glass ornaments.
Personal – engraved items, framed photographs, and printed cushion covers.
Luxury – gourmet chocolates, champagne, and beauty products.
Cute and quirky – a toilet brush in the shape of an elephant, a doormat with a cheeky message, a gong for dinner is served, or a cookie jar that oinks when you lift the lid.
Moving into a new home is life-changing and fun. The best housewarming gifts add to that experience.
Finally – Don't Stress and Relax
Ideally, you have everything you need for your new home the day you move in. Life isn't like that, and you find out what you need as you go along.
At worse, you might have a few weeks sleeping on the floor or a borrowed air mattress, or make do with garden furniture while you get sorted. These are the experiences that make great stories to tell your grandchildren about how you coped.
Besides, if you forget something or suddenly decide you need a rice cooker in your life, you can easily find it online, new or slightly used.
The essential thing to take to your new home is happiness and an optimistic outlook – everything else is just stuff.