Bathroom Color Guide: 10 Practical Tips Top Designers Use
The best color for your bathroom depends on personal taste, room size, and if you are starting with a blank canvas or fitting around existing tiling and fittings.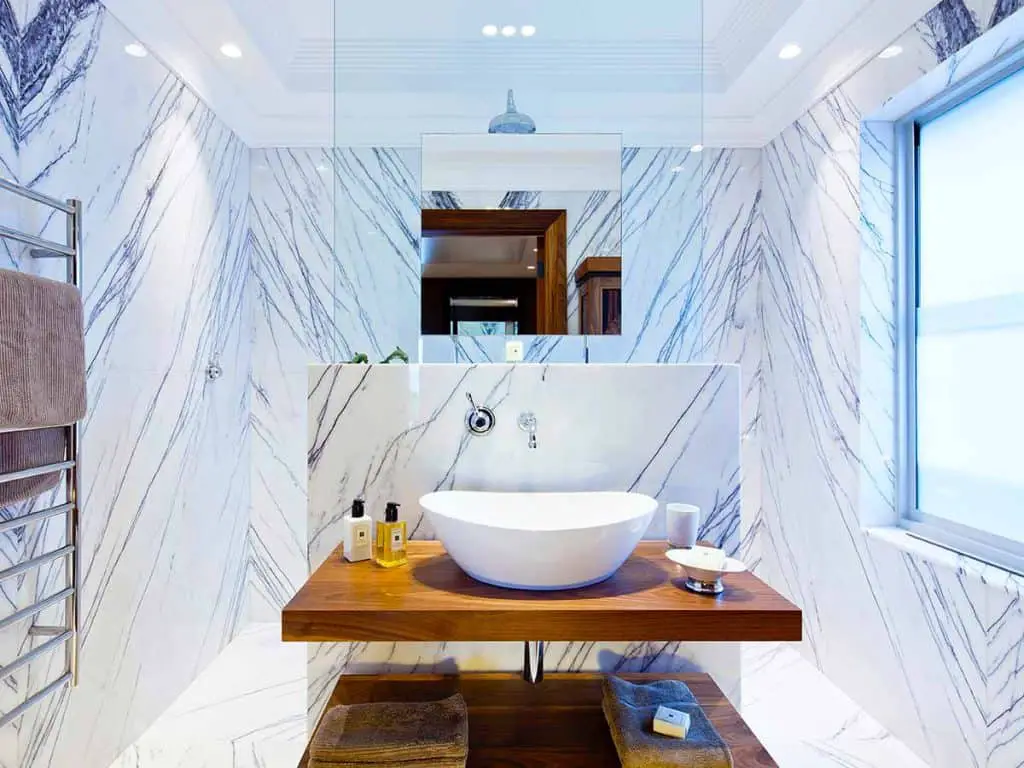 What Affects Your Bathroom Color Scheme Decision?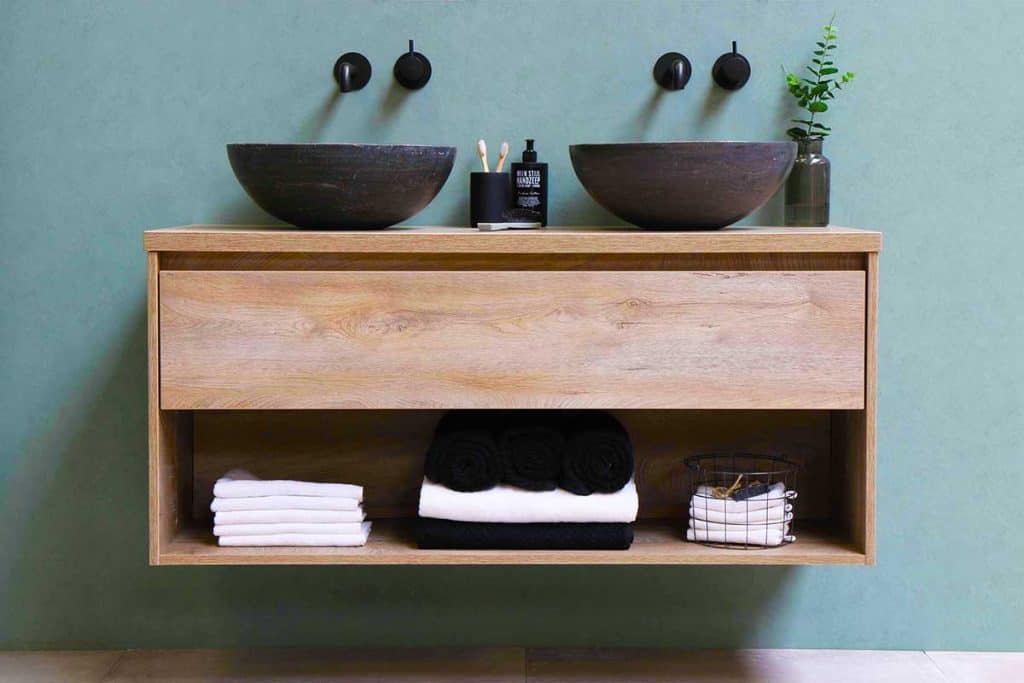 The color in the bathroom comes from:
Sink, toilet, shower tray, and bath are typically white, but you get colored and patterned versions.
Tiles, paneling, walls, and ceiling.
Flooring.
Towels and mats.
Other furniture and bathroom supplies.
Harmonious, calm, and cool colors work best in small spaces, but you can follow the rule or break them when it comes to color.
Provided the result pleases you, then anything goes, and you can choose bathroom paint colors to match your style.
Function First
A bathroom is a functional room and has an essential role to play in personal hygiene. Before thinking about choosing colors and accessories, the bathroom layout and fittings are about function.
The functional nature of the bathroom dictates where the waterproof surfaces are and what decorative touches are possible.
White bathroom wares are practical because:
You can see if they are clean.
You can change the color scheme without changing the fittings.
It is more appealing to potential home buyers.
Colored bathroom suites may appeal, but they dictate the color palette as you need your tiles, paint, and towels to complement the bathroom suite color.
A statement countertop sink in ceramic, natural materials or resin will define the room for as long as it remains in place.
Bathrooms are Wet Spaces
Water and house structures are not a great combination, but we need water for bathing and cleanliness.
A bathroom requires waterproofing, and typically this waterproofing comes from tiling and the waterproofing material under it.
A bathroom can be fully tiled (walls and floor to create a wet room) or strategically tiled around the shower, bath, and sink. The tiling is a significant expense and typically remains in place until you remodel the bathroom.
Tiling also contributes to the bathroom color from the choice of tile and grout. You get an infinite variety of tile colors and textures.
The tiles or other waterproof material you choose set the color tone for your bathroom and provide essential waterproofing.
Remember, you can change it with paint if you dislike the bathroom tile color in five or ten years. You can buy specialist tile paint, but ordinary paint works as well for coverage.
A final coat of varnish keeps the paint securely in place.
Bathroom Tiles
Choosing tile colors for the bathroom depends on your bathroom color scheme. The tiles add color, pattern, and texture to the bathroom.
A patterned tile can give you ideas for how to match colors in a bathroom because you can choose to emphasize color elements from the tiles.
Another area for enhancing a bathroom color scheme is the tile grout. Tile grout is available in many different colors, depending on your grout range.
Choosing bathroom tile grout color to tone with your tiles is harmonious, or you can decide to make a statement with a more vivid shade.
Whatever color grout you choose, pick one with antimicrobial protection. Grout provides a habitat for mold, so any action you can take to reduce the possibility of mold improves the appearance and health of your bathroom.
Grout color choice is often neglected but essential when aiming for a consistent bathroom look – an opportunity when building a new home or remodeling the bathroom in an existing house.
Alternatives to Bathroom Tiling
Instead of tiling, you can opt for:
Acrylic panels – plain or patterned.
PVC panels – inexpensive and available in faux stone
Marble – expensive but durable, mold-resistant, and beautiful.
Stone resin – resistant to cold.
Specialist paint – painted walls offer more than adequate waterproofing.
All these tiling alternatives offer a range of bathroom color scheme options.
Choosing the Right Paint Color for Bathroom
Unless you opt to tile or panel every surface in your bathroom, you will have some painted areas. A specialist bathroom paint offers exceptional durability and mold resistance.
Choosing the right paint color for the bathroom depends on the effect you want and which surface you will paint.
A dark color on a ceiling makes the ceiling feel lower – an excellent way of warming up a room with high ceilings. Light color with a high sheen reflects light and contributes to a clean, fresh feeling.
One feature wall with a darker color creates some drama in the bathroom, where neutral colors allow you to mix and match bathroom colors with the skillful use of towels and other accessories.
Lighter wall colors make a small room feel more spacious and airier.
Choosing Bathroom Vanity Color
A bathroom vanity unit makes use of the space beneath the sink. The sink can be recessed (in full or in part), perch on top, or fill the top like a lid.
The vanity unit can be white to match the color of the sink or be a design feature.
Standard units come in a limited range of color options (white or black), but you can get a joiner to construct your vanity unit to your specifications, and you can opt for a more vibrant paint finish not available in the standard ranges to create a unique bathroom accent.
You can choose the bathroom vanity color to blend into the background or stand out and draw attention.
Choosing Bathroom Cabinet Color
A small bathroom may only fit a combination of a cabinet and mirror above the sink. Larger bathrooms may include bathroom cabinets for spare towels and toiletries.
The importance of choosing bathroom cabinet color depends on how significant the cabinet space is within the bathroom.
Most small cabinets are white and easy to clean. Larger cabinets are a more substantial presence in the bathroom, and the color can draw attention to them or treat them as part of the whole bathroom color scheme.
A bathroom cabinet is an ideal canvas for adding more intense color to an otherwise neutral bathroom color scheme.
Choosing Towel Colors for Bathroom
Bathroom towels are the element that can elevate your bathroom design, or they can appear out of place.
In a highly colored bathroom scheme, white towels are a safe choice. In a neutral color scheme, you can add a vivid splash of color with towels.
Guest towels start in the bedroom and then move to the bathroom. These towels need to complement your bedroom décor and match your bathroom.
In a white bathroom, towels provide the color accent, and you can change your bathroom mood with a change in the towel color.
Decide if you want your towels to stand out as bright splashes of color in your bathroom or if you want them to blend seamlessly with the décor.
The 10 Tips on How to Pick Colors for a Bathroom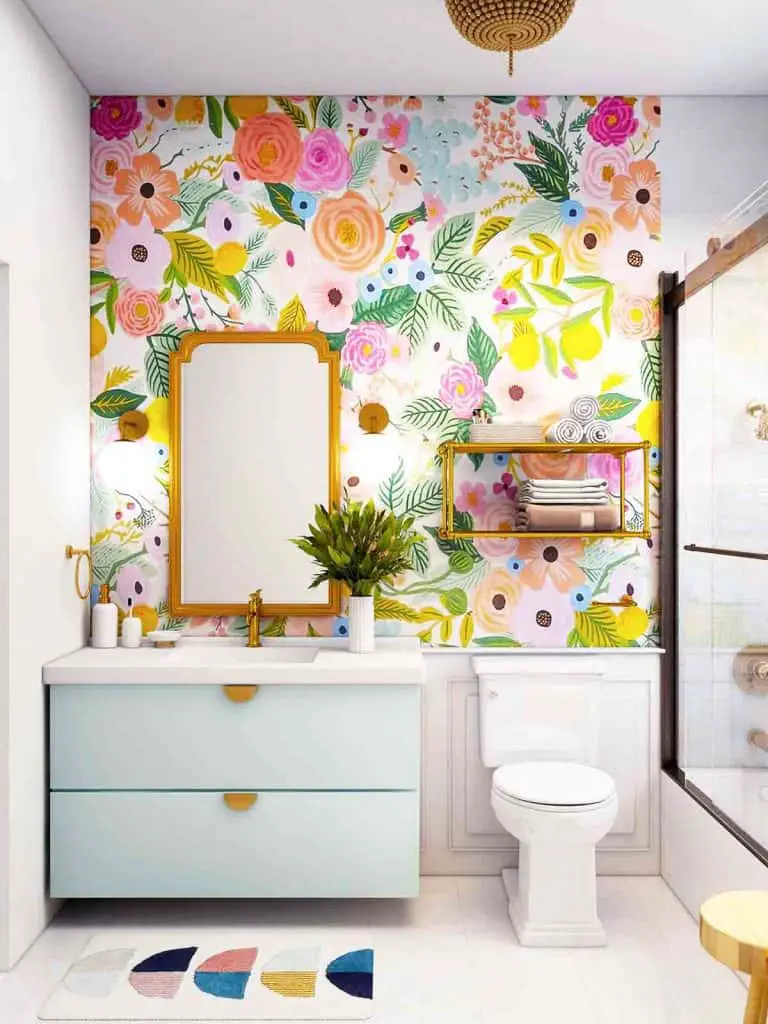 The top tips for deciding on how to choose a bathroom color scheme include:
#1 Look at What is There
Unless you have designed your bathroom or are remodeling, some colors are already present in the tiles and fittings.
Match your colors to existing tiles for a balanced color palette. If you hate the tiles, painting over them is cheaper and less messy than retiling.
#2 Consider the Light
Does your bathroom have a window, or is it an enclosed box?
The amount of light available to illuminate your bathroom may influence your color scheme.
A small, fully enclosed bathroom needs lighter colors to prevent claustrophobia and promote a feeling of space and freedom.
#3 What's Your Bathroom Mood?
How do you use your bathroom – a leisurely soak with scented candles or a spirited dash to get clean and out?
Some people spend hours in the bathroom, treating it as a sanctuary to wash away their stress. Other people simply want in and out in the minimum amount of time.
Your approach to bathroom time can influence the best colors for your bathroom. A clean and sterile white influences a quick bathroom trip.
#4 Three Tones in Proportion
A typical color design approach takes one color and uses three tones (light, medium, dark) in the proportion of 70/20/10 for a pulled-together look.
#5 One Accent Color Against a Neutral Base
Perhaps you want bright orange towels?
These spots of color in your bathroom shine best against a neutral base like white or cream because bathrooms are too small (typically) for too many competing colors.
#6 Natural Approach
Using natural materials in your bathroom with toning earthy colors gives you a calm design that relaxes you and your family.
Nature's colors don't clash, so if you aim to have mountain or meadow colors in your bathroom, you will get a harmonious design.
#7 Coastal Chic
If it works on a beach, it will work in your bathroom.
Your brain associates washed-out beach colors with a sunny, happy bathroom. Subconsciously your brain associates the shower and the bath with having fun on the beach.
Bathroom accessories tend to cater to that impression.
#8 Look to the Future
You may choose to sell your home and move somewhere else for work or another reason at some stage.
A neutral color scheme or safe white is more likely to appeal to potential homebuyers as they can quickly add their own details.
#9 Throw Caution to the Winds
If you want to make a bold color statement with your bathroom, why not go ahead?
Yes, it may not be as saleable as a neutral color scheme, but if it is your dream to have a neon pink and lime green bathroom, why not enjoy it?
Provided your bath-fittings are a neutral white, you can remove your crazy fling whenever you like.
Bathroom color is great for wild and crazy experiments because it is a smaller room and less expensive to redecorate.
#10 No Color is Forbidden
There is no color that won't work in a bathroom. The technique is to know how much is enough.
Whatever color makes you happy can work in a bathroom – that includes deep jewel tones as well as pale pastels.
Choose the color that makes your heart sing, and then work up your design theme, making that color your bathroom hero.
FAQ About Choosing Bathroom Colors
How Many Colors Should You Have in a Bathroom?
You can include all the colors of the rainbow in your bathroom design, but most designers prefer to work with a maximum of three colors or one section of the color wheel. You can have an all-white or monochrome bathroom in theory, but most people prefer a splash of color in their bathroom in practice.
Do Bedroom and Bathroom Colors Have to Match?
The bathroom may be associated with a bedroom, but it is still a separate room, so you can choose whether to match your bedroom or do something different. There is no designer rule that states bedroom and bathroom colors must match or otherwise.
However, the bathroom colors can be complementary depending on your choice of the bedroom color scheme.
Can You Mix Bathroom Fixture Colors?
You can have a blue sink, a pink bath, and a yellow shower cubicle, in theory. You may even be able to make the colors work in a design if there is enough space between them.
Just because you can mix the colors of the fittings doesn't mean that the result will be pleasing.
You can mix and match bathroom fixture colors, but they need to work together to achieve a harmonious look. By keeping bathroom fixtures all the same color, you get a unified approach in the bathroom.
Should Bathrooms be Fully Tiled?
Tiling waterproofs the floor and walls – to a degree – so the essential tiled surfaces are those that have water running or splashing onto them.
Fully tiling a bathroom means all the surfaces wipe clean and are waterproof.  There may be walls that remain dry in a large bathroom, and you may prefer to paint rather than tile those walls.
How far you take your tiling depends on your budget and the level of waterproofing necessary in your bathroom.
Choosing bathroom tile colors set the tone for your bathroom color scheme for many years because it is not as easy as painting.
Should Bathroom Paint be Semi-Gloss?
Semi-gloss paint has a sheen that reflects light and is easy to wipe clean.
A semi-gloss painted surface is straightforward to maintain in a bathroom where you get splashes from soap and water. It is an excellent paint for bathroom surfaces, but you can use other paint finishes in non-wet sections of your bathroom.
Should Bathroom Windows be Frosted?
Frosted or highly patterned window glass hides details of your body from outside view – a hand privacy feature when stepping out of the shower.
Frosted glass windows improve the privacy level of your bathroom, but they are not essential as you can protect yourself from view with blinds or curtains if necessary. Many bathroom windows are for ventilation high in the wall and don't offer a view of the inside – in this case, the frosting is purely decorative.
Should Bathroom Lights be Warm or Cool?
Lighting is an essential design choice and can alter the color balance of your bathroom.
Warm lighting has a slight yellow that gives a soft and calming mood. Cool white light has a faint blue tinge and approaches the level of daylight – ideal for color matching cosmetics, for example.
If you apply make-up in the bathroom, then a cool white light (at least in the mirror area) is better for seeing how your face looks under natural light. If you want to relax in your bath with a book, warm white light is comforting.
You choose warm or cool lighting depending on the need for a functional light or to set an appropriate mood in the bathroom.
Will Bathroom Paint Stop Mold?
Bathroom paint includes a high level of resin and an anti-mold component (mildewcide). These two components act to provide a water-resistant wall covering and inhibit mold growth.
However, the mold growth is only inhibited while the painted bathroom wall remains clean. As water droplets evaporate from the painted surface, they leave mineral deposits behind. These mineral deposits provide food and lodgings for mold.
A newly painted bathroom is mold resistant, but you must keep the surfaces clean and dry to keep the mold away.