Kitchen Color Scheme: 10 Tips (for Best Results) + 9 FAQs
What does your kitchen mean to you?
Do you have a large family kitchen where your kids do their homework while chatting to you as you prepare the evening meal?
Do you have a compact galley kitchen with everything in its place, or is your kitchen part of an open-plan living room?
The type of kitchen available in your home – whether in a new home or an old house with an existing kitchen – massively impacts your kitchen color scheme choice.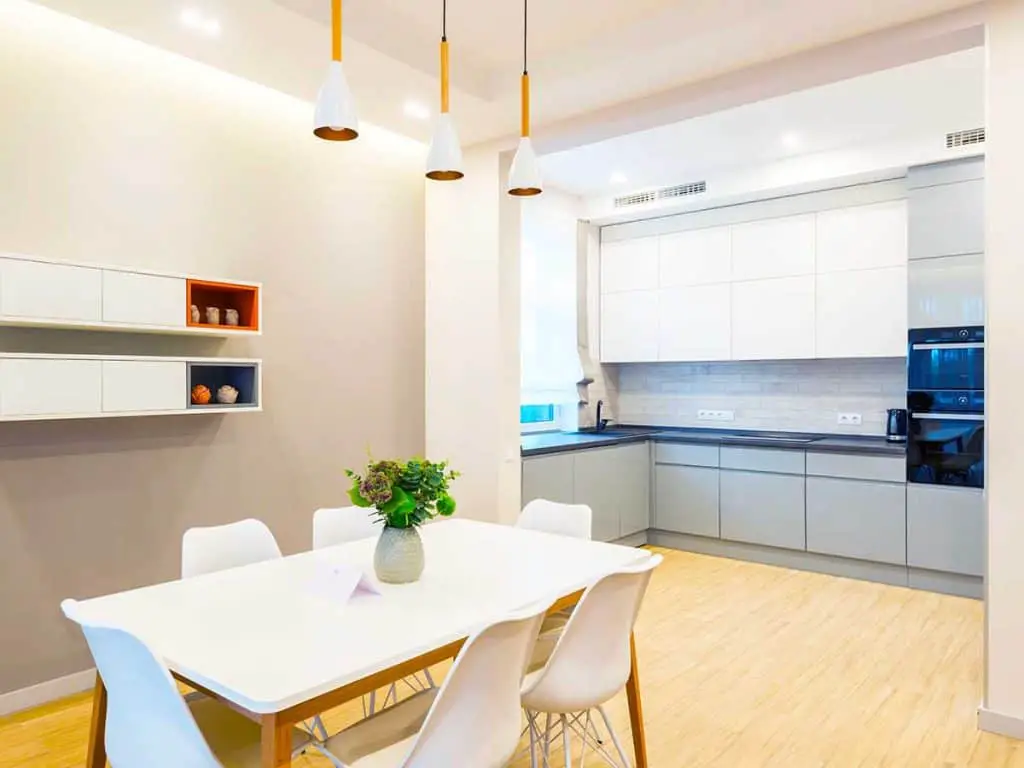 Color Components of a Kitchen
The color in your kitchen comes from:
Floor, ceiling, and wall finishes.
Worktops.
Kitchen cabinets.
Kitchen blinds, curtains, and other accessories.
If you are putting in a new kitchen, you have all the design color choices, but if you are working with an existing kitchen, some of those choices are in place – the cabinets, worktops, and appliances.
Even with an existing kitchen, you can make changes by replacing the worktops and the cabinet fronts to match.
If the wall tile color offends you, you can always paint over it to tweak the appearance in your kitchen – but adopt this approach only as a last resort.
Choosing a kitchen color scheme to complement the existing tiling and cabinet is relatively straightforward as you know the confines within which you must work.
Selecting a color palette when making all the decisions for an entirely remodeled kitchen in an existing or newbuild home is more challenging. Still, you can make it easier by following one or more kitchen color tips.
10 Tips for Choosing a Kitchen Color Scheme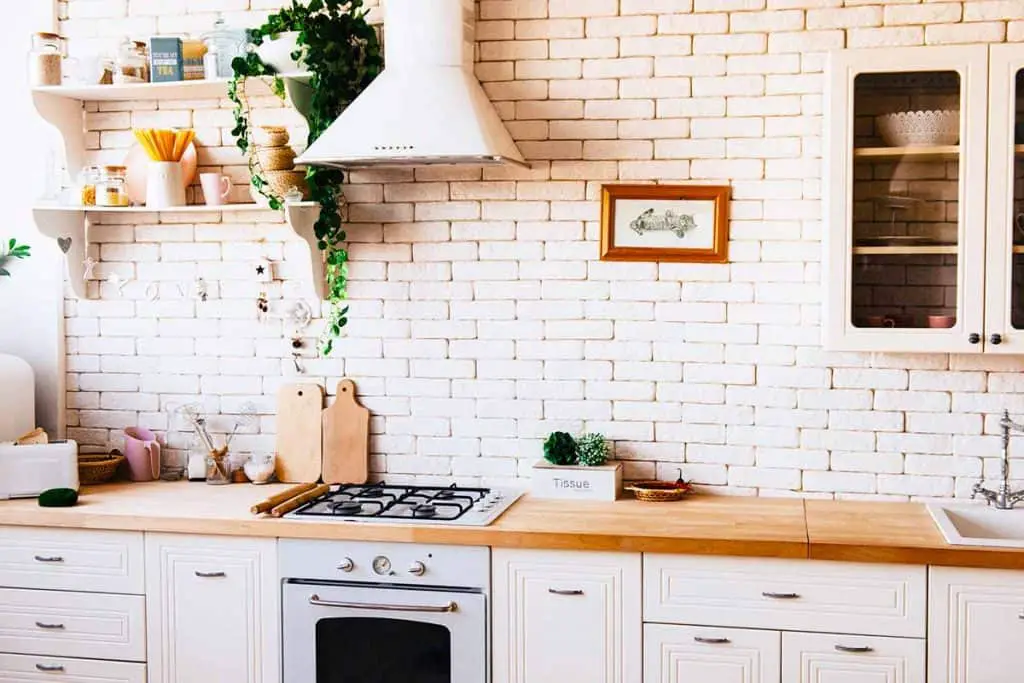 You have a blank mood board or screen in front of you, and you are ready to explore some kitchen color ideas.
How do you get started?
#1 Work with What You've Got
If you are refreshing an existing kitchen, start your mood board with splashes of what you already have – the tiles, floor, worktops, cabinet fronts, and appliances.
Now, you can decide if you will change any of these elements by replacing the kitchen cabinet doors, for example.
You can choose where and how you will apply color in your kitchen and kitchen color combinations that work with the existing colors.
#2 Use a Color Wheel
A color wheel is a visual representation of colors and their relationship to each other. It helps you sort out warm vs. cool, opposing, and complementary colors.
Knowing which section of the color wheel influences your choices of colors enables you to pick a kitchen color scheme that looks stylishly put together by the best designer (that's you).
#3 Watch Your Mood
How does your kitchen make you feel?
What is your mood when you go into your kitchen?
Are you a cheerful baker pottering about with lovely smelling ingredients or a fast chopping, efficient stir-frying cook?
Your kitchen color scheme can reinforce your preferred kitchen mood – stainless steel and hygienic white or country cottage chic with sunny yellows.
Color influences your mood, so if you want your kitchen to be a happy place, choose colors that make you smile and encourage you to linger.
If you are all about efficiency, choose clean colors for a clutter-free kitchen set up for the busy person to get their meal with the minimum fuss and mess.
#4 Consider the Space
You may dream of a country kitchen with a farmhouse table and vases of wildflowers, but you need a different decorating approach if you have a galley kitchen with limited work surface space.
A kitchen that is part of open-plan living space needs careful handling. You may want to define the kitchen space as different, but your kitchen color combinations must work with your living space.
Dark, intense colors make rooms look smaller, and lighter colors feel spacious.
That does not mean you can't successfully use dark colors in a small kitchen. It does mean you need to think about what works in your space.
Working out your ideal kitchen color palette means appreciating your room rather than designing a dream kitchen space.
#5 Pastels vs. Brights
Imagine a Mexican kitchen with hot, bright colors; now imagine a French farmhouse kitchen with pale blues.
Both kitchen color schemes work effectively, and one is bright and the other pastel. The choice between pastel colors and bright ones influences your tiles, paint, and kitchen mood.
Your personality and family will influence which color scheme appeals – so are you pretty pastels or bold brights?
Kitchen tile color combinations work well with a mixture, but generally, you can't mix pastels and brights successfully.
#6 Cleanliness
Kitchens are messy places, grease splatters, and water droplets. Some colors (like black and other dark colors) show grease and mineral deposits more than others.
This property may suit you if you rigorously wipe down your kitchen after cooking, but it may not work for you if you schedule a kitchen clean once a week.
Light paint shows more smudges and stains than darker or mid-tones, which is excellent if you want to see the areas that need cleaning.
Patterned tiles allow food splashes to be less obvious, but it means you need a rigorous cleaning schedule to stay on top of your kitchen hygiene.
Your approach to kitchen cleaning can influence your preferred kitchen color scheme.
#7 Choose an Accent Color
Speak to a landscape artist, and they will tell you that a splash of red (on a cottage door perhaps) brings the painting alive. Accent colors do the same for your kitchen.
Typically, the accent color is a deeper tone like red or orange, and you use it to jazz up an otherwise neutral kitchen.
For example, you can choose a deep purple waste bin, kettle, and knife stand to produce splashes of more intense color in a grey kitchen.
Your accent color draws people into the kitchen the same way as the red door in a painting. The trick is to use it in moderation.
When thinking about kitchen color ideas, highlight what accent color will add some flair to your kitchen décor.
#8 Be Kind to Future You
Unless you intend to redecorate on an annual basis, you will probably live with your major color choices for a few years. Choosing a kitchen color scheme with staying power avoids future disappointment.
Opting for a neutral or a traditional kitchen color scheme and theme gives you longevity in your kitchen design.
#9 Cultural Palettes Work
Basing your kitchen color ideas on your favorite cultural theme gives you a harmonious design.
American or French farmhouse, Mediterranean or Mexican, or other cultural color themes (explored extensively in the linked post) work because thousands of people have tweaked them into a mood that suits the culture by refining the color palette.
When you pick a cultural color palette for your kitchen, most of the challenging design work is complete, and you can have fun learning to mix and match colors for kitchens that work together effortlessly.
A cultural palette makes choosing a kitchen wall color more effortless and focused.
#10 Drop the Stress and Trust Yourself
When sitting down to choose your kitchen colors, relax; you already know what you like. Simply go with your instincts. You can search the digital world for kitchen color combinations but pay attention to your reaction.
The colors that make you happy will make your kitchen a place you want to spend time in and around.
You know, if you like bright or muted colors, and if you let yourself relax and have fun, you can enjoy choosing a kitchen color scheme to please you.
Plus, no kitchen color scheme stays in place forever; next time around, you may be in the mood for a complete change of color.
FAQ About Kitchen Color Schemes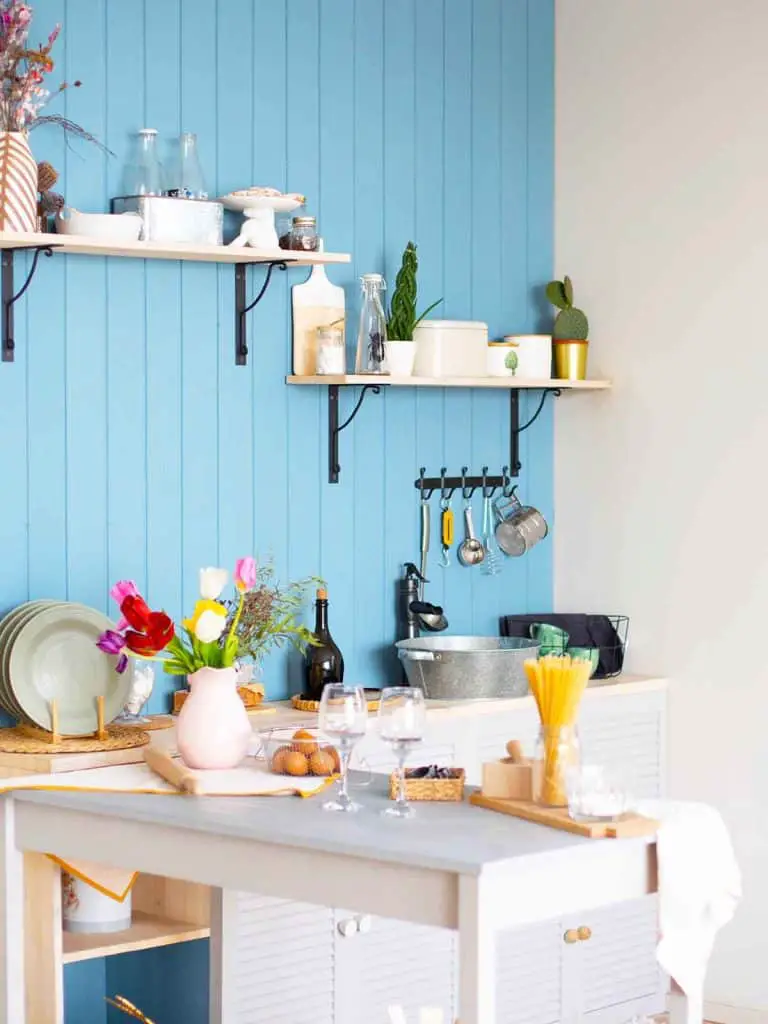 Does Your Kitchen Have to Match Your Living Room?
If your kitchen is a separate room from your living room, the kitchen color palette does not need to match the living room. If your kitchen space and living room join in an open plan design, then your kitchen colors must complement your living room to avoid unpleasant clashes.
Complementing is not the same as matching (the color of your living room and kitchen do not need to be the same), but you can match your kitchen colors to your living room colors if you wish.
Does Your Kitchen Island Have to Match the Cabinets?
Choosing a kitchen island that matches the cabinets for a unified kitchen is a common approach. But opting for a non-matching kitchen island color is an excellent opportunity to turn the island into a centerpiece that visually connects the kitchen and the dining or living room.
Pulling off an unmatched kitchen island is challenging but not impossible.
The kitchen island may better match or complement the other room to make a clear transition from the kitchen.
Should the Kitchen Faucet Match the Sink, Appliances, or Cabinets?
A kitchen faucet is one of the most used items in the kitchen for handwashing, food preparation, and anything else needing water.
The typical finish is stainless steel, chrome, brass, bronze, white and black.
Having the kitchen faucet match the sink is a straightforward choice but not necessary. Matching the faucet finish to light fittings, appliances, and cabinet hardware is more crucial to achieving a harmonious-looking kitchen.
Should Kitchen Hardware Match the Appliances?
Matching the kitchen hardware to the appliances gives a harmonious look, but you can add a contrasting color that otherwise complements the kitchen with thoughtfully chosen hardware elements.
Standard large appliances (once known as white goods) come in limited affordable colors – white, black, brushed steel, light brown, and grey. But if you desire a pink or purple fridge, you can get it – pastel or bright shades.
The price difference between them is a standard, and a highly colored kitchen appliance is steadily decreasing.
The wide range of colored appliances available means that you don't need to worry about matching your kitchen hardware to your appliances unless you want it in your kitchen design.
Should Kitchen Lights be Warm or Cool?
Warm and cool lighting change the color balance of your kitchen color scheme.
Cool lighting with a higher light level gives you more visibility and detail in food preparation areas. Warm lighting for the background makes a kitchen feel homely, but brighter cooler lighting for working areas gives you an enhanced safety level for kitchen tasks.
Should Kitchen Lighting Match the Hardware?
Kitchen lighting can be practically invisible or a design statement.
Recessed and hidden lights don't impact the color or feel of the kitchen, but lampshades are highly visible. You don't have to match kitchen lighting to the hardware as you can use them to create an accent with a bold color or a different texture – copper lampshades complementing but contrasting with stainless steel fittings.
Should Kitchen Floors be Light or Dark?
Neither light nor dark kitchen floors are better for your kitchen. The kitchen floor color is a design choice to achieve the overall look of your kitchen. Choosing kitchen floor tile color to match your theme is a better approach than worrying over dark and light color choices.
A light floor makes a small room feel more spacious. Plus, light floors don't show up scratches as visibly as dark floors.
On the other hand, a light floor can be too clinical and highlights dirt and stains. Dark floors are versatile with all types of cabinets and appliances, and they are ideal for a contemporary or a traditional kitchen theme.
Dark floors can make a larger kitchen more welcoming and warmer, but it is a matter of preference as to which is best for your kitchen.
Should Kitchen Floors be Lighter or Darker than the Cabinets and Countertops?
No design rule says you need to have a lighter or darker kitchen floor than the cabinet color.
Dark floors work with light and dark cabinets and countertops, and so do light-colored floors. The kitchen floor covering is part of the whole design of the kitchen, and you can match it or contrast it to other kitchen elements depending on the impact you want to achieve.
Should Kitchen Cabinets be Lighter than Walls?
Suppose you opt for black kitchen cabinets for a stylish modern kitchen – what color will you paint the walls?
It is not a design rule that kitchen cabinets must be lighter than the walls – sometimes they are, and sometimes they are not. It depends on your design.
The cabinet color dominates a fully fitted kitchen and leaves little wall space for decoration. The tiling may contrast with the cabinets, or you may have a painted feature wall. Lighter or darker, the essential consideration is that the wall and cabinet colors contribute to the kitchen style and theme.
Make or Break the Rules
Developing yourself as an interior designer and choosing a kitchen color scheme means trusting your instincts. There are no hard and fast rules about what works as kitchen color combinations.
The best approach is to look at samples and visualize how you want your kitchen to work.
Your kitchen color palette reflects your upbringing and, more importantly, your unique approach to style.