Living Room Color Scheme: 11 Tips + 9 Things to Know
Are you exploring color schemes for your new living room?
Or are you refreshing it for the new season because its look starts to feel a little dated?
Unless you have a large house, your living room is both a personal and public space. The place where you relax when you are on your own and invite others to spend time with you for work or leisure.
Your living room is a combination of private space and showroom for your style and personality. Choosing living room colors reflects the face you choose to show the world.
This guide covers tips and essential questions on living room color selection.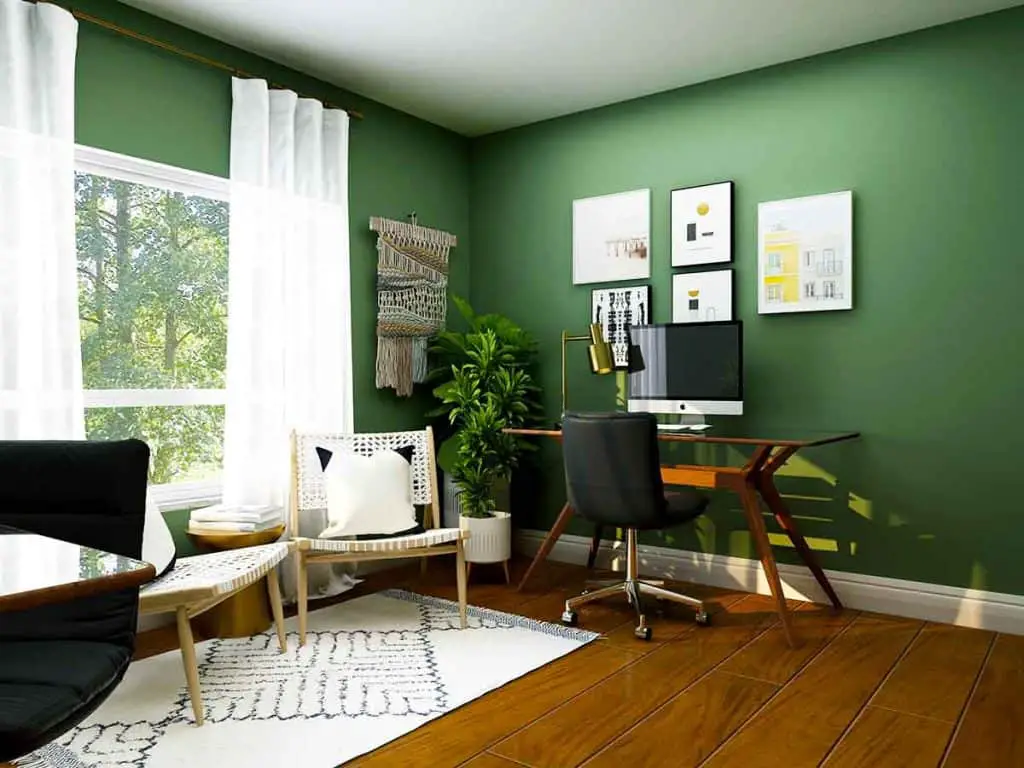 How to Pick Living Room Colors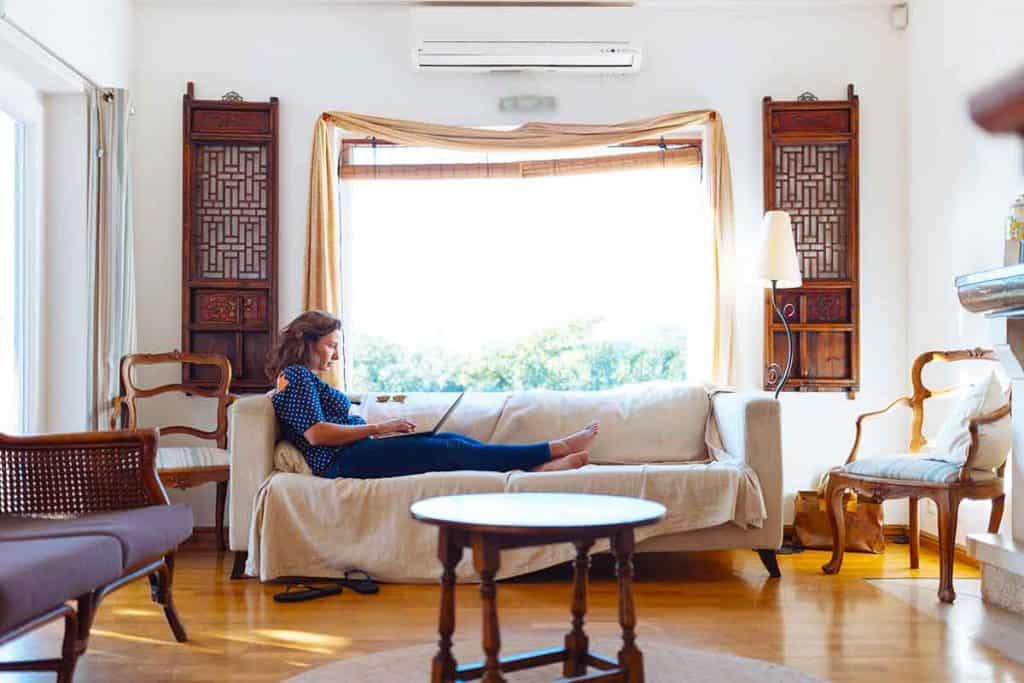 Color in the living room comes from the furnishings, floors, ceiling, and walls. The paint or finish you apply to your walls sets the tone for the entire room.
How to choose the right paint color for your living room depends on the effect you want to achieve.
Living room color ideas include:
Painting all the walls one color – a unifying approach.
Feature wall – a more intense shade draws the eye and forms the backdrop for your tv console.
Using more than one color on the wall – splitting the wall into two or three zones.
Using stenciled or hand-painted details.
You can choose interior paint colors from a vast selection, and there is no color you can't use.
Top tips for choosing a living room color scheme include:
Build your living room color palette around your couch – the couch and other seating dominate your living room. Your living room color combination needs to flatter the star of the show.
Neutral living room colors act as a background for bold art and patterns.
Choose cool colors to increase the feeling of space and freshness.
Use warm colors to make a large room feel cozier.
Use different shades of the same color for a harmonious living room color scheme.
Pick out details in a contrasting color for a vibrant and lively room.
Cultural color palettes work – so pick a country or mood as a theme.
Use an App to see potential living room color ideas in your room with your furnishings.
Try out a sample color on your walls to see how your light conditions change your interior paint color ideas.
Choose colors to match your furniture because you will probably not change your furniture as often as your interior paint colors.
Please yourself – this is your living space, and you are the best judge of what appeals to you, from modern living room colors to a more traditional home interior color combination.
Continue reading for details on those tips.
The 11 Tips on Choosing Living Room Color Scheme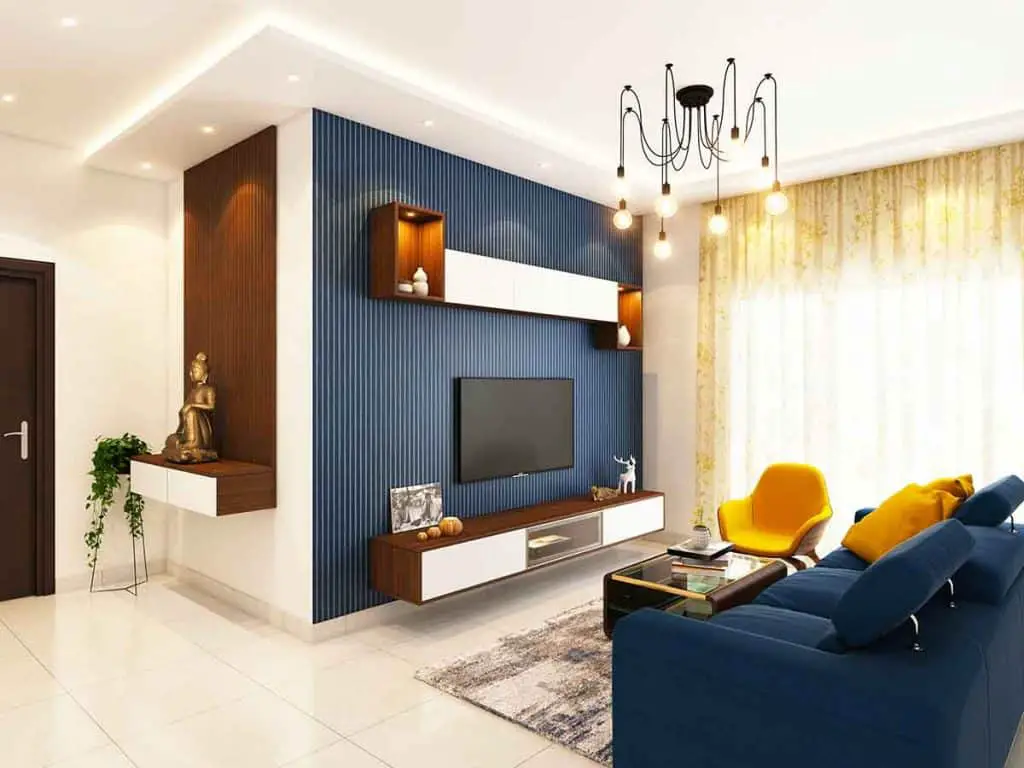 1. It's All About the Couch
Most people fall in love with a couch and then work out how to build a room around it.
A dark red leather chesterfield couch may suggest a Victorian library with dark wood furniture, Persian rugs, and cream walls.
A sunny yellow sofa may inspire a feature wall of old gold, and a tropical print may need a neutral backdrop with some bright color accents.
A high-quality statement couch defines your living room, so it is natural to choose a home interior color scheme to complement it or allow it to shine as a bright jewel in the room.
2. Neutral Colors
Pale neutral living room colors – white, grey, beige, or white with the barest tint of another color are the perfect backdrop for vibrant paintings and bold prints.
Most art galleries settle on a neutral color scheme to allow the artworks to shine.
If you have wall art to display or a passion for vibrant fabrics adding color to a neutral living room, then a neutral wall is essential.
Most modern living room colors use a neutral palette.
3. Cool Colors
Cool colors include shades of blue, green, and purple. A grey can be cool if it contains blue and warm if it contains red.
A cool room feels fresh, and using a living room color palette based on spring or winter will give you a light room.
Cool colors are calming and ideal for a contemporary, minimalist style and modern living room colors in smaller rooms.
Cool colors recede into the background giving you the feeling of more space.
4. Warm Colors
Warm colors come from the red and yellow parts of the color wheel.
Warm colors are autumn and summer palettes, and they can make a living room a cozy retreat or a bright, vibrant space.
Rich, warm colors work with plush and luxurious textures of velvet, brocade, and silk – in jewel tones.
Choosing warm instead of cool colors for your home interior color scheme is about setting a mood or a theme.
5. Harmonious Color Schemes
Choosing a light, mid-tone, and deep color – brown, grey, or pink – allows you to create a harmoniously blended color scheme.
You can mix and match across the living room furniture, fabrics, and walls, confident that everything will harmonize together.
A house interior color scheme that concentrates on one color is unifying and restful.
6. Bright Splashes
In a blue ocean, it is the splash of a red sail that catches your attention.
One bright color in an otherwise neutral room creates a focal point.
A primary red will produce that eye-catching effect, but other vivid colors like orange, fuchsia pink, or turquoise can serve the same function.
Typically, you deploy a bright contrasting color sparingly for maximum effect in adding color to a neutral living room.
7. Cultural Palette
Using a cultural palette (as explored in the linked post) to create your living room color scheme gives you the advantage of tried and tested color schemes that work together.
Plus, a cultural color palette helps you select furniture, curtains, floor coverings, and other accessories that match the theme.
8. Digital Assistance
Augmented reality means you can use your smartphone or tablet to get a practical feeling for your living room color ideas.
Using an App to try out colors in the digital world enables you to experiment with bold color choices.
You may come up with a surprising color choice that will transform your living room and amaze your friends and family with your artistic eye.
You can boldly depart from modern living room colors, confident that your home interior color combination will work beautifully, as you have previewed the results.
9. Try Before You Commit
Color is all about light.
A green object is green because it reflects green light.
How you perceive color in your living room is a combination of the paint color, light, and adjacent colors. A paint color under natural daylight looks different from one seen with an electric light source.
Using a sample pot to create a color patch in your living room lets you know how the color changes as the lighting changes and what impact the room's shadows and other colors have on your perception of that color.
Before committing to painting all your walls, try out your preferred interior paint color ideas as a final check on their suitability for your living room.
10. Furniture and Furnishings Matter
Furniture and curtains will be with you for years, and it makes sense to match your home interior color scheme to your possessions.
The paint on the walls and ceiling is part of your background, and you are likely to redecorate more frequently than you replace your furnishing and curtains.
The living room color scheme will reflect your life stage – if you have small children, a wipe-clean surface will matter more than the latest designer shade or modern living room colors.
11. Please Yourself
You are decorating a living room primarily for your comfort, and it makes sense to choose interior paint colors you like.
When you look at fabric, paint chips, and furniture catalogs, first pick out items and colors that make you happy.
If you don't enjoy bright colors, then why live with them?
Much like the exterior house color, neutral living room colors are a safe choice if you are thinking of selling your house, and they allow you more options with brighter colored paintings and accessories.
Ultimately choose a living room color scheme that inspires your best feelings.
FAQ: Living Room Color Combinations
Unlike interior designers who decorate hundreds of rooms (but can get stuck in a rut), most people are occasional decorators.
It can be challenging to work out how much color is enough in your house interior color scheme.
How Many Colors Should You Have in Your Living Room?
Many designers believe in the rule of three – you can easily balance three colors.
In practice, you can have many colors in your living room color scheme, provided you stick with one significant color and add splashes of other colors – possibly in patterned fabric and rugs.
What Colors Are Best for a Small Living Room?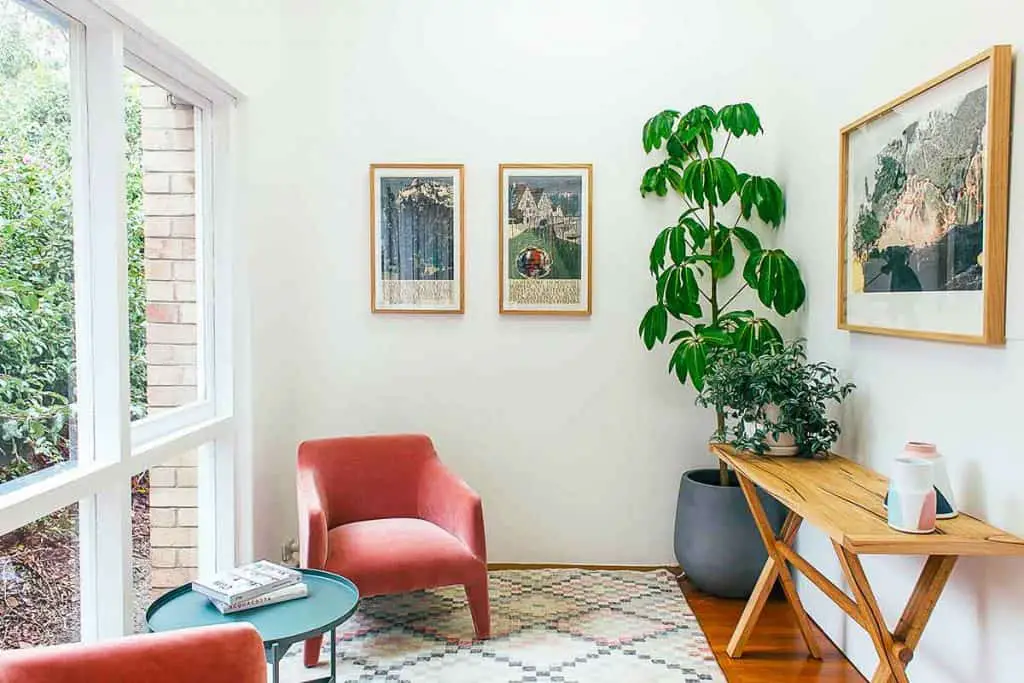 Conventional wisdom is that smaller rooms need lighter colors to avoid feeling like the walls are closing in on you – white, silver-grey, and pastel shades.
You can use a more intense color, but moderation is the key – instead of one feature wall, you can apply a more intense color towards the floor and transition to a lighter color near the ceiling.
If you love deeper, warmer colors for your living room color combinations, you can use large mirrors to reflect the light and give you breathing space.
How Do You Choose an Accent Wall Color for the Living Room?
The accent color is either the deepest tone or the contrast color.
It will be the wall that everyone looks at, so as well as choosing a color, you need to ensure you apply accent to the best wall.
Suitable walls include those with a feature fireplace or the wall behind the couch.
You can choose your accent color to complement your soft furnishings – for example, if your curtains feature splashes of a teal blue, you might want to use that color as your accent wall color.
An accent wall is a straightforward way of adding color to a neutral living room.
How to Choose Furniture Color for the Living Room?
If you have a blank canvas, then spend an hour or two searching for pictures of living room furniture and collect a portfolio of those that appeal to you.
This collection may show you a preference for light or dark wood. You may prefer patterned textiles or plain.
Furniture tends to be a significant investment and can be the inspiration for your living room color scheme.
The other approach is to start with a theme and choose furniture to match.
Scandinavian chic does best with pale woods like ash and maple, Mexican is dark woods and wrought iron, farmhouse is honey pine, and contemporary may be leather, chrome, and glass.
How to Choose a Living Room Curtain Color?
Curtains provide privacy and insulation from the cold or the heat – depending on your lining.
The curtain color can act as a deep accent in a neutral tone or emphasize a warm room with texture and jewel colors.
The color of the curtain is a significant part of adding color to a neutral living room.
What is the Best Curtain Color for a Living Room?
There is no one best color for a living room curtain, simply the one that suits your interior design.
If you think of practical matters – patterned curtains show less dirt and stains than pale light curtains.
A washable curtain means you can refresh your curtains annually with a quick launder at home, whereas dry clean only curtains need to go away for a few days leaving your windows bare.
Choosing natural fibers for your curtain materials gives you the option of changing your living room color combination by dying your curtains when they begin to look shabby and prolonging their usefulness.
The best curtain color for a living room curtain is the one that suits the room.
How to Choose Carpet Color for the Living Room?
A fitted carpet for a living room is a significant investment in time and effort – ideally, you won't be changing it in a hurry.
Pale carpet colors lighten a living room, but the downside is keeping them clean from stains. Dark colors also stain, but the stains are less noticeable.
Dark colors make a living room feel warm and comforting, whereas light colors make it feel fresh and airy.
Do rugs need to match?
A single-color carpet allows you to use patterned or different shades for rugs to protect high wear areas.
Do All Rooms in a House Have to Match?
It is up to you how you choose to decorate your house – you can opt for a matching theme and scheme throughout your home, or you can decorate each room individually.
Bedrooms are private spaces and allow the owner to have a room that suits their style. Every separate room can have a different color scheme or not.
Can You Paint the Living Room and Kitchen the Same Color?
Nothing is stopping you from painting the living room and the kitchen in the same color.
If you live in an open-plan home, it is good to use the same color scheme throughout the living room and kitchen for a harmonious design.
If you are moving into a new home, one color scheme throughout in a neutral color combination gives you time to settle in before turning your attention to how you want to style your home.
References: