11 Ingredients of an On-Point Architecture Resume
What makes a good architecture resume?
There are many factors to consider.
A good architecture resume may go in a couple of different directions, but it does tend to have some central characteristics that make it hit harder than the rest.
Suppose you pick a random example after looking up "successful architecture resumes." In that case, you will notice that it is concise, well-written, engaging, and tells the recruiter the most important things they need to know before compelling them to inquire further with an interview.
To emulate a great resume, you need to be aware of the common resume mistakes and consider which of the components would show you at your strongest.
Do you desire the opportunity to let your work experience speak for itself through brilliant chronology that shows a growth pattern?
Maybe you would instead point to your academic accomplishments to show your dedication, or you would rather awe the recruiter with an impactful objective statement – because this is your first architecture job after graduation.
The direction you take your resume is your decision, so take the time to consider how you can best arrange the pieces to show you at your best.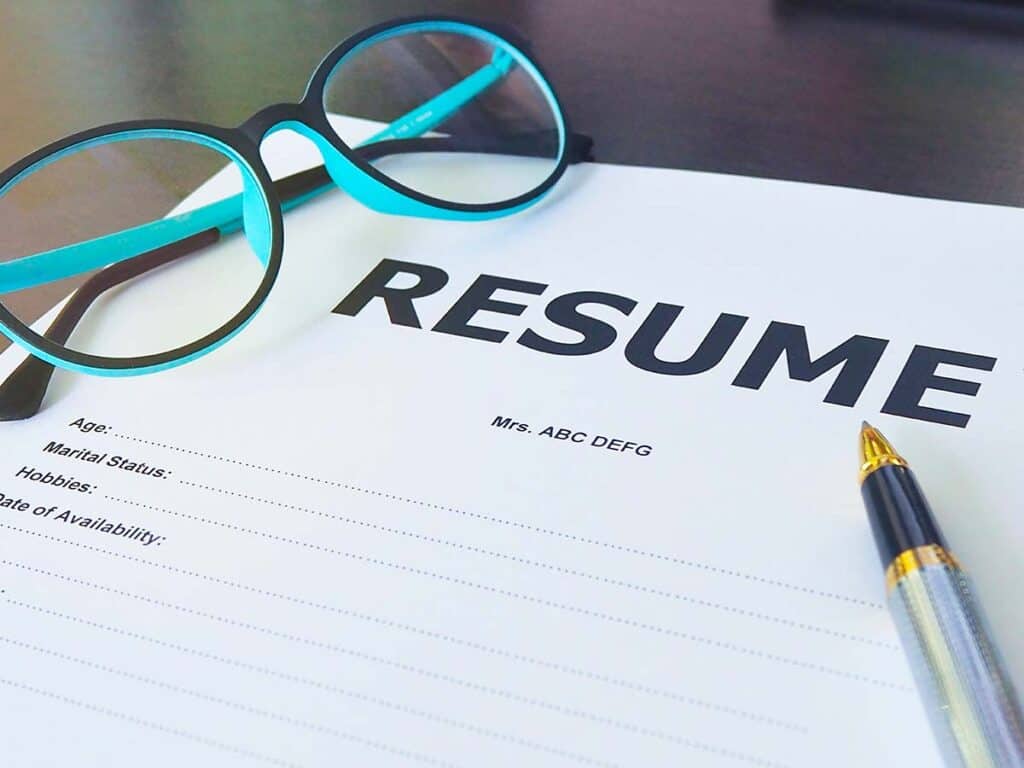 1. Resume Length
Recruiters tend to get tens if not hundreds of job applications after an opening gets posted.
As most architecture firms are small to mid-sized, the chances are that the person reviewing your application is the Principal Architect or an architect senior enough to be put in charge of hiring.
In other words, they are busy architects, and you only have a few seconds to make an impression for them to either continue reading or file it away.
What You Can Do:
Although you may see reasonably good architecture resumes at the two-page length, target to condense your resume into one A4 page – properly structured and designed.
Job applicants in other non-design industries may get away with a basic word-only document. But an architect's resume is very much an exercise in visual presentation (discussed later in the post). Having to flip to a second page breaks that visual connection that the recruiter has with it.
You'd want the recruiter to have all the information that they need in one view.
Aim to have sufficient information to inform but just enough to keep the intrigue.
2. Summary
The inclusion of a summary is contentious – should you or should you not include one?
A well-written summary provides you the opportunity to frame your skills and experience directly to the job you apply for. The extra effort in tailoring your resume to each specific role conveys your commitment to the job.
However, avoid the mission-statement style summary with empty phrases – it does not tell the recruiter anything and wastes space.
What You Can Do:
If you are planning for architecture licensure, state it. Architect bosses are looking for employee architects who are driven individuals. Framing this as your only objective can be impactful.
Avoid a standard summary that you copy and paste for every job application – no two firms are the same.
Brevity and impact are crucial here. Get another pair of eyes who has a strong command of the written language to review it.
If you have recently graduated from an architecture school, include a brief summary (2 sentences max). But if you have worked for many years or aren't confident that you can value-add via the summary, drop it.
3. Work Experience
Above everything else, the employer will want to see what you have already done as an architect (if you are not a fresh graduate) to assess the type of work you have under your belt.
Clarifying your work experience lets the employer know what you are already proficient in and, more importantly, how the firm could use your expertise to support their work.
What You Can Do:
When you fill this portion out, do not limit yourself to positions, titles, and dates.
With each position, illustrate the types of work you performed and how they benefitted your past employers and your growth trajectory.
Your past experience working in small architecture firms is beneficial as it tells the recruiter you've had lots of hands-on experience managing the various stages of a project.
The benefits of working abroad for an architect are valuable as you can highlight the kind of job experience that other local candidates may not have.
The recruiter would be looking for the type of projects you've had experience in – residential, commercial, industrial, restoration, etc.
If you only have experience in one type of building, select 3 or 4 of them to put on the resume. But if the project types are varied, choose to include only the best or most prominent project of each type.
However, if you are new to the field and feel that your related work experience is lacking, it is okay to take a more skills-oriented approach that focuses on what you can do versus what you have done.
In other cases, if you feel that your experience in non-architecture jobs puts you in the best light, then you cannot go wrong with highlighting this portion of your resume.
Specifically, summarize, in one sentence, how the job taught you a useful skill that you feel is transferrable to being an architect.
Jobs that look good on an architecture resume include anything where creativity and planning come into play. Examples could range from being a store manager to woodworking and designing furniture.
Reflect upon the things that enabled you to use skillsets that overlap with the ones important in architecture.
Explain any challenges you have overcome, any designs that drew recognition, and any projects that substantially upped your skills.
4. Roles Performed
Listing who you worked for is standard in any resume, but it is more critical to list what you did.
In your employment history section, include specific information on the roles you performed along with any distinctions that made your job unique to that employer.
What You Can Do:
Use bullet points to describe the roles you performed and how you contributed to each project's progress and success.
An architecture project has multiple stakeholders – clients, design consultants, trade specialists. Include who and how you worked with them on your resume.
Be concise and to the point – use the active voice and words such as "designed," "completed," "obtained," etc.
The comprehensive job description list of the various architect roles supports this point.
However, do not restrict yourself to roles pertaining directly to architecture, especially if you have work experience outside of drafting and design as a relatively new architectural designer.
While architecture will be the focus of your new job if hired, it is those unique tasks that you may have been assigned that distinguish you from the competition as not only an architect unlike any other, but as a human being unlike any other.
With everything in mind, reflect on the roles you performed and try to choose the most relevant or supplementary ones for the open position.
5. Education
This area is crucial when you graduate and first put your shoes on the pavement.
With little work experience behind you yet, your accomplishments in architecture school are going to be your shining beacon of growth and achievement.
What You Can Do:
If you have a grade point average that you are proud of, include it in this section to make a case for your commitment (if you aren't proud of it, you can omit it).
Do not forget to include the official titles of degrees that you have received, along with the dates that you received them and from which school you got them. For more impact, include any extracurriculars you participated in and any honors you received.
The more on-the-job experience you obtain (as a working architect), the less you need to worry about this section.
6. Skills and Strengths
Your insight is a valuable tool into the type of architect and employee you are.
Most firms are cognizant of the types of attributes they recognize as fundamentally important and are more likely to hire applicants who reflect them.
It can only be beneficial to include the relevant areas where you excel because the more strengths you list, the more likely you will cover the abilities that an employer is looking for.
What You Can Do:
Be honest about what you are good at. If you have a specific skill, you should explain the evidence that backs up your claim.
For example, if you listed "interpersonal skills" as a strength, point to your effective leadership in managing a project for your previous employer or class.
Do not restrict yourself to the obvious skills of designing buildings. Soft skills, or general strengths, can be honed through a variety of different roles and jobs.
Some examples might include creativity, management skills, and critical thinking. Since these are broad, you can probably dissect your work history to pick out the times where you were able to stimulate these skills through your work.
Skills are essential practical information that employers look at, so it is only natural to focus on structuring the list in an easy-to-digest manner.
Either categorize them into:
Or:
Design
Project Management
Software
The employer expects to be hiring a human, so if you have certain flaws, do not feel obligated to withhold them. But word them to reflect your desire to improve in those areas.
The employer will appreciate the honesty up front and will likely be more accommodating as a result.
7. Language Skills
In a globalized world, having proficiency in several languages is a boon to any career.
It is especially so if you are working in a country with a primary language other than English, or the architecture firm you are applying to has projects in regions that use another language.
What You Can Do:
The language classes you took in high school and college have more value than you might have realized at the time.
Include language courses on your resume, along with any marks and recognitions you might have received.
Otherwise, rating your proficiency in those languages will suffice.
When applying for a firm with a portfolio of projects in non-English speaking countries, brush up on your language skills before you attend the interview (assuming you got the call up).
While you might be conducting the majority of your work employed at an English-speaking firm, the ability to make personal connections with foreign clients is a significant advantage.
Research the firm you are applying to upfront.
8. License & Accreditations
As a statutorily-regulated profession, architecture is big on license and accreditations.
If you are a licensed architect in your jurisdiction, it is quite obvious that you would state this on your resume. But should you apply for an architecture job in a foreign country, being licensed shows the standing you have achieved in the profession.
What You Can Do:
As this portion is short and concise, consider placing it before Work Experience, especially if you're licensed.
Depending on your jurisdiction, you potentially have other professional accreditation that you can include, such as Leadership in Energy and Environment Design (LEED – source; if you don't have one, you can start planning on getting yourself LEED-accredited)
9. Additional Achievements & Awards
Do you have any work-related recognitions?
Or published articles pertaining to your design?
Do not undermine yourself by neglecting to mention them.
If the hiring decision comes down to two people, the inclusion of professional recognitions will seize the job for either you or your competition.
You want it to be you.
What You Can Do:
You could include a variety of examples.
Maybe you saved the company you worked for 15% in materials through a design that beat out competing designs in value-engineering.
Perhaps you created a building that was impressive enough to be framed by a professional photographer in a local art gallery.
Give yourself due credit.
If you are in the fortunate position of having a plethora of awards and achievements, you might not be able to include all of them within the brevity of your resume.
Reflect on your values and determine which accomplishments you find yourself exceptionally proud of or achievements that are more relevant for the specific role.
10. Visuals
Prove your finesse with design by applying those same skills to your resume. Visuals are an essential component of architecture, so it is good to make your resume reflect that.
What You Can Do:
A faint and subtle background image – as long as it does not negatively affect readability – is an inclusion that will help your resume stand out.
But, keep it light; keep it minimal.
11. Formatting
You do not need to confine your resume to a black-and-white color scheme with Times New Roman typeface.
Through sleek-looking formatting and unique arrangements of information, you can allow your professional resume an opportunity to glow before the recruiter reads a single word.
What You Can Do:
Look up some examples of architecture resumes to find inspiration on intriguing formats that are both engaging and streamlined.
Consider some of the different directions that you particularly admire and emulate them while providing your own edge.
Pick a formatting scheme and keep it consistent to improve overall legibility.
You could organize information into columns, highlighted headings, and/or bullets where appropriate, but make sure that the pattern is obvious and does not cause the recruiter any unnecessary strain. Also, ensure that the flow of headings makes sense with the more important ones first.
One A4 page with that much pertinent information makes space a premium.
Put your design and organizational skills to use; let your resume – together with your laser-targeted cover letter and well-crafted portfolio – reflect your thoughts as an architect.
Other pre-interview preparations you might find useful include familiarizing yourself with:
Go forth and seize that dream job!