7 Architect Roles (incl. Job Description)
Architects do not merely design buildings. But what do architects do exactly?
Their job scope covers a lot more tasks necessary to complete design and construction projects successfully, including working with the following project stakeholders in transforming design details into built structures:
project owners,
engineers,
cost consultants,
trade specialists,
government officials, and
contractors.
Undoubtedly, architects with various job titles share this mountain of tasks and job duties in a synergistic balance that successful architect firms have – big or small.
Your specific job responsibilities depend on the following roles.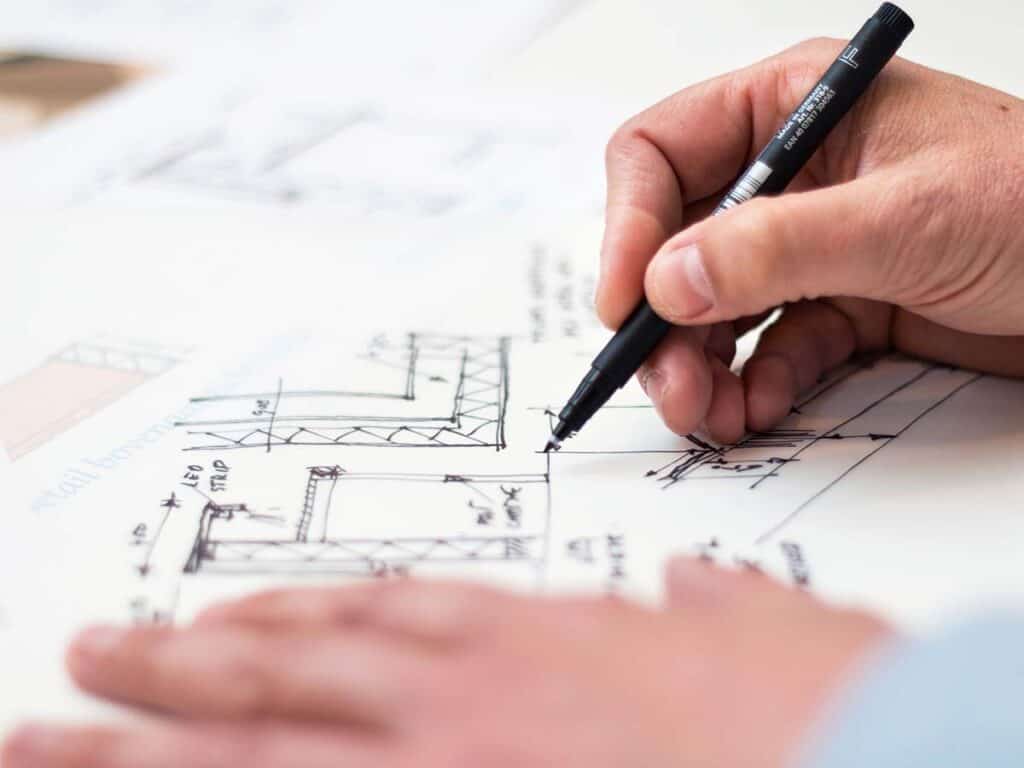 1. Job Description of a Principal Architect
As the leading architect in a project, the Principal Architect shoulders the ultimate responsibility for its success or failure. You usually only find senior architects or licensed architects with more than five years of practical experience in this role.
A Principal Architect does the following:
Manages an entire project's progress through architectural design phases – Schematic Design, Design Development, Construction Documentation, Bidding, and Construction Administration.
Prepares job bids, project schedules, and implementation strategies.
Communicates with and answers directly to the client.
Guides, manages, and supervises the team of junior architects and technical assistants in large projects.
Reviews and proposes improvements to systems and implementation activities.
Reviews design input from engineers and trade specialists.
Reviews and ensures project costs stay within budget.
Reviews and approves material specifications and design drawings.
Chairs meetings with clients, design consultants, and contractors.
Could take on the role of a Head of Department in large architecture firms.
Could be the firm owner in small architecture firms.
2. Job Description of a Building Designer/Architectural Designer
Many firms hire graduate architects to become architectural designers. It is an entry-level architect role that naturally fits fresh graduates with a bachelor's degree in architecture as they do not yet have the practical experience to become licensed.
It is the crucial stage in a young architect's career development.
Suppose you recently began your career in architecture. In that case, you must stay focused on gaining the necessary types of experiences so you can progress in terms of the salary you command or acquiring the license.
Some Architectural Designers become licensed architects, while others progress into the role of a senior Design Architect.
These are the job description of an Architectural Designer:
Works under the direct supervision of a Principal Architect.
Produces schematic design proposals – plans, elevations, and sections – for approval by the Principal Architect.
Attends design meetings with the Principal Architect and clients.
Participates in design coordination meetings with the design and cost consultants.
Works closely with drafting technicians to produce schematic and detailed design drawings.
Researches and proposes materials specifications.
May communicate directly with clients but reports progress to the Principal Architect.
Studies and ensures designs comply with building codes and regulations, in close coordination with the Project Architect.
Expected to be well-versed in CAD, 3D illustration, BIM, and image-editing software.
3. Job Description of a Project Architect
As long as you stay within the field and continue to work as an architect in an architecture firm, you either become a Design Architect or Project Architect.
While a Design Architect primarily deals with design matters, a Project Architect's focus lies in managing a project through its lifecycle, which only ends when the building completes.
You may also hear Project Architects being referred to as Architect Project Managers.
What does an architect do apart from producing design blueprints?
Well, the job specifications of a Project Architect are as close as you will get to an answer.
These are their duties and responsibilities:
Oversees the development of a project from start to finish.
Provides input in the Schematic Design phase.
Participates extensively in the Design Development and Construction Drawings phases.
Coordinates and resolves design issues relating to the job scopes of the mechanical, electrical, and plumbing engineers, structural engineers, civil engineers, acoustics specialists, green design systems specialists, interior designers, landscape architects, cost consultants, and any other trade specialist that the particular building design requires.
Liaises with the government officers and obtains the planning and building permits from the local government.
Prepares material specifications and schedules.
Involved in the Bidding phase: Together with the other design and cost consultants, assists the client in arriving at the optimal contract price with the preferred contractor in a negotiated bid; in competitive bids, the responsibilities are similar, except for more rounds at the negotiation table with several contractors.
Takes on the primary role in the Construction Administration phase but reports to the Principal Architect for key approvals.
Works with government officers in obtaining necessary building approvals.
Works in close collaboration with the engineers, cost consultants, trade specialists, and contractors (almost daily).
Communicates directly with the clients on updates in design, costs, and construction matters.
Attends and chairs periodic construction meetings.
Visits job sites regularly.
Ensures the successful completion of a project and assists the cost consultants in finalizing and closing project costs accounts.
Expected to be reasonably skilled at CAD and BIM software, knowledgeable in materials technology, building techniques, and building codes and regulations.
4. Job Description of an Architectural Assistant
Architectural Assistants, as the name suggests, assist the Architect, Project Architect, or Principal Architect in matters that are necessary legwork but otherwise time-consuming for them to engage in.
It is a role that mid to large architecture firms typically have as they take on more complex projects.
A few architects can fit this role, namely architectural draftsmen, fresh graduates from a pre-professional architecture degree or an associate's degree in a related field, or any person with sound knowledge of the field but lack the necessary professional qualifications.
These are an Architectural Assistant's job description:
Does research to assist the Project Architect in materials specification and standards compliance.
Assists the Architect or Project Architect in liaising with government officers for statutory approvals.
Assists in the production of Design Development and Construction drawings.
Assists the team in surveys of existing buildings and new project sites.
Organizes and maintains documents and paperwork.
Meets construction material vendors and procures material samples for architectural specifications.
Assists in other project-related matters as needed by the team.
Expected to be well-versed in CAD software, statutory compliances, and building standards.
5. Job Description of an Architectural Technologist
From simple to complex constructions, knowledge in architectural details' buildability is crucial in determining their success and achieving optimal cost solutions for the clients.
An architect's job duties are expansive, and the help from an Architectural Technologist with specialized knowledge of construction detailing increases the firm's chance of performing well.
The contributions of an Architectural Technologist are instrumental in large and complex constructions.
An Architectural Technologist's responsibilities as listed below:
Assists the Project Architect in materials selection and implementation processes.
Carries out risks assessment of the various construction technologies and systems during the proposal stage and selects the appropriate solutions to suit specific design issues.
Reviews and analyses Design Development and Construction Drawings to assess buildability and foresee construction problems, plus suggest alternative solutions.
Heavily involved in the Construction Documentation and Construction phases.
Works closely with engineers and contractors.
Visits job sites regularly, either alone or with the Project Architect.
Keeps up-to-date with various construction systems and green architecture technologies.
Expected to possess CAD skills. The ability to freehand-sketch construction details is greatly valued.
6. Job Description of an Architectural Illustrator
As the job title suggests, Architectural Illustrators play a crucial role in turning design ideas into illustrations that support the understanding and enhance appreciation for the architect's work of art.
Their contribution is mostly limited to the proposal and Schematic Design phases but significant enough to win or lose a new commission for the firm.
The job responsibilities of an Architectural Illustrator cover:
Producing 2D colored drawings and 3D illustrations for the architects that help explain design concepts and ideas to clients.
Creating animations for concept proposals and marketing purposes.
Working closely with the architects in understanding the concept, turning it into attractive and easy-to-understand visuals, and constantly tweaking them.
Skilled in using various graphics software such as Rhino, SketchUp, ArchiCAD, V-Ray, Studio Max, Revit, and Photoshop.
May produce visuals as promotional materials for real estate developers and their marketing team.
7. Job Description of an Architectural Draftsman
Architectural drawings – technical or otherwise – are a staple in the practice of architecture. The importance of the supporting role that CAD technicians or drafters play is often overlooked.
A skilled and experienced Architectural Draftsman or Drafter can spot potential problems on the drawings and avoid costly mistakes from occurring at the job site.
Architectural Draftsmen can develop into Architectural Technologists as their support role extends to resolving construction issues when working with Project Architects.
An Architectural Draftsman's job role covers the following:
Analyzing the design brief from the Architectural Designer or Design Architect.
Producing 2D (and 3D occasionally) drawings on CAD software.
Assisting in the production of specifications and schedules.
Visiting job sites occasionally to take measurements and understand construction issues that arise.
A senior Architectural Draftsman may lead a team of drafters for large projects.
Skilled in CAD and BIM software such as AutoCAD and Revit; manual drafting skills may be needed for ad-hoc corrections on printed drawings.
Things That Architects May Do
Outside the primary duties and responsibilities of an architect, there are some tasks and services that they may also provide, namely:
Interior design
The design skills of Architectural Designers and Design Architects are often able to transfer to designing the interiors as well. Many architects have done this and become successful at it.
Some architecture firms offer architectural and interior design services under one roof. Such provisions are useful in cushioning a drop in one type of commission to ensure sustainable income.
This post on architecture and interior design goes in-depth on the interchangeable roles between the two.
Free consultations
Some young architecture start-ups offer free consultations to homeowners who need home-remodeling services or advice on new builds as a way to promote their services and get new commissions.
Things That Architects Don't Do
With many professionals in the building industry, it can be difficult for industry outsiders or the public to understand the job scope of an architect.
While architects primarily concern themselves with designing buildings and producing the necessary drawings to build them, their job duties do not cover all the drawings needed.
These are the things outside their job scope:
Architects do not produce electrical plans
This is the job of electrical engineers.
Architects may review these plans as part of their coordination work with the engineers, but they play no part in producing them. The same applies to plans for mechanical and plumbing provisions.
Architects do not do structural calculations
This is the job of structural engineers. Such calculations require specialized math skills that architects do not learn in architecture schools.
The math skills required of an architect is relatively elementary compared to an engineer.
Architects do not carry out construction
Although architects play a critical role in the Construction Administration phase of a project, the construction business requires entirely different skill sets such as workforce, materials, construction plants, and equipment management.
Construction is a specialized field that requires specific contractor licenses for different types of buildings.
Although these tasks are not in the job description, architects work closely with engineers, contractors, and other design consultants in their daily work.