Apartment vs Condo vs Townhouse (Differences Explained!)
When you are looking for a home in the city, you hear about condos, townhouses, and apartments for rent and sale.
Are they that different from each other and which is best for you?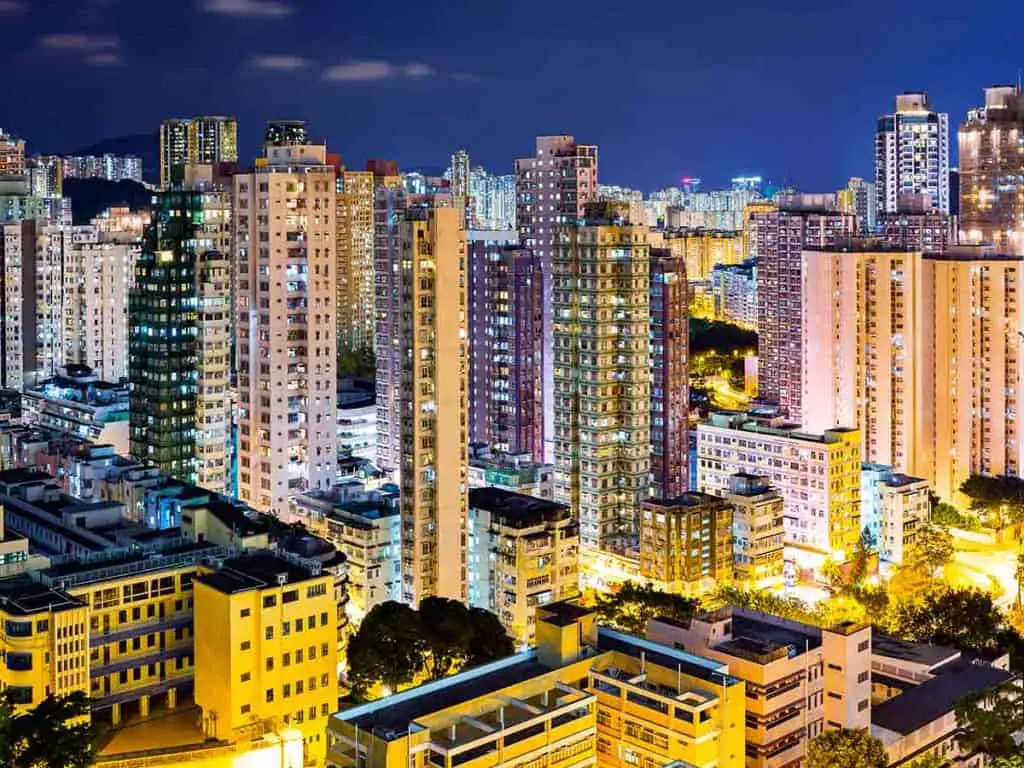 Definitions
An apartment (often called a flat in the UK) is a suite of rooms in a building that provides rentable living space.
A condo (short form of condominium) is a unit that is part of a larger complex. Individuals own the condos and share in the maintenance and upkeep of communal areas of gardens and leisure facilities. It can be a unit like an apartment or like a single-family home or townhouse.
A townhouse is a multi-floored property that shares one or two walls with adjacent properties in a row or block – a form of terrace housing. Each property is individual with its own access and utilities.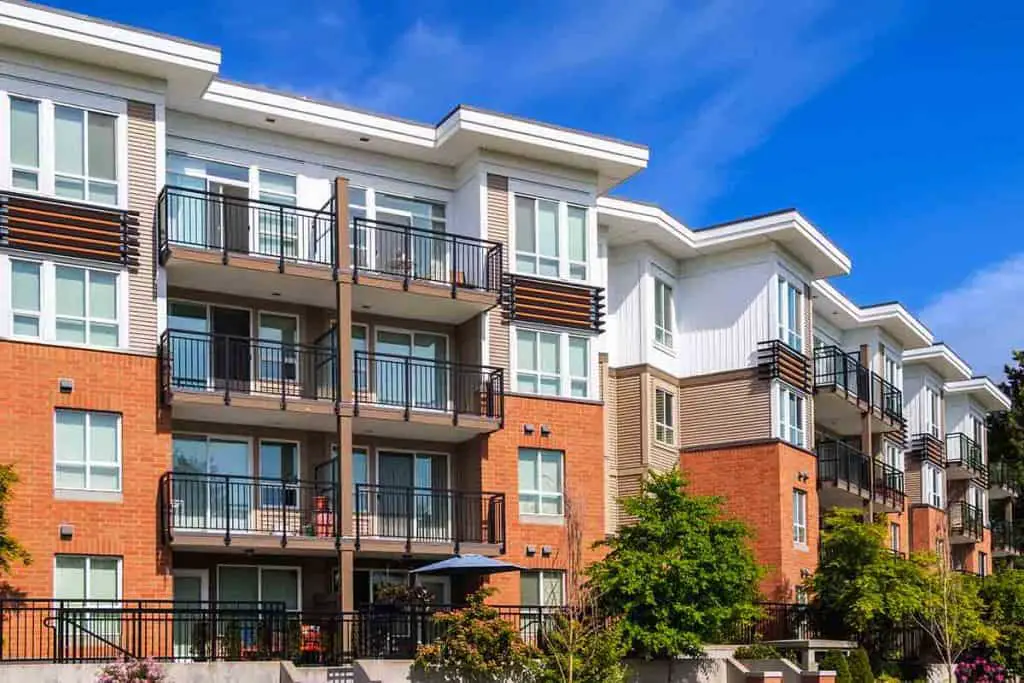 Apartment Features
An apartment is typically a rented living space inside a larger building, and this covers a multitude of possible layouts, architecture, and available space.
Typical apartment types include:
Studio – one room plus a kitchen space and full bathroom. An Alcove studio has an L-shaped room that gives the impression of more space and segregation of sleeping and living areas.
Loft – one large open plan room with high ceilings, typically from converting a commercial building into residential units.
Duplex or triplex – rooms over more floors and typically separate bedroom and living rooms.
Co-living apartment – an apartment with multiple bedrooms, each rented out separately.
Garden apartment – ground floor property with access to a garden area.
Penthouse apartment – the largest unit on the highest floor with the best views.
Apartments for rent can vary from minimal to luxurious depending on what is available and how much you can pay.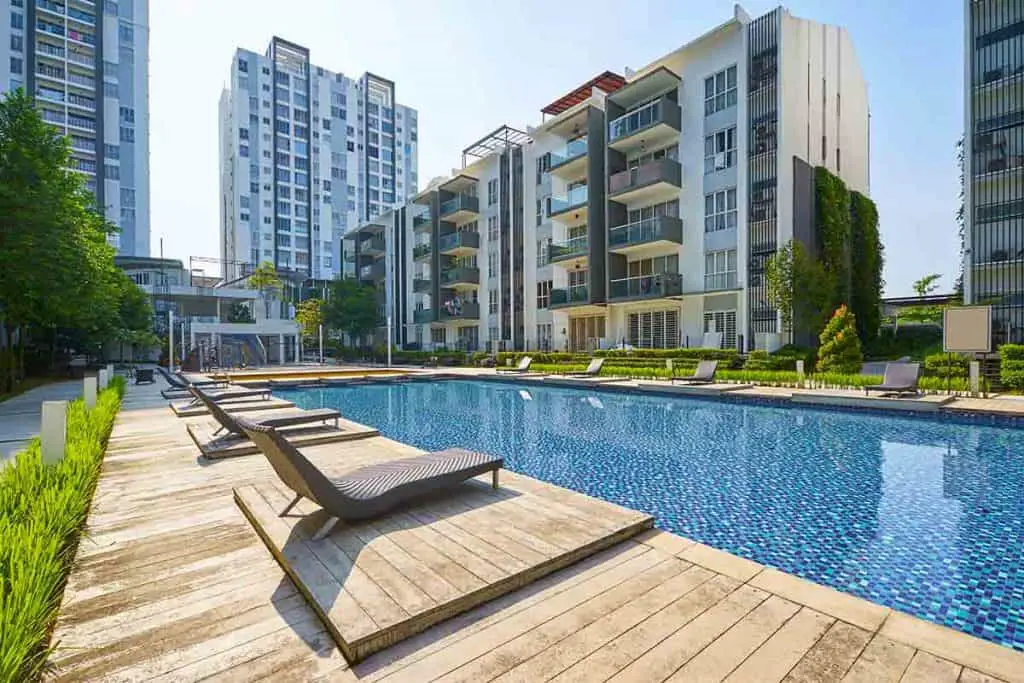 Condo Features
The architecture of a condo varies from a typical apartment to a regular house.
What defines a condo is the ownership of an individual unit with shared features. You can rent a condo in the same way you rent an apartment.
What is the difference between an apartment and a condo?
Apartments and condos differ in their ownership and rental arrangements. All apartment units come under a single owner or landlord, and you rent the apartment through a rental company that the owner hires to manage the properties. Meanwhile, each condo's ownership is unique, and you rent the condo directly from the landlord.
What are the advantages of a condo?
Features and advantages that make condo living an attractive option include:
Enjoyment of facilities without direct responsibility – you are only responsible for your condo and don't have the eternal maintenance of yards and roofs, but you still enjoy the communal areas.
Security – you may have a security team, but the entrances are more difficult for intruders, and if you are a single person, that is comforting.
Sense of community – because you all contribute to communal areas, there are more 'meet-your-neighbor' events and interactions.
Affordable – you buy a smaller unit and not the whole parcel of land. Property taxes are lower than for houses, and they are an excellent first-time property purchase.
Extra facilities – it depends on the condo. Still, you can have a pool, barbecue space, patios, and all manner of additional shared amenities at a fraction of the cost of accessing or building these privately.
There are plenty of plusses, but there are also some negative points of owning a condo:
Shared ownership is an investment risk – your neighbor may sell cheap and devalue your property value.
Lack of privacy – a lot of the plus side is the communal nature of condo living, but if you prefer peace and solitude, this feature may be less desirable.
Limited outdoor areas – the developer makes their money from maximizing the number of units for sale, and this may cramp the availability of outdoor space for relaxation and parking.
Covenants and bylaws – the not-for-profit housing association that runs the communal property and collects the fees may also have a list of enforceable rules covering everything from dealing with trash to the color you can paint your door. There may be a ban on renting your property out, which could be an issue if you must leave it empty for a while.
Monthly fees – the money you pay to upkeep the common areas cover running costs and accumulate a reserve for significant capital expenditure and repairs. This expense continues for as long as you own the condo, regardless of how frequently you use the amenities.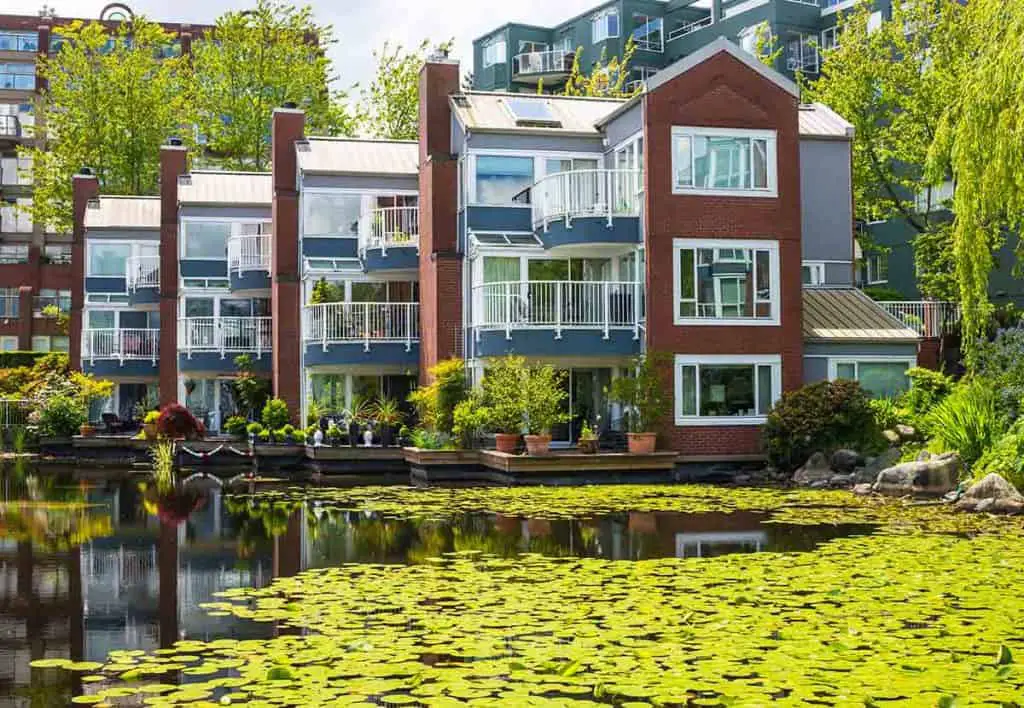 Townhouse Features
Townhouses are smaller than typical family homes and have close neighbors as they are built in terraces. They can operate as part of a condo development or as unique units.
The features of a townhouse include:
Shared walls with neighbors – this feature means they are a less expensive property, but you may have more noise and traffic.
Small outdoor space – you have control over your garden and possibly a covetable inner-city parking space and garage.
Multilevel – townhouses are typically narrow vertical buildings with two or more stories. All those stairs may not suit you if you have mobility issues.
Direct access to your house – there is no long walk through the common areas to reach your front door.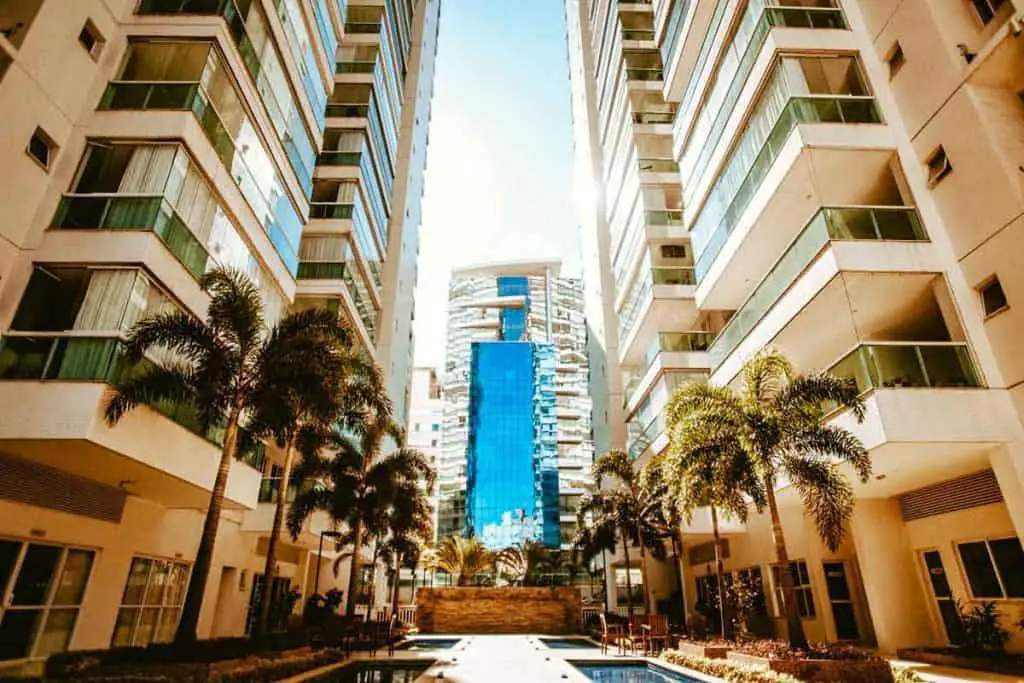 Apartment vs. Condo
Apartments and condos are similar architecturally but differ in ownership – an apartment building has multiple units for rent under an entity's management, while each condo has distinct ownership.
Superficially, there is little difference between apartment and condo:
Inner-city living space in shared facilities.
Available to rent or buy (you can buy apartments in some cities).
The primary difference between apartment and condo is ownership, and if you own the property (more likely with a condo), you can:
Choose and implement your interior design style.
Choose your contractors, budget, and timescale for maintenance.
Make a profit on resale.
Use the property for loan financing or a rental income.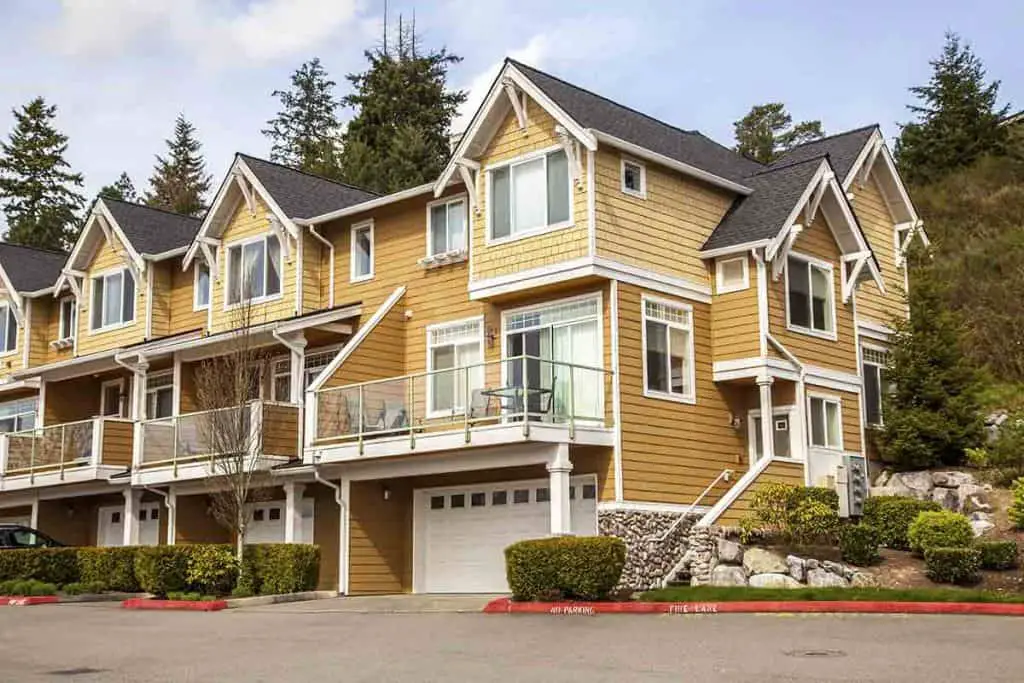 Condo vs. Townhouse
The difference between condos and townhouses depends on the condo because some condos are townhouses.
Typically, when comparing advantages and disadvantages, you consider the difference between apartment and townhouse.
The apartment vs. townhouse differences are:
Condo apartments are typically on one level as a suite of rooms in a shared multilevel building. Townhouses have rooms spread across multiple levels.
Condo apartments have multiple tenants managed by the same management entity, while each townhouse has a unique owner.
Townhouses have a dedicated and exclusive outdoor space attached to the property, whereas condos use shared outdoor areas.
External maintenance of the condo (roof, for example) is communal, but a townhouse owner is responsible for their exterior maintenance.
Cost Comparison
The price of any real estate property available to rent or buy depends on:
Type of property – townhouses give a greater degree of ownership and privacy.
Location and availability – a shortage of suitable housing push the price for rent and purchase higher.
Condition and maintenance.
Investment value.
The cost of property depends on prevailing economic conditions and the State.
The average monthly rent of a city apartment in the United States is $1,468 (February 2020), and currently, rents are rising. There is a lot of variation depending on the location and number of bedrooms available in the apartment.
Buying an apartment can cost from $3,100 to $17,700 per square meter of space. On top of that, you will need to contribute annually to shared maintenance costs.
The cost of buying a house varies widely depending on location and condition. The median sale price of homes across the US is $306,000, but it is highly dependent on the State – Chicago averages $203,000, where Los Angeles hovers around $635,000 (January 2020).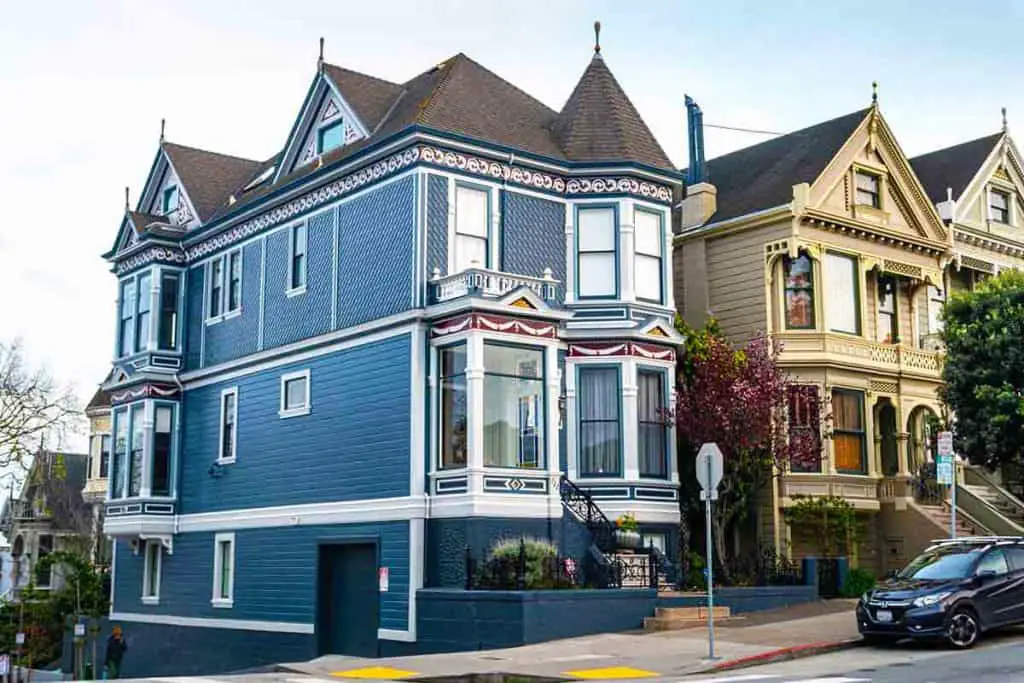 Buy or Rent?
The decision to buy or rent depends on your finances and life plans.
Why Rent Instead of Buy?
Renting a house is often described as a waste of your resources, but apart from being the most affordable option for some people, it has many advantages:
Flexibility – the contract length is short, and you can move locations easily to get away from unpleasant neighbors or choose a location near your new job.
Gone traveling – if you rent and choose to backpack around Asia, you simply stop renting and take off with no household maintenance worries to weigh you down on your travels.
Luxury and quality – you can afford to rent a higher quality home in a better location than you can buy, so you can get to experience many different living styles.
No maintenance costs – if the heating system breaks down, it is your landlord's problem, not yours to finance and fix as a renter.
Affordability – the upfront costs of taking on a rental property are far less than buying a property because you don't need to find the capital deposit.
Why Buy Instead of Rent?
If you can afford it, most people opt to buy property because they can build up equity, and long-term ownership is less expensive than renting.
Reasons for buying a house instead of renting include:
Freedom – within limits, you can do what you like decoration-wise with your house and if you want to paint it neon green and orange the choice is yours.
Security – when you finish paying the mortgage, the property is yours, and you can live rent-free for life or use the equity to fund your retirement.
Community – when you are ready to have a family and put down roots buying a house is a way of establishing yourself in a community.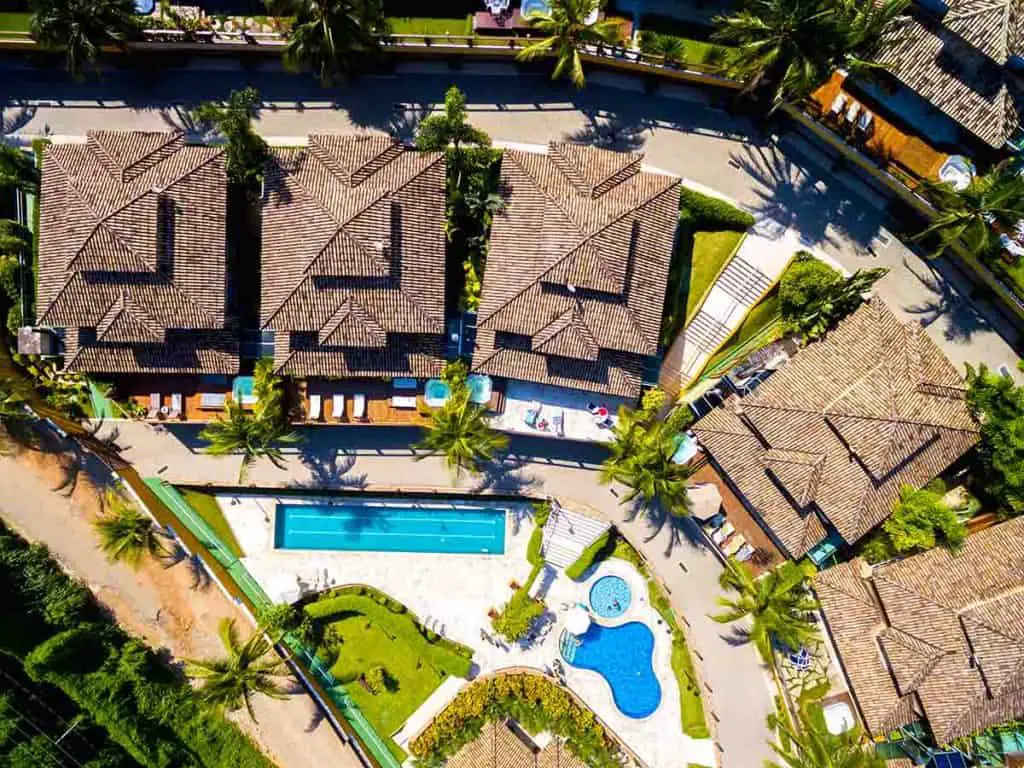 What is the Most Popular Type of Housing in the USA?
Is there one type of most popular housing style in the States?
The 53 states each have different climates, aspirations, and a mixture of urban, suburban, and rural areas, so no one type of house is the most popular.
Practically speaking, the type of housing available depends on where you live:
Townhouses and apartments dominate Washington DC.
New York City has fewer family homes and townhouses, and most people live in large apartment blocks.
You are more likely to find a single-family home in Oklahoma.
Philadelphia and Baltimore both favor the higher-density townhouse for the available accommodation.
Dream homes are a different matter. When asked, most people aspire to a traditional family house with plenty of land, but realistically city living does not lend itself to those aspirations.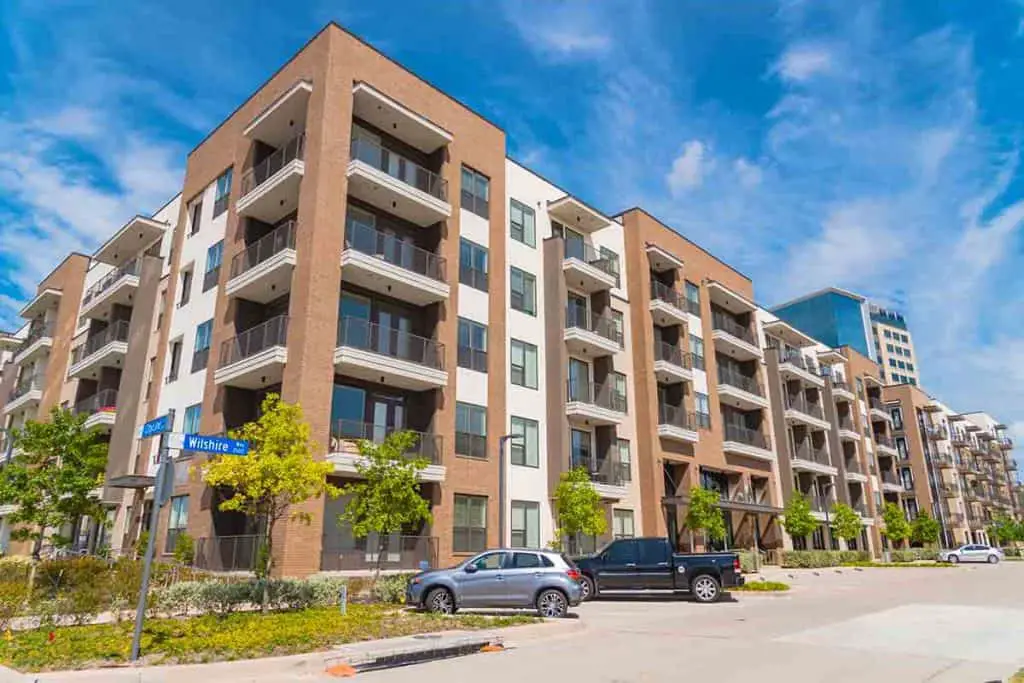 Why Choose an Apartment?
The only accommodation available to you may be an apartment, but if you have a choice, choosing an apartment over a townhouse or condo for your home has these advantages:
Maintenance is minimal – apartments are relatively small and straightforward to furnish and maintain. You don't have to worry about paths or gardens.
Affordable – less space to heat and lower property taxes.
Security – most apartment blocks restrict access and have additional security features provided and maintained for your benefit.
Amenities – modern apartment blocks offer extra amenities as one of the perks of communal living.
Saves time – apartment living is low maintenance for you with fewer rooms to clean and quick access to shops.
Flexibility – if you choose to rent an apartment, you can move when you want to with less fuss and expense.
Savings – you can invest the money you would spend on running and maintaining a house into savings for something you want in the future.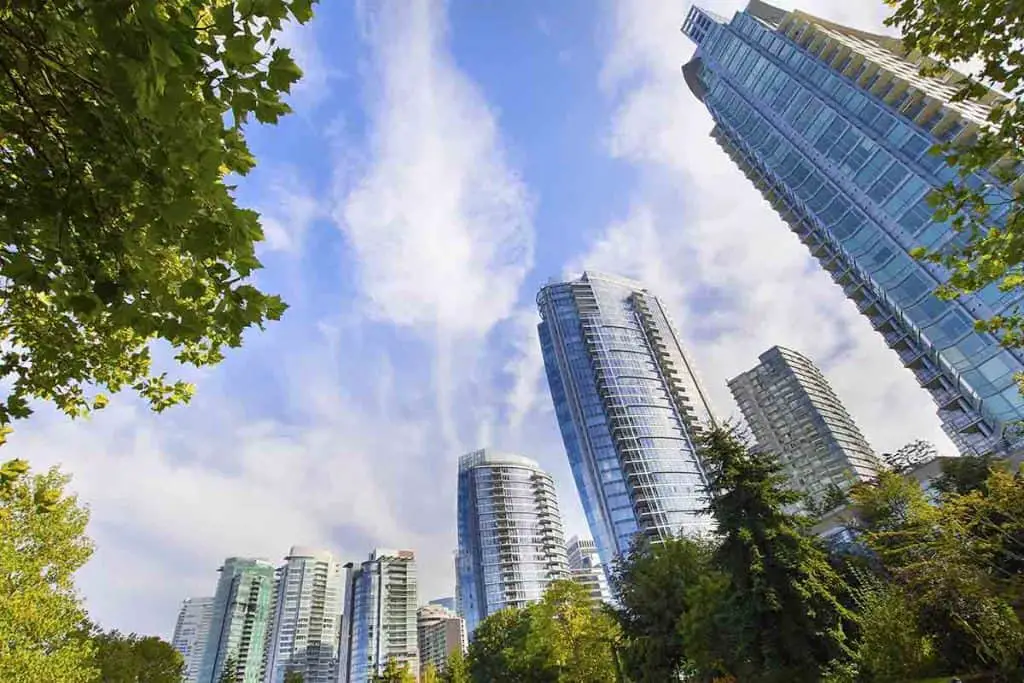 Why Choose a Condo?
Choosing a condo over a house gives you many advantages of an apartment, such as amenities and improved security, plus the extras of:
Fewer maintenance costs – you do not have a lawn or a large backyard to maintain and upkeep. But you will pay a monthly maintenance fee for shared areas.
Convenience – the grocery store, mall, or hospital is typically within easy reach.
Sense of community – shared facilities and a shared interest give an old-fashioned village feel to most condos.
Higher standards – modern condos include high structural standards and the latest innovations in design and convenience.
Increasing equity value – living in a condo is more popular with families, retirees, and just about everybody, so the value appreciates at a greater rate than less desirable accommodation on resale.
These apartment and condo buying questions make excellent checklists when hunting for a new home.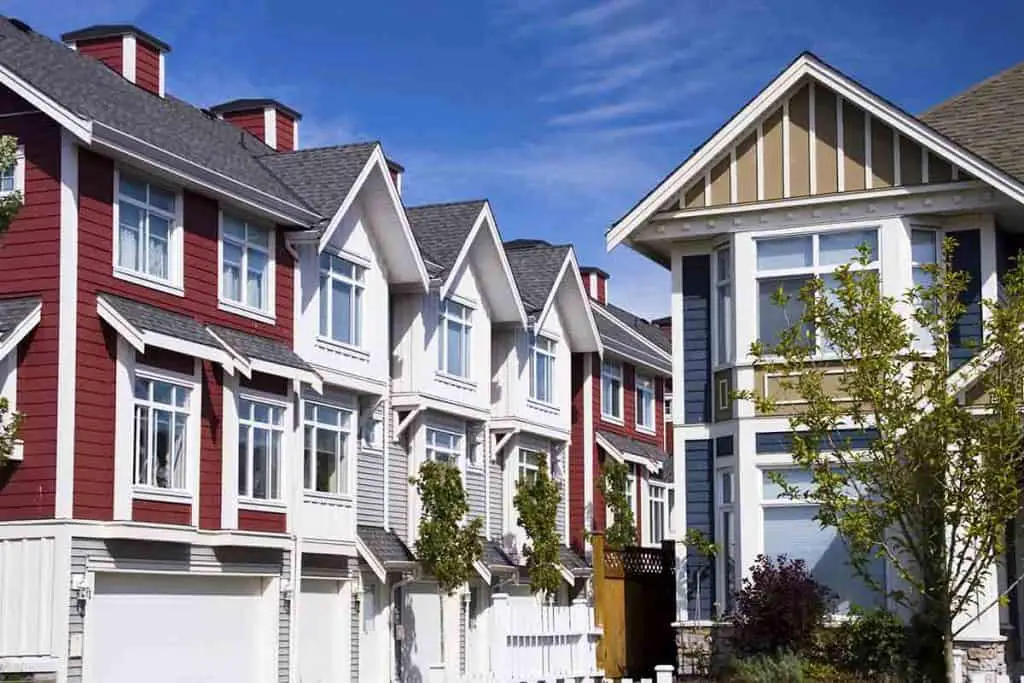 Why Choose a Townhouse?
Townhouses are a growing development because it is possible to fit an increased number of homes on a development plot if you build them in terraces.
The advantages of a townhouse are typically:
Increase in internal space compared with an apartment.
A small amount of land and possibly a private garage.
Fewer maintenance costs compared with a single-family home – fewer windows to wash and walls to paint.
Near neighbors – this is both a benefit and a disadvantage depending on your neighbors.
Shared amenities – typically, townhouses form part of a condo complex, so people choose between apartments vs. townhouses.
What is an HOA?
When you start looking for a condo, townhouse, or apartment, you may come across a reference to an HOA or HOA rules and fees.
HOA stands for the Homeowners' Association and comprises representatives elected among the residents. It is a non-profit organization that collects and manages the fees and property upkeep, including common areas' cleaning, trash disposal, and employing contractors for gardening and repair work.
This body also sets the communal rules, which can be quite restrictive, and cover items like:
Pet ownership and what types of pets.
External decoration.
Leasing or renting to third parties.
Planting rules for townhouse gardens.
Some HOAs take on the social committee's role and organize regular community events so you can get to know your neighbors.
Shared Amenities
The shared amenities can be as straightforward as shared corridors and green space or may be more exciting and can include:
Pet-friendly features like providing a dedicated dog park, allowing larger dogs, and providing dog washing facilities.
Transport – parking, garages, bike storage, electric car charging points, useful transport links, or shared car ownership.
Laundry – a shared laundry room saves space and gives you access to high-quality machines and drying space.
Digital – smart controls, Wi-Fi, and cable or satellite TV.
Leisure – gyms, community function rooms, spas, swimming pools, sports grounds, and open green spaces.
Other – storage, security cameras, staff, gated access, recycling facilities, trash bin area.
The value and the associated cost of shared amenities depend on your lifestyle.
If you are never going to use a gym, you might prefer a condo that doesn't offer that facility to ensure you get maximum value from your shared maintenance fees.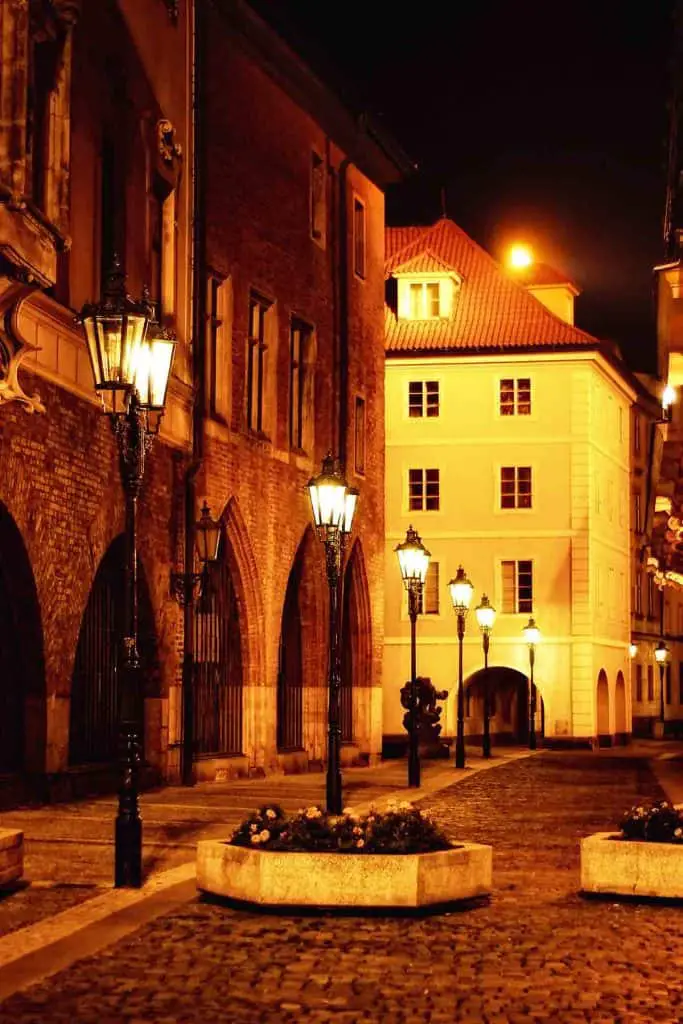 Historic Apartment Buildings
Most apartments and condos are new builds on greenfield or brownfield sites, but many historic older buildings find a new life repurposed into apartments or condos.
A newly built apartment block or a historic building conversion both offer living space for modern needs. The charm of living in a landmark building lies with some of the design features – higher-ceiling rooms, perhaps with mezzanine floors or larger windows.
The top reasons for preferring an apartment or condo in a historic building include:
Character – The aesthetics of older materials used in innovative ways, such as cast iron and stone, together with decorative and ornate floors.
Durability – historic buildings were built to last with the best materials, and they are still standing today.
Better soundproofing – modern building techniques are light, fiberglass doors instead of solid wood, drywalling instead of bricks and plaster, and this means you get noise from your neighbors in modern apartments.
Desirable location – most historic buildings are in the city's best parts and close to all the attractions, making them an ideal type of travel accommodation.
Eco-friendly – repurposing historic buildings for modern living is greener than taking up a greenfield site and building a modern complex.
Excellent resale value – character building is a desirable place to live, which means when the time comes to move somewhere else, you expect to find a thriving resale market. It is a practical reason why historic buildings are worth preserving.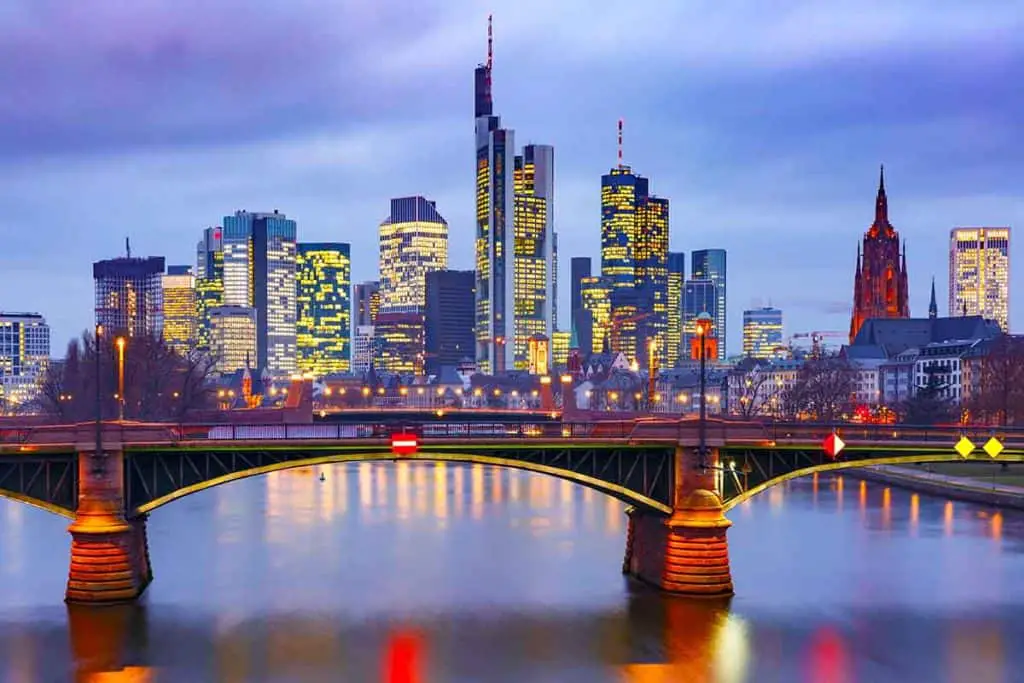 Advantages of City Living
Many people dream of living in the countryside, surrounded by the peace of nature, but they forget that if they work in a city, realizing that dream leaves them with many commuting hours.
Living in a city puts you within walking distance of your work, parks, and other attractions or within reach of a modern public transport system.
Condos, apartments, and townhouses meet city dwellers' needs by providing living space close to the heart of the action. The advantages of living in the city in this type of accommodation include:
More time for leisure – less time commuting and shopping and you can fit in some daily exercise by walking to work.
Lower costs – the capital or rental price may be slightly higher than a country property, but you save on commuting cost and maintenance. These inner-city gems take less work and effort to maintain and decorate than their country cousins.
Better amenities – close to education, art galleries, gyms, restaurants, and theaters.
Better security – city living is less isolating than the rural idyll because you have shared security measures and neighbors.
More social contact – more opportunities to meet and talk to people as you go about your daily life.
Many may say they dream of a large house in the country, but in reality, city life is more exciting and has more fun on your doorstep, and this may explain the rising popularity of condos, apartments, and townhouses.