24 Top Questions Before Buying a Condo/Apartment
Investing your money in a place to live or as a buy-to-let is a substantial commitment. You want to be sure that you get the best condo or apartment for your money.
The best way to handle the things to consider when buying a condo is to ask questions. Lots of questions – ask your potential neighbors, the seller, your Real Estate Agent, and the homeowner's association (HOA).
Some of the things to consider when buying an apartment are for you to answer before viewing your first property – the first in your 6-stage home-buying journey.
If you don't ask, people are unlikely to volunteer the information, so pay attention and keep asking questions about everything from how many security cameras are in the lobby to how often the trash bins empty.
You are on a mission to find out everything you can before buying and moving in because moving home is one of the most stressful things you can do. Avoid unpleasant surprises by asking many questions and checking the answers from more than one source.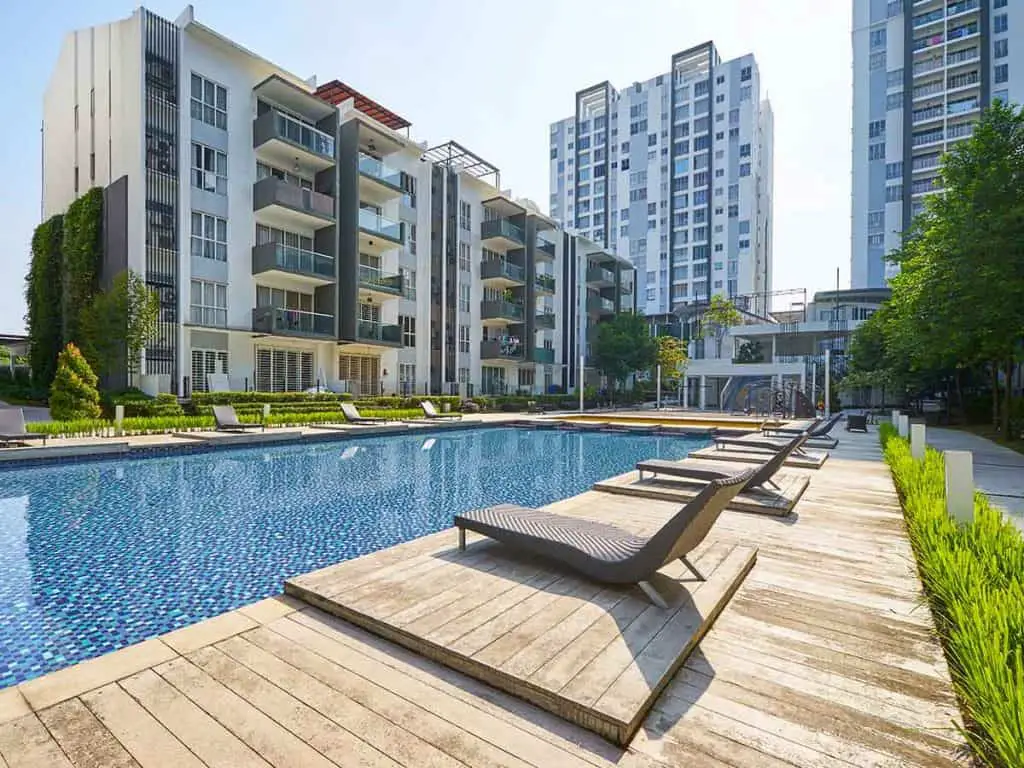 Questions for You to Answer
It is hard to work out what to know about your property buying goals because you can get caught up in the thrill of the chase.
Getting clarity on what you need and what to look for before you meet your Real Estate Agent gives you a plan for success.
#1 How Much Can You Afford?
The answer to this question defines the condos and apartments you can consider looking at because what's the point of looking at your dream house if you can't afford it?
There are two parts to this question – how much can you afford for the initial purchase, and how much can you afford monthly for management fees and utilities?
#2 How Much Do You Want to Pay?
The difference between how much you can afford and how much you are willing to pay gives you room in your budget for negotiation.
Stretching yourself to the max may be your only option, but setting your budget price for your condo or apartment at a lower, more affordable level gives you more flexibility in your daily life and your property search.
#3 Where Do You Want to Live?
You may have no preferences about the location of your condo or apartment.
On the other hand, you may have some non-negotiable factors like distance from work, a safe neighborhood, access to good schools, or open space to run and exercise.
If you have location limiting factors, it helps narrow your search area into places you are willing to live. That saves you time and effort because you won't waste your time looking at condos in the wrong part of town for you.
#4 What Do You Need?
Knowing if you need two bedrooms and a larger kitchen area gives you a quick way to shortlist potential properties from those that won't suit you.
As part of what you need from your condo or apartment, consider shared facilities like an on-site gym and laundry room.
Hone your list to the bare minimum that an apartment and condo must have before you make an appointment to view.
All the extras and desirable features above your minimum standard help the buying decision when choosing between properties.
#5 What is Your Timescale?
Do you have plenty of time to find the right condo, or are you running up against a deadline?
If time to buy and move in is a factor, this will influence your buying decision and push you into a rushed decision, and you can pay too much.
Even if you have a tight deadline, try and keep that information to yourself while viewing and negotiating.
#6 When Do You Intend to Move?
Planning your next move before you have bought your apartment may seem a bit strange, but it is one of the things to consider when purchasing a condo.
It is rare for condo prices to rise as fast as house prices, so if you need to move in the next five years, at best, you will break even on your property purchase.
If you are buying because you think prices will increase rapidly in a couple of years, you are taking an investment gamble.
Prices rising in the past don't mean that they continue to improve, and unforeseen events (like a significant local employer going bust) can depress the housing market.
Questions for Other People – Seller, Real Estate Agent, and HOA
Your questions cover what to look for when buying a condo or apartment, but you may need to push hard for answers.
#7 What Do People Complain About?
The place to find out the downsides to living in a condo or apartment is the minutes from the HOA meetings to see if there are recurring complaints and gripes.
You can also ask your seller and potential neighbors.
Some complaints will be minor, but there may be some serious issues lurking in the background that mean you prefer to live elsewhere.
#8 Why Are You Selling?
It is a blunt question, but the reason someone wants to leave a property may be why you don't want to buy it.
Your Real Estate Agent may be able to answer this question but bear in mind that the surface reason may not be the real reason they are selling up.
#9 What About Your Neighbors?
This question looks at how it feels to live here. Perhaps it is a commuter zone, and people don't mix, or it may be a more friendly place where your neighbor likes a regular chat.
The answer to this question isn't a deal or no deal issue. It is just gathering information about the general feeling of the place.
#10 What About the Management Team?
The HOA may have a combination of paid staff and a volunteer team drawn from the residents. Try and get a meeting with someone responsible for day-to-day repairs and administration.
Your potential relationship with this person may make living in your condo comfortable or unpleasant.
Plus, no paid staff or management team means running the complex is down to volunteers. This option may keep the fees down but may mean that service is limited and involve you in extra work to get anything done for your property.
#11 What are the Monthly Fees?
What to look for with this question is annual increases – low or extortionate?
What does the amount you pay give you in exchange?
Also, check to see how the HOA finances significant capital expenditure like resurfacing a road or renewing a roof – reserves or a special assessment for the residents?
#12 How Big are the Reserves?
The reserves (the capital portion of the monthly management fee) build to meet significant capital expenditure.
Older condo complexes should have a substantial reserve. As the age of the condo increases, the possibility of significant repair rises.
You also want to examine what classes as significant capital repairs – what they are saving the money for and the estimated cost of those repairs.
If there is not enough money in the reserves and a significant repair is necessary, the residents meet the shortfall from their income a special assessment.
#13 Do You Get Access to Storage Space?
Typically, condos and apartments don't have accessible attics or garages for your bike and out-of-season stuff.
You can always rent a storage locker, but accessible space to put your commuting bike overnight or your camping equipment is a bonus and keeps your living space less cluttered and does not involve an extra cost.
#14 What About the Condo Insurance?
The HOA will have an insurance policy in place for accidents and damage.
You need to check what it covers – capital work for bringing an older building up to Code, third party accidents, your personal property in case of fire or flood?
You don't want to double-up on having an individual policy covering you for the same risks as the Condo policy.
Still, you do want to know where the shortfalls are concerning your possessions and responsibilities.
#15 Do Residents Actually Pay Their Condo Fees?
This question is not about you planning on skipping your condo fees – ultimately, you get sued.
This question is about the community you are joining. A delinquency rate (failure to pay the fees) of 15% or more should ring some alarm bells.
There will always be some people who don't pay for a short-term personal reason, but the overall proportion needs to be small for healthy community finances and shared risk.
#16 What are the Restrictions?
When you buy a condo or an apartment, you join a community with general house rules.
Before investing your cash, go over the rules to ensure that there is nothing there you can't live with – pet ownership, exterior décor, where you can park your car, and a whole list of other restrictions that may make living in this condo less ideal.
#17 Can You Rent Out Your Apartment?
If you need to move cities or decide to pack your bags and travel the world, is renting your condo a possibility?
You own your apartment, but the rules may prohibit you from renting out your property.
That may not be an issue for you now, but circumstances change, and the option to rent on a short- or long-term lease is a way to reduce your costs.
#18 Who is Suing Whom?
Community living does not always run smoothly, and the possibility of litigation is always there.
Talk to your Real Estate Agent and find out if there is any current litigation.
Many people suing other people may indicate a volatile and aggressive community, but a case against the developers may show structural problems you want to avoid in your property.
#19 What are You Responsible for with Your Condo?
Go over the unit deed and the master deed with a sharp eye for details covering your responsibilities.
If you have a balcony – do you repair it, or is it the HOA responsibility?
What about the windows?
The deed outlines what you get to enjoy as part of condo ownership and what you are responsible for repairing, maintaining, and renewing.
This is one of the top questions to ask when buying a condo.
#20 Can You Hear the Noise?
The amount of noise you hear from your neighbors or outside depends on the condo construction and external environment.
Effective double glazing and soundproofing will eliminate most noise from outside your condo, but it is worth checking.
Poured concrete walls give you plenty of sound insulation, but thin wooden walls may make you hear more of your neighbor's life than is comfortable.
#21 How Often and How Fast Do These Apartments Sell?
You are investing your money in property; you replace your rent with a mortgage payment and expect a capital return on investment.
Top questions to ask when buying an apartment must include an estimate of future value and ease of resale.
Your Real Estate Agent will be able to give you an indicator of how often properties like this come on the market, how quickly they sell, and if they make a consistent profit.
#22 What About Parking?
Don't assume that you and your guests can easily park near your condo – find out what the rules are before you buy.
You may get allocated one or two dedicated parking spaces.
Alternatively, the parking situation could be a free for all. Guest parking may be available in designated zones, but the amount may be in short supply.
#23 What is Nearby?
It is worth walking or driving around the nearby area and checking on a map to see what is available on your doorstep.
A local farmers market may be a big tick in desirability, but a tannery upwind from your condo may be a summer nightmare.
Part of your research means looking for annual events and their impact on the surrounding area, as well as spotting desirable and less desirable local amenities.
#24 How Do You Feel?
Your unconscious mind picks up clues from the people you talk to and the general surrounding – fresh paint, litter, and noise.
Your gut feeling is an excellent indicator of how suitable a condo is for you.
Finally
A well-run condominium complex provides a welcoming village with warm, friendly neighbors and plenty of well-maintained amenities.
A poorly run apartment block with a bad attitude to repairs and cheap monthly fees and no reserves may be unpleasant and costly.
When you buy a condo or apartment, you buy into a community. Unlike landed houses, which have an entirely separate set of questions you must ask before buying one, condos and apartments involve community property with joint and shared ownership.
Although you need due diligence about the property – is it in good repair and attractive?
Most of your research needs to include community rules and attitudes, which are equally important for apartment renters.
These questions establish what to look for in a condo so you can pick out a home that provides a sanctuary and a comfortable space for you to rest after a hard day's work.
Plus, when the time comes to move on, you make a profit and leave with some great memories.