Old Mobile Homes: What to Do (+3 Scrap Materials of Value)
Nothing is immortal, and at some stage, even the best-maintained mobile homes reach the end of their useful life.
When a mobile home is no longer fit to be a permanent residence, the effort and expense to bring it up to current codes are too much compared to replacement.
Or perhaps the land is worth more without the mobile home, and you need to get rid of it?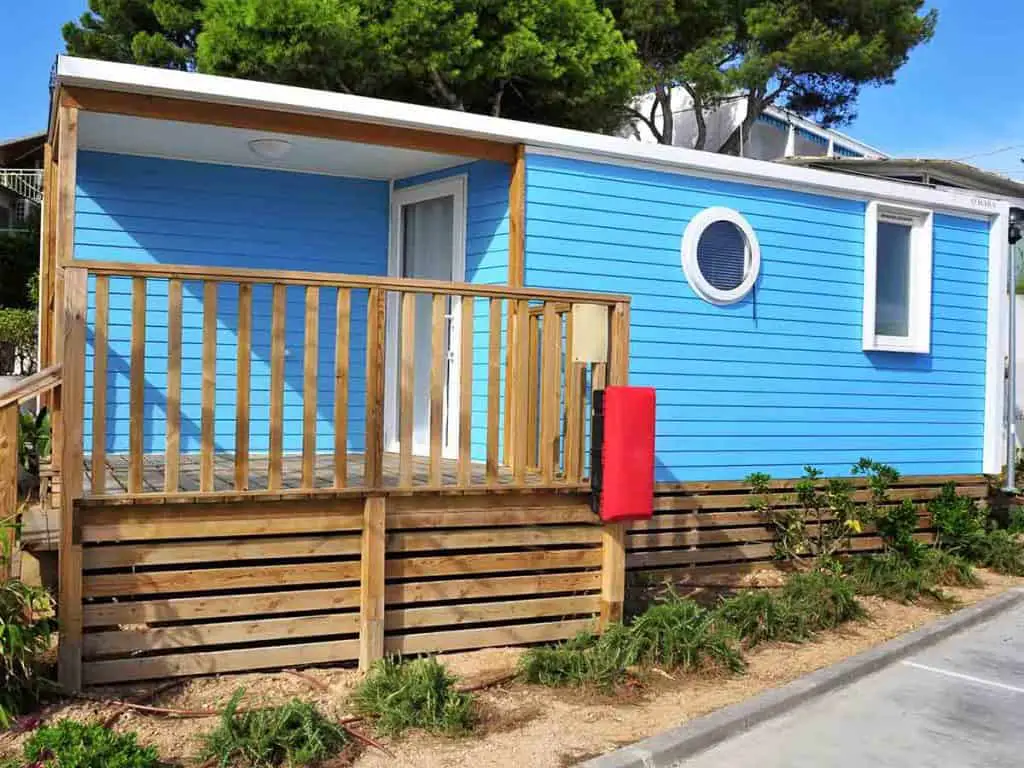 What Can You Do with an Old Mobile Home?
When you want to move on from your mobile home, your options for disposal are limited:
Sell to a new owner, and they take on the cost of the site or removal.
Relocate the mobile home to your new location – can be as much as $15,000 and more for longer distances.
Rent out the mobile home to a tenant or as a holiday let.
Demolition – you pay to have the home taken down and removed. You can expect to pay upwards of $5,000 depending on the size of the house.
Deconstruction – costs upwards of $8,000, but you recover some of the costs or make a profit from selling the scraped materials.
1. Selling Your Old Mobile Home
Selling your mobile home to a new owner gives you cash in your pocket and removes the need to pay for removal. It is a quick and clean option for you if you can sell your home.
The downside is that your home may not sell or will sell for a fraction of the potential profit from scrapping the house.
Some businesses buy up old mobile homes for a few dollars to profit from the scrap value of the home.
If you want quick disposal of your mobile home at zero cost to yourself, this is possibly the best option.
The buyer may wish to demolish the house before taking the parts away. It may be a lengthy and messy process.
If you are unlucky, they may leave rubbish behind for you to clear up.
You need to be clear in the contract of sale that they demolish the home at their own risk and remove all the mobile home parts from the site.
What is the scrap value of a mobile home to a dealer?
It varies from week to week, depending on scrap metal prices and availability.
2. Relocating Your Mobile Home
When you move, you need somewhere to live.
And if the cost of relocating your manufactured house is significantly less than the cost of investing in a new home, why not find a new site and move onto it?
It is rare for mobile homeowners to move the old manufactured house from one site to another. The cost for moving increases with the size of the house and the distance moved.
Plus, there may not be a convenient site near where you want to live. Or you may be done with your mobile home and not need it as accommodation.
If a mobile home is worth moving, it is probably attractive to buyers as a desirable home, and you can recoup a substantial amount of your investment.
3. Renting Out Your Mobile Home
If your mobile home is in good condition and meets the standards for rental property, you can consider renting it out as holiday or permanent lets.
You get an income stream.
The disadvantage of renting out property is that you become a landlord. You may opt to put it in the hands of an agent, but you still own the property and have responsibilities for upkeep.
You need to balance the desirable income stream against the potential hassle and expense of dealing with a stream of tenants.
4. Demolishing Your Mobile Home
The cost of demolishing your mobile home depends on size, weight, location, labor cost, and contractors' estimate of any recovery they can make from the materials.
You need a legal permit to demolish your home, but they should include this as part of the flat fee if you hire a contractor.
The advantage of paying a contractor to dispose of your old mobile home is that you have certainty over the amount you pay to get rid of the mobile home.
The contractor will clear the site, and you have minimal involvement.
5. Deconstruction of Your Mobile Home
Deconstruction is demolition with care to recover as many materials as possible for resale.
You need to obtain the legal permit to demolish your mobile home, and this will cost anything from $100 to $350, depending on your state rules.
You can pay somebody to take your mobile home apart, or you can do the work yourself with friends and family. If you pay to have the job done, you will pay up to 40% more upfront than with a demolition team.
Deconstruction is an environmentally friendly option as you are looking to reuse or recycle as much as possible.
What Can You Scrape from a Mobile Home?
Before you start stripping down your mobile home, consider selling the fixtures and fittings to people building or restoring a house on a budget.
Potential sale items include the standard mobile home provisions such as bathroom and kitchen fittings and appliances, but people will also buy doors, windows, and building material if the price is right.
You can reasonably expect the buyer to carefully remove these items themselves, cutting down your time and effort.
1. What is a Mobile Home Worth in Scrap Metal?
The value of scrap metal fluctuates, but typically the following metals are the most valuable:
| | | |
| --- | --- | --- |
| Metal | Price per Pound | Where to find it |
| Copper | $2 to $2.50 | Plumbing pipes, electrical wiring. Appliances, sometimes in the guttering |
| Brass | $1 to $1.50 | Locks, handles, light fittings, plumbing. |
| Aluminum | $0.50 to $1 | Window frames, roofing, metal sidings. |
| Stainless steel | $0.40 | Appliances, sinks |
| Other Steels | Less than $0.40 | Chassis and possibly in the framing. |
You may find very little metal in your mobile home apart from the chassis, as modern mobile homes rely extensively on timber, plastics, and rubber.
Copper is the most valuable material, but your wiring may be an aluminum alloy if the house is modern or re-wired.
2. What About Timber?
You may have a nonprofit or a small business in your area that reuses timber to create new items for sale.
They may accept a donation of the recovered wood in your home, which will save you the disposal costs, but can you make any money from it?
If you are willing to advertise your reclaimed timber for sale, you might find a buyer keen to take your trash off your hands for cash.
You can advertise on Etsy, eBay, Craigslist, or check out your local lumber dealers and architectural salvage.
Alternatively, you can chop it up into kindling for wood-burning stoves or put it through a chipping machine to create wood mulch for gardens.
Otherwise, you can leave it to rot down, burn it or take it to a landfill.
3. Plastic and Rubber
Unless these products are reusable for DIY, you will need to go down the waste disposal route.
This route may cost you dumpster hire or gas to get the stuff to a waste disposal site. And, if you have a lot of material, you may need to pay a fee to get rid of it.
Are There Dangerous Materials in a Mobile Home?
The material everyone worries about is asbestos, and it needs a specialist handler to remove.
Mobile homes built before 1980 might contain asbestos as insulation. It is a possibility but not a certainty.
If the mobile house is ancient, get a professional to give you an opinion before arranging for disposal.
Dust particles from all sources are not great for your lungs, so wear a dust filter while taking apart a mobile home.
Is It Feasible to Scrap Your Mobile Home by Yourself?
Scrapping a house is a complicated process with the risk of falling objects and other hazards.
Taking apart a mobile home takes planning, skills, and a team of workers. Plus, you need some specialist tools that you might need to hire or buy.
The feasibility of doing the work yourself depends on the available help, skillset, and time.
You will need to take the mobile home apart, separate the materials, advertise for sale and haul away the waste materials. Plus, you deal with legal permissions.
Unless you know you have the time, skills, and assistance, it is probably not worth scrapping your mobile home yourself.
Your best option is to sell the home to a business that gambles on making a profit on recovery.
Can You Make a Profit on Scrapping a Mobile Home?
The scrap value of a mobile home varies depending on the quantity and quality of the metal components.
In most cases, the scrap value reduces the costs of demolishing your mobile home rather than creating a profit.
There are exceptions, but you probably know if your mobile home has valuable goodies like solid gold taps.
The possibilities for stripping down and selling your mobile home components are highly dependent on your area. It is always a buyers' market; if your area has many people looking to buy reclaimed materials, you can sell everything that someone else values.
Admittedly, the online marketplace can help you reach more interested buyers, but the scrap value of your mobile home is only worth what someone else is willing to pay.
What Should You Do with Your Old Mobile Home?
The decision you make depends on your finances and your potential options.
Before deciding on your approach, do some research in your area:
Who is buying junk mobile homes, and what will they pay?
What are the scrap metal prices, and will the merchant pay for the whole house or sorted scrap?
Is there a market for reclaimed appliances, fittings, and materials?
Get a quote for demolition and deconstruction.
After the research, you can work out which option is best for you in your situation.
Remember, your trash may be a treasure to someone else.