New Mobile Home: 19 Provisions (What's Included/Excluded)
A brand new mobile home comes ready for you to move in and get on with your life from a comfortable home base.
But what does a mobile home come with?
Typically, you opt to buy a mobile home from the manufacturer and get a menu of potential floor plans. Most manufacturers have hundreds of suggested layouts and a selection of optional finishes and upgrades.
Like buying a new stick-built house, you can depend on the builder to follow the appropriate building codes to construct the house, lay the electrical wiring and plumbing and fit the bathroom and kitchen to your requirements.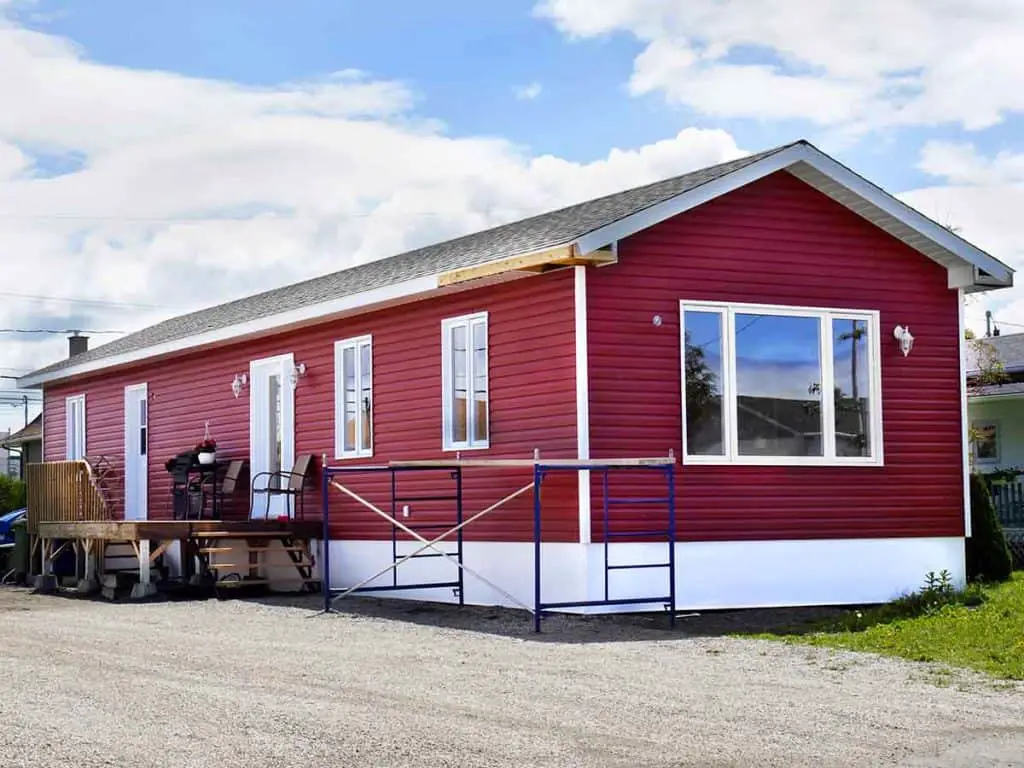 What Comes with Buying a Mobile Home?
Typically, when buying a mobile home, you will concentrate on the fit and finish the same way you would if purchasing a traditional house off-plan.
But with a manufactured home, you can also ask to discuss the build specifications.
Knowing the build specifications is helpful for future maintenance and upgrades. Plus, it may help you decide between different mobile home manufacturers.
The essential part of the purchasing choices is to confirm with your manufacturer what elements of the brochure refer to standard options (no extra charge) and what parts class as upgrades (additional fee).
Buying a Mobile Home from a Floor Plan
The floor plan gives you the layout of the rooms – more floorspace can mean bigger rooms or more bedrooms.
The choice of floor plan determines how much useable living space you have in your mobile home and the position of internal doors and walls.
1. Exterior Design
Mobile homes have different architectural styles, just like traditional houses.
Most manufacturers will offer an external finish that matches your State or district for the mobile home architecture.
Your choices cover:
Color combinations.
Sidings.
Dormers.
Roofline – HIP or higher pitch depending on your preferences.
Windows and doors.
Optional porches.
Your home's curb appeal depends on its external finish and details.
The placement and size of the windows influence the quality of natural light in your home.
2. Kitchen
Perhaps you imagine that a mobile home kitchen is a cramped galley with insufficient space?
Think again.
You can get any kitchen layout in your mobile home, complete with island and luxury finishes. The type and style of kitchen you get depends on your budget, space allocation, and preferences.
Mobile home kitchen designers are professionals who know how to make every space work.
The essential kitchen varies between manufacturers, but you can expect:
Refrigerator and choice of standard appliances.
Formica laminated countertops.
Kitchen sink.
Storage space.
Easy-clean flooring.
If you have opted for an open-plan layout, then a kitchen island is standard.
Potential kitchen upgrades include:
Higher-quality appliances with some non-standard additions.
Luxury countertops – granite or marble.
Upgraded cabinet finishes.
Designer sinks.
Different flooring options.
You can have the most luxurious dream kitchen if you have the budget, but the standard kitchen will cover most people's needs to a quality finish.
3. Bathroom
Like the kitchen, the brochure will cover standard units and finishes with upgrading to alternatives.
As a minimum, expect:
Washbasin – pedestal or floating.
Shower and/or bathtub.
Toilet.
Depending on the size of your mobile home, you may have more than one bathroom.
You have the option to upgrade all your bathroom fittings and finishes.
4. Other Rooms
In the other rooms, your brochure will offer a choice of wall finishes, power outlets, and flooring. You may also opt for built-in storage space.
Typically, you will be responsible for sourcing beds, chairs, and other free-standing furniture items.
What to Look for on the Building Specification
When you shop around for your mobile home, you will want to see the building specification as manufacturers build to order.
The specification will cover the following areas:
Size and dimensions.
Chassis.
Underbelly.
Frame.
External walls.
Internal walls.
Roof.
Insulation.
Internal lining or wall finish.
Electrics.
Plumbing.
Floor finish and internal carpentry (doors).
Toilet and bathroom.
Kitchen.
External windows and doors.
External cladding.
You will get a menu of options and a range of prices for finishes and fittings.
All mobile homes in the US meet strict construction and engineering standards (HUD codes), but you can always upgrade to a higher standard.
Generally, there are three levels of building quality, with level one being the most basic.
Level 1 is the cheapest, but the construction uses budget materials. You can expect:
Staples and glue rather than nails.
Thinner flooring material.
Cheaper construction options for fittings.
Lower pitches roof.
Cheaper external cladding.
Level 2 uses better quality materials, and level 3 is built to your specifications using the best materials.
Most mobile homes fall into the level 2 category.
If your budget is tight, invest the bulk of your money into the best structure you can afford because you can always remodel and upgrade the interior when funds allow.
5. Size and Dimensions
In theory, you can have any length, height, and width for your mobile home, but the process is standardized for ease of manufacture and transport.
Standard sizes include:
Single-wide – 500 to 1,200 sqft of living space with one or two bedrooms.
Double-wide – 1,000 to 2,000 sqft of living space with two to three bedrooms.
Larger sizes – more than 2,000 sqft of living space and more than three bedrooms if desired.
The standard height is 13.5ft and the length 80ft. The width varies to increase the size.
The wider configurations transport in sections and assemble onsite.
6. Chasis
Mobile homes are built on permanent steel chassis. These chassis are identical to standard trailer chassis, complete with wheels and axels.
When your mobile home reaches your site, the wheels and axles must be removed for your mobile home to become a permanent residence.
7. Underbelly
The underbelly or bottom of your mobile home consists of a cavity with floor joists supporting the weight of your home, insulation, and a subfloor.
It sits on top of the chassis with airflow beneath.
The quality of the insulation is crucial for maintaining an even temperature inside your mobile home. Therefore, you may ask for a higher grade or thickness of underfloor insulation at the commissioning stage.
The subfloor provides a smooth, supportive surface for your finished floor.
A higher-grade mobile home will have a subfloor finished with a vinyl coating as a smooth, waterproof finish that makes it easy to add your interior floor finish.
Your underbelly is unlikely to come with a vapor barrier (belly wrap) installed as typically the homeowner adds this protection onsite.
You lay the vapor barrier when constructing the slab foundation.
8. Framing and Walls
The framework can be metal or timber, or a combination.
The internal walls have a framework with cavities filled with more insulation. Panels finish the walls, and these panels can be drywall (plasterboard), timber, or synthetic materials.
You choose the quality of the wall finish depending on your design choices and budget.
9. Roof
Modern mobile homes opt for pitched roofs rather than flat. A pitched roof is more attractive and sheds rain and snow rather than allowing moisture to pool and damage the roof.
You can expect a wooden frame, insulation, and a weatherproofing layer. In addition, you may get some "attic" space in the roof area.
The ceiling is like a traditional house ceiling with the same construction and finishing options.
10. Floors
As part of your mobile home build, you can expect a finished floor in every room. The quality of the finish depends on how much you want to pay.
You may opt for fitted carpets, but most modern homes opt for hard surfaces with additional rugs because these are easier to clean and maintain.
The final floor finish is an interior design choice.
11. Other Details
The HUD code covers the manufacture and installation of your mobile home; the certification tag is your assurance that the mobile home meets acceptable standards for every aspect of your build.
But there are some points where you might want some additional input:
Electrics – you may want solar panels for off-grid sustainable living, additional power outlets, and wiring for IT and phones.
Plumbing – if you want to add additional bathrooms in future years, you may plan the plumbing infrastructure to make that process easier. Plus, you may want to recycle your greywater to flush your toilet.
Insulation – works to keep you warm and cool, and you may want to increase the thickness, quality or choose sustainable materials instead of standard to prevent your mobile home getting exceedingly hot in the summer.
Windows – extra large picture windows and more of them enhance the natural light inside your home.
A professional manufacturer can take you through every aspect of your manufactured home with suggestions for upgrades and estimates of costs.
What Else Can You Expect as Part of the Package?
When you think about what comes with buying a mobile home, compare it with what you expect from purchasing a traditional house from a plan.
When in doubt, ask the manufacturer to tell you if the provision is a standard or upgrade item.
12. Do Mobile Homes Come with Appliances?
There are hundreds of potential household appliances, and your mobile home will not come with all of them.
As part of specifying your kitchen standard, you will choose some appliances like an oven, hob, and refrigerator.
After that, some appliances may be standard provisions or be potential additions.
Other larger appliances you may need include:
Built-in microwave.
Independent freezer.
Dishwasher.
Washing machine.
Tumble drier.
Generally, you can expect to buy other appliances like kettles, toasters, vacuum cleaners, coffee makers as part of equipping your home.
13. Do Mobile Homes Come with an AC Unit?
It depends on where you live. Mobile home manufacturers provide their customers with the most desirable features for their area.
If you live in a state where air conditioning is essential, your standard mobile home will likely have air conditioning installed ready to hook up to your power source.
The provision of air conditioning units and the necessary ducting to support them varies between manufacturers, so you need to check the specifications.
14. Do Mobile Homes Come with HVAC?
Again, check the specifications for the answer.
You can provide HVAC (Heating, Ventilation, and Air Conditioning) functions as an integrated system or in different units.
Some mobile homes come complete with an HVAC system in place, some with an interior cabinet and relevant ducting, some with ducting but no cabinet, and some without any suitable infrastructure.
You need to ask plenty of questions about heating and cooling in your mobile home and decide if you want to ensure that the relevant infrastructure is in place for an integrated system.
If your budget is too tight for this feature, you can install ductless systems later or have a more substantial remodel of your mobile home.
15. Do Mobile Homes Come with Septic Tanks?
The need for a septic tank depends on your installation – if your toilet and wastewater can flow into a mains sewage system, you don't need a septic tank.
A mobile home park may have a dedicated septic system, and the park system deals with your sewage. In that case, you don't need to worry about an individual septic system as your mobile home connects to the park's sewage system.
Alternatively, your mobile home may require an individual septic tank system to deal with your waste.
You may need appropriate drain-aways for an off-grid sustainable home or arrange for a contractor to empty the tank periodically.
The system for dealing with sewage is part of the installation process, and you need to know from the manufacturer, installer, and mobile home park owner which system for dealing with waste is in place.
It may be necessary to include the provision of an individual septic tank as part of your mobile home specification.
16. Do Mobile Homes Come with Furniture?
If you buy a house, you expect to furnish it, but do mobile homes come furnished?
That depends on what type of mobile home you buy – a recreational vehicle typically comes with built-in furniture.
A manufactured home is like a stick-built home, and you may specify some built-in storage and other cabinets, but usually, furnishing the mobile home is your responsibility.
Living in a manufactured house involves permanent residence and a fixed floor plan, so you get the option of free-standing furniture (that you supply).
A traveling home has space-saving furniture that serves multiple functions – seats become beds.
A traveling mobile home typically comes fully furnished.
17. Do Mobile Homes Come with Steps?
The need for steps to get into your mobile home depends on how far off the ground the mobile home sits – typically, you will need steps and possibly a ramp to access your mobile home.
A basement foundation may eliminate the need for steps, but this is unlikely.
In the installation phase, the stepped access can combine with a deck or porch, so the steps for your mobile home depend on what you specify as part of the installation.
18. Do Mobile Homes Come with Gutters?
A mobile home for permanent residence will come with gutters if appropriate. You need to check the specification in your area and how the roof deals with anticipated rainfall.
Some states insist that the mobile home in a permanent location must have guttering installed. In these states, you can expect guttering fitted as standard.
If you want to collect your rainwater into a rain barrel for watering plants or as part of a greywater flushing system, you may need to commission this infrastructure as a separate process.
19. Does Every Mobile Home Come with a Deck?
Decks tend to be optional extras along with hard standing for cars or a garage.
You can have a deck built as part of the installation process or wait until later to work out what best suits your lifestyle.
You may want a larger deck for entertaining or for an outside hot tub for relaxing.
Conclusion
Your mobile home will be available for comfortable living as soon you finish installing it. You will need to provide some appliances, furnishings, and finishing touches, like any other home.
The essential stage is when you sign off on the specification, as this document covers everything you will get as part of your mobile home purchase.
The build quality and finish depend on your available budget and financing.
It is best to opt for a higher construction specification because this gives you a robust base for future remodeling and will hold the value better than a cheaply constructed mobile home.
Like any other house, you can add value to your mobile home by attending to maintenance and upgrading the exterior and interior in stages as funds permit.
Manufactured homes provide an affordable and comfortable housing option with all the facilities available to traditional housing.