Mobile Home Doors: 19 FAQs (+Replacement Solutions)
Do you think a new front door will give your mobile home curb appeal?
Perhaps you want to upgrade your interior mobile home doors to enhance your décor.
Can you pop down to the store and buy any door?
Or are mobile home doors non-standard?
Find the answer to your questions by clicking the Table of Contents below.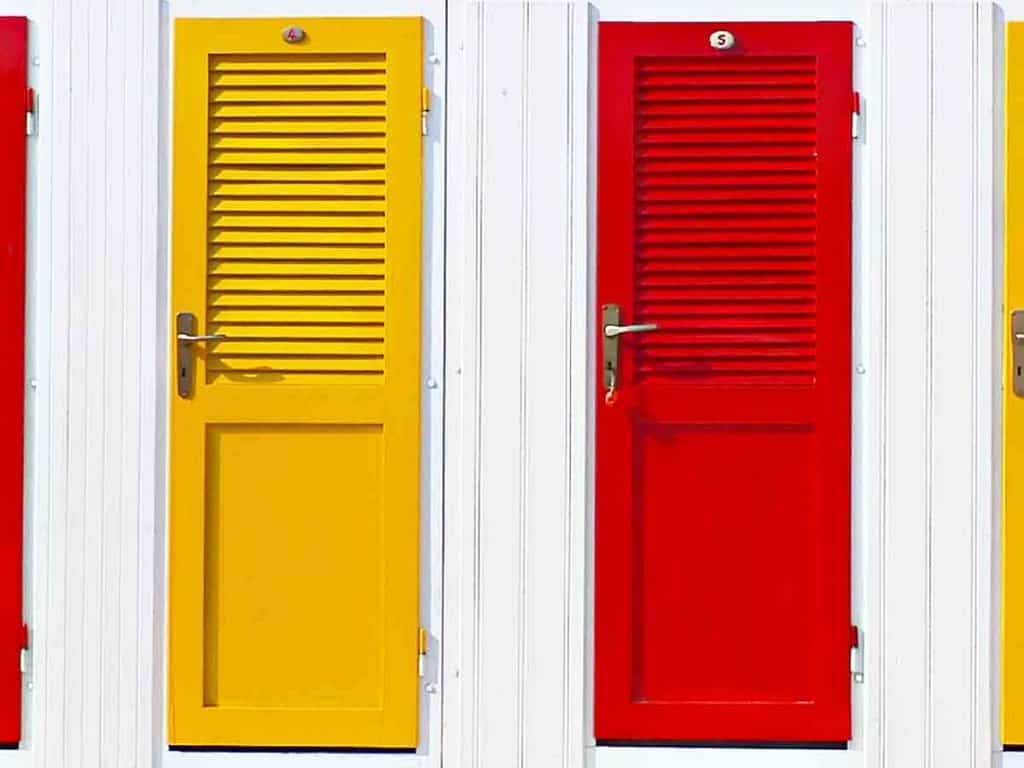 Are Mobile Home Doors a Standard Size?
Increasingly, manufacturers of mobile homes are looking at raising the headspace and the potential of using standard door fittings inside manufactured houses.
Currently, mobile home doors are slightly smaller than traditional house doors.
The most common size for an exterior door in a traditional home is 36 x 80 inches, but many variations exist.
The most common current size for a mobile home exterior door is 32 x 76 inches. However, older mobile homes may have a smaller external door at 32 x 72 inches.
In mobile homes, you get a range of different heights and widths (sizes differ by 2-inch increments). Plus, someone may have remodeled the mobile home to fit a larger or smaller door size.
It is essential to measure the gap in your mobile home doorway to determine the appropriate size for replacement.
The interior doors are similar sizes to the exterior but frequently a little narrower, but always measure the actual door because you can get variations within your manufactured home after remodeling.
Why Are Mobile Home Doors Shorter than Regular Doors?
Mobile homes typically have a lower ceiling height than site-built homes, and the exterior door is shorter to compensate.
But the ceiling height depends on the quality of the mobile home construction.
Low-quality homes can have ceilings as low as 7 feet to save on material costs; better quality has 8 to 9 feet giving you more headroom.
The international building codes (IBC) sets the minimum ceiling height for a home at 7 feet. New site-built homes in the US generally have first-floor rooms with a ceiling height of 9 feet and second-floor with 8 feet.
Manufactured houses aim to provide similar comfort levels, hence the potential to purchase a mobile home with higher ceilings and more standard door fittings.
The shorter doors help with the aesthetics of the mobile home as your brain interprets the positioning of the door on the wall and in relation to the roof as being "right" for a building.
A standard door can look overlarge in the mobile home setting.
Why Are Mobile Home Doors Different from Regular Doors?
When people woke up to the possibility of using a mobile home as a permanent residence, mobile home construction meant that the rooms and doors were significantly smaller than regular house doors.
The HUD code has brought manufactured home specifications close to traditional house codes, and the doors are beginning to approach the standard house door sizes in some cases.
An industry exists to continue to service mobile houses with doors available in smaller and narrower sizes.
Exterior mobile house doors swing outside to give you better utilization of interior space. Most traditional homes have external doors turning into the home.
The materials and the styles of mobile home doors are pretty much the same as any conventional house door.
Are Mobile Home Doors Expensive?
If your mobile home door is a standard size in stock, you can expect to pay $200-$300 for outswing exterior door designs in the range. However, you can pick up a stock interior door for around $100.
If your mobile home door is non-standard, you need to buy a custom-made door. A one-of-a-kind door is always going to be more expensive than a standard component.
Mobile homes are more likely to have non-standard doors than traditional houses, thus driving up their costs.
If you are shopping for a traditional house interior door, you can pay anything from $50 to $500 or more. You can pick up a cheap interior door slab for $20.
Still, the average amount spent on a traditional interior door is around $250, which is not significantly more affordable than a mobile house door.
How much you pay depends on door construction and material quality:
If you compare mobile home doors with super-cheap traditional house doors, the mobile home door is more expensive.
If you compare similar quality mobile homes and conventional house doors, the prices are similar.
If you buy a quality wooden traditional door, you have the option to cut it down to fit your mobile home.
If you pick up a cheap pre-owned wooden door, you can save money on replacing your mobile home doors with some simple cutting.
Why Do Mobile Home Doors Have Vents?
The vents provide the necessary airflow to prevent your mobile home from pressurizing and building up excess toxic gases.
Typically, the vents appear in the wall above the door rather than being a door component. Putting the vents in the walls protects the mobile home from losing essential access to outside air when you replace the door.
Can You Put a French Door in a Mobile Home?
You can install any door type in a mobile home.
You may need to modify the wall and rebuild the frame to accommodate the larger French door, but it is a standard remodeling.
A decent contractor will install a French door in your mobile home quickly and with minimal disruption.
Can You Put a Barn Door in a Mobile Home?
A barn door replaces a swinging door with a sliding door, and you can install one in a mobile home but pay attention to the weight.
A hefty barn door can damage the mobile house frame.
You can get excellent barn doors that will enhance your mobile home and give you the benefits of sliding instead of swinging doors.
Can You Paint the Original Doors?
You can paint most surfaces with the proper preparation and paint. The main issue with a successful paint job is durability.
Applying paint to your mobile home door without proper preparation results in unattractive peeling paint because of a lack of cohesion.
Applying a painted finish to mobile home doors is an economical way to get a better appearance for minimal cost.
How Do You Paint a Mobile House Door?
How you paint a mobile house door depends on the material and the design.
The stages are:
Clean thoroughly – dirt and lose material will cause a paint layer to flake and peel.
Prepare the surface – depends on the underlying material, you may need sandpaper, primer, or the application of paintable paper.
Apply the paint using a roller for a smooth slab or a paintbrush for a paneled door.
It is best to apply several thin coats rather than one thick coat, and as doors take a lot of wear, use a durable paint finish for the topcoat.
Exterior Doors
The HUD code specifies:
Number of doors (at least two) for fire safety.
Distance between them.
Relationship to bedrooms.
The approach is to ensure that you have a clear path to one fire exit from your bedrooms. Putting the doors too close together could result in a fire denying you access to both doors.
Conventionally mobile home exterior doors swing to the outside – it gives you a clear path in case of fire and more use of your interior space.
You get combination doors on some mobile homes with an outward swinging storm door and a protected inward swinging door.
If your mobile home has an inward swinging exterior door, it probably started as a combination door, and the outer storm door has gone.
You can have an inner screen door allowing you to leave the outer door open and let in fresh air while keeping bugs out and retaining privacy or a fully glazed screen door.
In terms of style, any door you can get for a traditional house you can have for your mobile home.
Typical sizes for mobile houses built after 1980 are 32 x 76 inches and 32 x 72 inches before that date. Other standard sizes include 32, 34, 36, or 38 inches wide by 74, 76, 78, or 80 inches.
External doors for mobile homes are typically 1 ¾" thick.
Typical exterior doors include aluminum, safety glass, and insulation as part of their construction, but you can get solid wood, wood and glass, and steel doors.
HUD std 3280-405 covers the requirements for exterior mobile home doors. This standard specifies the relevant standards and covers the additional protection necessary for manufactured houses in wind zone 2 and 3.
You should ensure that your new door meets the applicable HUD requirements for your area.
Interior Doors
The HUD code (3280. 107-112) relating to interior doors specifies:
Privacy locks on bathrooms and toilet doors.
Emergency release for privacy locks.
The minimum clear opening of 27 inches for swinging interior doors.
Sliding glass doors must meet safety standards and use safety glass.
Standard interior door sizes include 24, 28, or 30 inches wide and 78 or 80 inches tall.
Internal doors are 1 3/8 inch thick and available in a wide range of materials and styles.
Replacing Your Mobile Home Doors
You can replace your mobile home doors by buying the identical size replacement or having a door custom-built, or changing the frame to accommodate a standard house door.
You have plenty of options for changing and upgrading your mobile home exterior and interior doors.
How to Measure the Mobile Home Door Frame
The first starting point is to measure the gap as if the door does not exist; you measure the width and the height.
You measure inside the frame because frame sizes can differ depending on the style and the manufacturer.
You measure the space the door will fill rather than the door – this rule applies to both interior and exterior doors.
You measure the opening from inside the house for an outward swinging door. When you have this first rough measurement, check if you have a standard door size (approximately).
You typically add a half-inch all around for a combination door (outward swinging storm door and inward swinging inside door) to adjust for the wooden frame that accompanies the combination door.
Mobile home doors are typically a half-inch shorter and a half-inch narrower than the gap available for them. This allowance gives easy fitting without the damaging process of hammering it into place and damaging your walls.
A further helpful measurement for selecting a replacement mobile home door is the jamb size – the thickness of the door space.
You find a 4″ jamb size in older mobile homes, but modern ones are 6″ or possibly 6.5″ thick.
The door won't fill the entire jamb size, but structurally and for the appearance, you don't want a door that is too thick or too thin for the available opening.
Mobile doors come in 2″ variations in width and height. The door opening is a rough measurement to select the correct size.
Plastic doors need to be correct as there is no room for adjustment; you can cut wooden doors (a small amount) to improve the fit if the door is not quite standard.
A non-standard door built to order is expensive compared with the standard range.
Before commissioning a non-standard door, consider remodeling the frame to take a standard door. This step will save money in future door replacement.
In addition to measuring the door opening, note which side of the door has the hinges. It makes life easier if you replace like with like.
You can change how a door hangs and swings, but it involves a little extra work modifying the frame.
If you intend to install a deadlock or other door fittings, you may want to check that your new door has appropriate predrilled holes to save time and effort.
Installation Tips for Mobile Home Doors
The first step to installing a mobile home replacement door is to remove the existing door.
Installing an Exterior Door
Your mobile home deck needs to be low enough to give you access to the bottom screws of the existing door.
If the deck is too high, unless you have super DIY skills, it is probably best to call in a professional.
Steps for removing the old door:
Remove all the screws (in the frame) holding your door in place.
Gently maneuver the old mobile home door away from the house.
Don't be tempted to use excessive force or give it a sharp tug – you may break bits of your siding or warp the structure, both of which are more expensive to repair.
Like a window, the door frame for your exterior door stays in place with putty:
Check the opening and remove any old putty or calking – use a gentle scraping action.
The most straightforward way to apply new putty is with putty tape. Warm the tape roll before applying because that makes it easier to use.
Apply the tape around the opening and remove the paper covering.
Now you can push your new door into place. It would be best if you kept the door as level as possible (enlist a helper).
To hold the door in place:
Put three screws into the frame at waist level on each side of the door.
Use the builder's level and check everything is straight.
Continue driving screws into the frame above and below the holding screws – don't overtighten, or you risk damaging the aluminum frame.
When the door is in place, never loosen the screws. The screws keep the door in place until you are ready to replace it.
Movement in these screws can distort the door frame, jam the door or cause it to flop about.
Installing an Interior Door
If the frame is in good repair, you can frequently remove the door and replace it with a new one – the door attaches to the frame with the hinges.
When you buy an interior mobile home door, it comes without the necessary hardware – you can purchase new or recover and reuse the hardware from the current door if it is suitable.
As a minimum, you need a handle and hinges. If you are replacing a bathroom or toilet door, you need a privacy lock as part of the fittings.
If the interior door frame is in poor condition or you want an upgrade, you can buy a mobile home door frame or have a carpenter create and fit a door frame for you – complete with hinge slots and door closures.
Installing a Sliding Door
In theory, a keen home improver can flawlessly install a sliding door – you need top and bottom running rails, and the job is straightforward.
In practice, a professional will do the job quickly, align everything so it runs smoothly, and give you a warranty for future issues.
Typically, the sliding doors for an exterior fitting come with a frame and involve one stationary glass door and a second glass door that slides behind it to open the door.
This type of sliding door is twice the width of your standard exterior door and necessitates increasing the door opening space by cutting into your wall.
Before cutting into your mobile home walls to install a glass sliding exterior door, check with your local building regulations for how you can have this upgrade certified under the HUD code to maintain the resale value of your property.
The process of installing an exterior sliding door is more complicated because you need to preserve your sidings.
If you plan to replace or upgrade your sidings as part of your mobile home remodeling, schedule the exterior door upgrade for the same time.
Interior sliding doors tend to be less complicated as they can slide into an open position on the wall. You may consider enclosing this in a pocket to ensure no one places furniture or other objects impeding the door opening.
Installing French Windows
French windows give you extra light and options for airing your mobile home. The extra width makes it easier to get furniture in and out of your home.
French doors, like sliding doors, need a larger space to fit, and this is best left to a professional to ensure you remain HUD compliant.
Suppose you are confident in your capabilities to cut into and maintain the structural integrity of your mobile home. In that case, you can tackle this remodeling job yourself, but enlist additional help to maneuver the larger door into place.
Installing a Storm Door
Most mobile homes have a combination front and back door with an outward swinging storm door and an inward swinging interior door.
If your mobile home has one inward swinging exterior door, then the original storm door is missing.
You can buy a replacement storm door for your mobile home and hang it on the current door frame.
There are two types – LH and RH depending on which side (left or right) the hinges hang.
The door faceplate screws onto the existing door frame, and to finish it add a rubber weatherstrip around the frame.
Installing a Screen Door
A screen door typically comes as part of a combination storm door and screen door unit.
If your screen door is worn or damaged, you can remove that door and replace it with a new screen door.
These doors come in standard sizes to match your storm door, but they are more difficult to source, and you need to go to a specialist mobile home parts supplier.
Replacing the Door Frame
External mobile home doors are a complete unit of the frame and pre-hung doors. When you replace your mobile home exterior door, you nearly always replace the frame.
The interior door frames install identically to traditional house door frames. Typically, you replace the door and not the door frame.
If you need to upgrade the door frame, you can buy a standard unit.
Before you can fit the new door frame, you need to:
Remove the old door frame by carefully removing the screws.
Gently lever out the door frame, avoid damage to the walls.
Remove old putty and sealant.
Apply new putty tape (make sure it is warm and flexible).
Push the new frame into place and screw it to fix it permanently in place.
Door Hardware and Accessories
Although you can adapt standard door fittings to fit your mobile home doors, for fitting ease, it is more straightforward to buy doorknobs, handles, and locks designed for mobile homes.
Doorknobs and Handles
Before fitting a new door handle, you need to remove the old one. Your door has predrilled holes – for the handles and the latch.
Fitting the door handles is straightforward: following the package instructions, sliding the parts into the relevant holes, and fastening the screws.
The range of available door hardware for mobile home doors covers:
Passage – a simple round doorknob or lever handle you turn or twist to open the door.
Privacy – same as a passage but with a simple lock on the handle.
Entry – some handles you buy use a key to lock and unlock.
Deadbolt Lock
Your exterior door either has a predrilled hole for a deadlock, or you need to create one.
Typically, you position the deadbolt lock between 6 and 12 inches above your standard lock. It is an additional security measure.
With predrilled holes, you simply fit the deadlock into the provided spaces using the manufacturer's instructions. If you need to create the fitting holes, then you use the templates supplied with the lock.
For the lockbolt cylinder:
You drill a home through the door.
The neatest finish is to drill part way through from one side and then from the other side of the door.
To be successful, you must measure and mark accurately on both sides of the door.
You need a chisel to create a mortise (recessed ridge) around the hole, so the faceplate of the deadlock is flush with the external door surface. The faceplate and bolt secure in place with screws.
Now, to drill the hole for the bolt:
Find where the bolt (when locked) interacts with the door jamb.
Carefully drill the correct sized hole for the bolt.
Create a mortice for the strike plate so it sits flush with the door jamb.
Fix the strike plate in place with the provided screws.
You can now smoothly lock and unlock your door.
Other Mobile Home Door Locks
You can opt for a smart lock to turn your deadbolt lock into a keyless lock or as a standalone keyless lock. Most of these locks are as straightforward to fit as a deadbolt and offer the backup option of a manual key.
You can choose between a pushbutton or a Wi-Fi solution for keyless entry to your mobile home.
A lower-tech security measure is the inner chain system that restricts the door opening so unwanted visitors can't push their way into your mobile home when you answer the door.
These install easily with a few screws to hold them in place.
Doorbells
You can fit a standard doorbell to your mobile home and don't need to purchase a mobile home doorbell.
Typically, the doorbell does not fix to the door but sits alongside the door on the external wall. This position means you don't lose your doorbell when you change your door.
If you opt for an electrically wired doorbell, use an electrician to install it (unless you are an electrician yourself).
Wireless doorbells are inexpensive and typically battery-operated. You screw the doorbell onto your exterior wall and choose where to place the chime receiver into a power outlet in the best place to alert you to a visitor.
A smart doorbell will send alerts to your mobile phone, complete with a video link regardless of your presence in or out of the mobile home.
Installation for a smart doorbell is either wired or wireless.
You connect the doorbell to your Wi-Fi system, download an APP to your phone, and you will never miss another visitor.
Where Do You Buy and How Much Does It Cost?
You can buy your mobile home doors and accessories from all the usual outlets:
In-person at a hardware store or retail outlet.
Online or by phone from a specialist mobile parts supplier.
Shopping platforms like Amazon and eBay.
Commission a carpenter or manufacturer to build to order.
You can also pick up used doors; you can easily cut down wooden ones to create an economical replacement door, and someone remodeling or scrapping a mobile home may have a decent quality used door to sell.
Depending on your budget and design choices, you can shop around and spend under $100 or spend upwards of $1,000.
Conclusion
Mobile house doors are not radically different in terms of styles and availability to conventional house doors.
You can modify your mobile house to accept traditional doors if you wish, but the availability of HUD-approved mobile house doors is excellent.
Upgrading your doors is an excellent way to add curb appeal for your exterior doors and complete your décor inside. Unless you have a luxury specification, the original mobile home doors will be affordable but unexciting.
You will want to upgrade at some stage, and you can do it easily and with style.
References:
https://www.hunker.com/12314315/how-to-measure-doors-on-a-mobile-home