Choosing an Architecture Internship (9 Useful Tips)
In a competitive professional field such as architecture, an internship's benefits are pretty clear-cut; you stand to gain real-world job experience and build valuable connections, on top of other positives provided by an architecture internship.
However, the decision to seek an internship is only part one of the process – part two is selection.
More goes into selecting the right architecture internship for you than merely settling for the first job offer that comes your way. You have questions to ask of yourself and the firm you want to work for, on top of these basic internship QnA.
The initial phase of your work life will set the tone for the long-term success of your career as an architect.
Circumstances may not afford you the luxury of choice, especially if you graduate at the unfortunate time of an economic recession. But if you have options, how do you choose?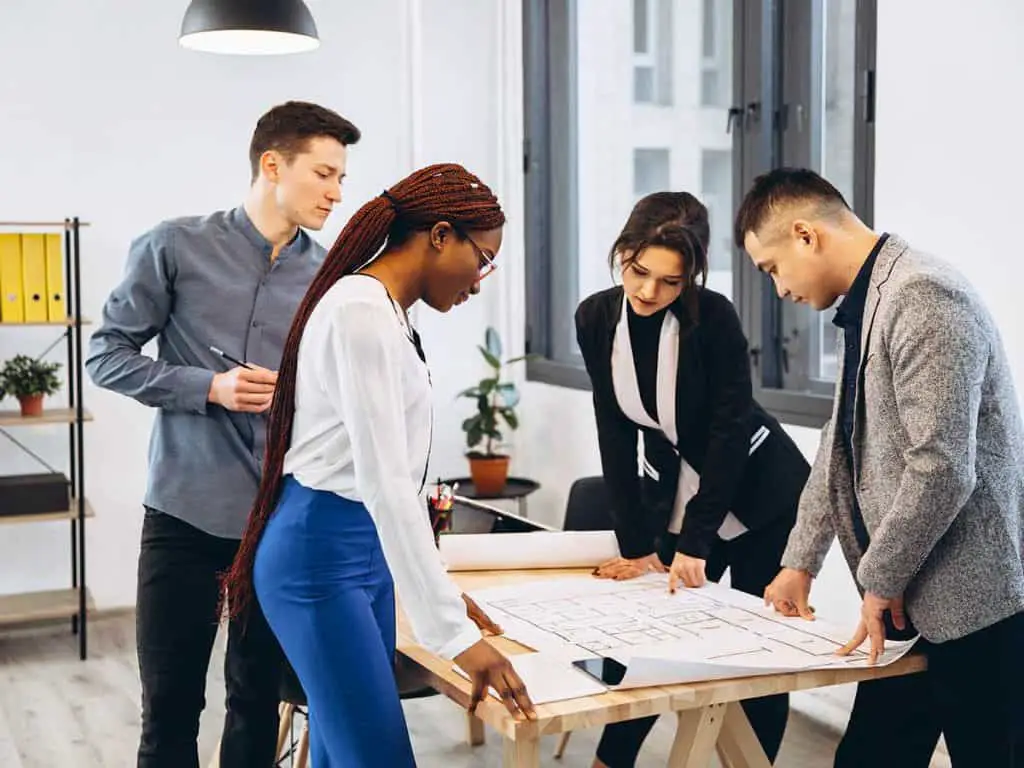 1. Does the Internship Suit Your Architectural Interests?
Think of an internship as an investment rather than a job. While your paycheck is probably going to factor into your decision in one way or another, the most crucial thing an internship can provide is a base for you to build your career.
Take some time to think about this aspect of career planning.
What type of design did you excel at while in architecture school?
Was residential design the area you find most enjoyable?
Does resolving design issues that urban living poses excite you – something that Japanese architects are skilled at?
Or, did designing complex commercial buildings and solving the problems they present bring the best out of you?
Some architects love the challenges of designing large public buildings that become landmark structures in prominent locations.
Although you will probably find firms that take on a variety of projects – residential, commercial, industrial, restoration, and public infrastructure – there is always one type of building design they specialize in or at least do a lot of.
Choose the architecture firm for your internship wisely – you will almost always be better off with an internship specializing in the area that interests you.
Working in the architecture field is not any easier than the challenges you experienced in school. Choosing the right firm will go a long way in making it an enjoyable experience – and not a dull grind!
2. What Role within Architectural Practice Do You See Yourself In?
Design specialization aside, what role do you see yourself being good at?
Generally, there are two types of architects – design and project. Which one are you?
A designer's role is self-explanatory; you produce concept and detailed designs. Material specifications are part of your job description, and you work with other design professionals to hash out the details.
A project architect's involvement covers the entire project lifecycle but assumes the lead architect's role in the construction documentation, bidding, and construction administration phases. You can expect to spend most of your time in project management and communicating back and forth with the engineers, cost consultants, and contractors.
As an intern architect, you may not get to choose the specific tasks the firm assigns you. But it helps if you communicate your expectation to the firm and focus your efforts in a particular role to gain proficiency in the shortest time possible.
3. You Found a Firm – What Projects Have They Completed?
As a continuation from the first point: once you identified the hiring firm and their design specialization, do detailed research into the work they have completed.
Mid to large firms typically have a more extensive portfolio of completed work and possibly social media pages from which you obtain information. For the smaller firms, you may have to settle for the firm's website as your only source to assess the architecture they did.
What would you be looking for in this research?
Within each design specialization, design complexity and building type vary.
A firm can specialize in the residential niche but focus on singly-built homes, mass-constructed housing estates, or high-rise city apartments.
Similarly, commercial projects can be shopping malls, hotels, or office towers.
Another aspect to look for is their client profiles.
High-profile anchor clients ensure income sustainability for the firm, and you get to build a professional network with managers and professionals in the real estate development industry. It is not something to overlook – your future career opportunities may come from this network of people.
On the contrary, small firms doing small-scale jobs allow you the opportunity to work closely with the project owners and build confidence in managing client expectations.
A credible firm will generally have an easy-to-access portfolio to give you an idea of the type of work they do.
Do you appreciate their work, and more importantly, can you envision yourself designing buildings like that with some innovative twists of your own?
If yes, go ahead and shortlist that position to access it later and continue your search to see if you can find an even better fit.
4. How Big is the Firm?
Larger firms might be the best choice for a specialized architect seeking the best salary. But as an intern, you will generally be better off working for a smaller firm. Why?
By having fewer employees, smaller firms will provide you with a more personalized learning experience and closer connections.
Additionally, smaller firms do not have highly-specialized positions as do larger ones, so you can expect to do a wider variety of work that entails more responsibilities. It is an attribute that will look excellent on your resume as you start building it and help you become a more versatile architect in the future.
These are just some of the benefits you gain from working in a small architecture firm.
5. Is the Position Local or Abroad?
If you have not committed to either decision and would like a straightforward suggestion, keep your search local for now.
The experience you will gain in a local firm will be more relevant for nearby positions when you look for an architecture position in the future. You will also be able to maintain the connections you make during your internship.
Architecture licensure – which you should pursue if you want to practice legally as an Architect – is obtained through hours worked locally to satisfy the Architects Board's requirements in your jurisdiction.
For an architect aiming for the license, working abroad presents some drawbacks you should be aware of.
With everything in mind, an internship abroad is still feasible if you plan on moving and establishing your architecture career in another country. Just ensure your confidence with thorough research to determine if this is the right decision.
6. Will You Be Paid?
Simply put, you and future architects are better off if you say "no" to unpaid internships. By legal definition, an unpaid internship resembles educational training, meaning it should not exist to provide the firm with profits.
Except for some architecture internships abroad where you pay to participate in their spring, summer, or fall programs (tailored more for architecture students), expect to get paid.
It is one way to determine if a particular firm values your contribution or looking to take an unfair advantage. Expect them to assign you menial jobs in the office with the latter.
7. What Should I Ask During an Interview?
You can't learn everything from a position summary. Many times, a firm leaves the nature of its work environment unspoken to outsiders.
When a firm interviews you, subtly interview them back to see if they are a good fit for you. Be generous with the right kinds of questions, such as what types of projects you will be doing, what responsibilities you will have, and who will supervise you.
This list of questions to ask during an architecture job interview is a great place to start.
And don't be afraid to ask questions – show the firm that you are dedicated to doing the best work you can while providing you with useful answers to make an informed decision.
8. What Should I Look Out for During an Interview?
Be observant and use your eagle eye as soon as you pass through a work area on the way to an interview.
The recruiter may or may not tell you – or even be aware of – how the employees feel about working for the firm. While it seems laughably simple, you should look at the employees' expressions to see if they seem content or stressed.
Also, look at the appearance of the office space. A well-designed workspace should give you a thumbs-up; a gloomy one should tell you something else.
The goal is to leave the interview with an educated assumption of the work environment and whether you see yourself happy working in it.
9. What Do I Do After Getting a Job Offer?
After (and only after) a firm tables an offer, it is time to do some bargaining to establish your benefits, such as healthcare and paid leave.
Salary negotiation tips aside, self-advocacy becomes an essential skill to maintain your well-being.
Communicate your desire for a specific number of paid vacation days and sick leave, health benefits, and transportation allowances (should the position involves traveling). But always negotiate them as a package.
Do not ignore the significance of a few paid vacation days in balancing your drive to continue building your craft against the risk of being overworked.
Some budding architects get disheartened and suffer from burnout in the initial years, while others entirely dropped out of architecture. It is one of the problems the architecture industry faces today.
When you commence work, speak with your supervisor or manager to outline expectations and how you wish to contribute to the betterment of the firm and projects, and support your professional development.
Establish mutual respect now, and may your internship be an enlightening entrance into the fascinating field of architecture.
All the best.