9 Ways to Cool a Hot Balcony (Cheap & Expensive Options)
A balcony is priceless when you want to lounge outdoor, away from the sun. It is frustrating when intolerable heat denies you the indulgence.
Why does your balcony get so hot?
More importantly, how can you cool down a hot balcony, especially in the summer months?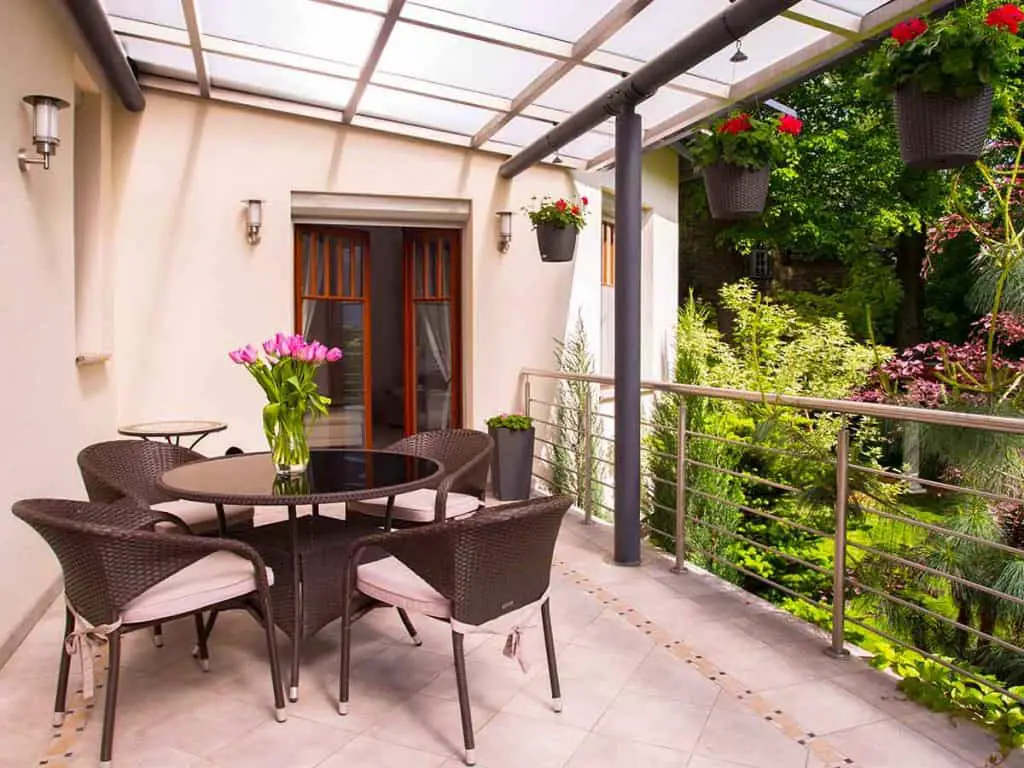 Why the Balcony Gets Hot
Balcony conditions can range from cool and breezy to hot and humid, depending on its design, how you treat the balcony, and other external elements.
Many factors affect the temperature you experience in your balcony, including:
The direction your balcony faces – your property's cardinal direction matters. East-facing balconies receive the late morning sun, and west-facing ones suffer from more extreme heat in the afternoons.
The balcony's building materials – balcony design and surfaces determine the net effect of trapping or deflecting the sun's heat.
Height of property from the road level – lower floor balconies closer to and face busy streets get more heat from vehicle emissions.
Distance to surrounding buildings – planning laws differ between States and jurisdictions. Densely built mid- and high-rise apartments with short distances between building facades suffer from a lack of cooling wind on a hot afternoon.
Climate and weather – you cannot avoid the general climatic conditions, but you can take steps to mitigate the effects.
How to Cool Down a Hot Balcony?
Simple and quick fixes are available if spending vast sums is not prudent at present, but the more expensive solutions may be the more effective long-term measure.
The root cause of a hot balcony determines which solution will work best for you.
1. Plant a Garden (Strategically)
Not all homeowners enjoy gardening, but a hot balcony can use some greenery to counter the harsh weather conditions.
A garden's cooling effects are undeniable.
A row of potted plants complements the view and acts as a privacy screen as you relax on the rocking chair.
Place ceiling-height plants on the sun-facing side, and you get a green wall that blocks sun rays and cools the balcony considerably.
A hot balcony is as good a time to take up an inexpensive new hobby.
2. Install an Outdoor Cool Mist Fan
On a cloudless day, the sun sucks the moisture out of the air and makes sitting in an outdoor space feel like an oven.
A cool-mist fan system introduces moisture into the space and dramatically lowers air temperature to provide the balcony with a comfortable indoor feel.
It is a relatively inexpensive device for the chill effects it provides.
Misting fans have low, medium, and high pressure settings and are available in these forms:
Floor-standing – suitable if you have a large balcony.
Wall-mounted – practical when the floor area is limited.
Compact and portable fans – handy; you can move it around until you find its perfect spot.
Misting kits – they are separate nozzle and hose attachments to a regular fan.
Check the CFM (cubic feet per minute); fans with higher CFM cool a larger area.
Select the appropriate type to fit your balcony and how you use the available space.
3. Use an Evaporative Cooler
The air-conditioning system cools an enclosed area, but the evaporative cooler is suitable for an outdoor space. The evaporative cooler uses relatively much less energy (about half of what the AC consumes).
A tank supplies water that wets the pad as air pushes through the fan.
The evaporative cooler's chilled wind effect may not be as direct as the misting fan, but the results are similar – tiny water droplets pull heat from the air and cool the surrounding area.
They are available in:
Direct evaporative cooler – the most common.
Indirect evaporative cooler – utilizes a secondary heat exchanger. It adds less humidity than the direct evaporative type.
Two-stage evaporative cooler – the most energy-efficient but also the most expensive.
Regular maintenance is necessary – pads, filters, water reservoir, and pump.
Evaporative coolers increase humidity and are suitable for hot and dry regions.
4. Add Water Features
Building designers include water elements within landscape and structure designs to achieve a balance between hard and soft and for its zen effect.
Similarly, you can utilize water features to make your balcony a more desirable space – they lower the air temperature and complement your balcony garden.
Vertical designs that create falling water provide a more cooling effect than still water in a pool.
Plus, the sound effect promotes relaxation and adds to your enjoyment of the balcony view.
However, water features render space unusable and are unsuitable for tiny balconies.
5. Install a Ceiling Fan
A ceiling fan can operate in opposite directions and benefit the indoor space from summer to winter.
You can install a ceiling fan in your balcony to create airflow – still air feels warmer than moving air at the same temperature.
Airflow across your skin is cooling because it enables moisture on the skin to evaporate. Water changing from liquid to gas removes heat from your skin for a cooling effect.
Alternatively, use a high-velocity pedestal fan for a similar effect.
Place the fan in the direction that allows hot air to escape the balcony space.
6. Upgrade Outdoor Furniture
Outdoor furniture needs to survive the weather elements and comes in various types to suit different design schemes, space configurations, and outdoor exposure levels.
The wrong choice of furniture material can make the balcony feel warmer to the skin.
Choose suitable materials for your balcony furniture:
Natural wicker – can be rattan, bamboo, seagrass, willow, or banana leaf. They work well indoors but are susceptible to water damage – a poor choice for outdoor chairs and tables.
Synthetic wicker – most outdoor wicker furniture you see use synthetic polyethylene resin. It is resistant to weather damage and is cool to touch (as long as you don't expose the furniture to direct sunlight).
Wood – strong and does not heat up if protected from the sun. Proper finishing coats are necessary for weather protection.
Plastic – light and affordable but does not have a natural look.
Wrought iron – durable but requires care and protection against rusting. It is hard and uncomfortable without upholstery.
Fabrics – natural fibers lose vibrancy and break down over time; synthetic threads are a better option for the outdoor. Cushion seats and backrests retain heat and can feel uncomfortably warm quickly.
Leather – absorbs too much heat to work for a hot balcony.
7. Install Architectural Screens
Screens are expensive, but they shield your balcony from direct sun and can turn a hot balcony into a pleasant space with supplementary cooling devices.
They provide privacy and enhance curb appeal.
You can choose from:
Fixed frame with adjustable vertical or horizontal slats,
Bamboo roll-up blinds, or
Foldable privacy panels.
The upfront investment is wise and requires minimal maintenance and usually pays for itself in the long run.
If you live in an apartment or condo, check that the HOA allows additions to the building façade.
8. Install Awning for Extended Cover
Most balconies have an overhead cover extending to the edges of the balcony floor; some cover partially; others don't.
Install a retractable awning system regardless of the extent of existing roofing – the extended cover provides added protection from the rain and sun at an angle.
Do not use the awning in high winds.
Types of awning systems available include:
Retractable – wall-mounted. The most expensive but flexible option. You want the sun in winter.
Fixed – wall-mounted.
Portable – freestanding. Versatile if you want to use it elsewhere.
Again, check that the HOA allows the installation.
9. Paint Cool Colors
Lighter colors reflect more heat than darker colors.
Avoid white.
Off-white, neutral tans and earth tones are ideal for reducing glare and can match most color schemes.
Dark colors absorb more heat and release it when the ambient temperature cools, causing the balcony to remain warm in the later hours of the day.
The Sensible Approach: Cooling Your Balcony
It can be difficult to ascertain what causes your balcony to become unbearably hot without a professional assessment.
If you have a small budget and are unsure of what will work, it makes sense to experiment with the least expensive option and observe its effect.
If the attempted solution does not work (say it's an evaporative cooler fan), you can use it elsewhere in your home. Or, if it is no longer useful, you can resell it and minimize your loss.
Architectural solutions such as shades and screens typically work best if direct sun exposure is the issue.
Seek professional advice to protect your investment.