Hire Architect or Interior Designer? (15 Home Project Types)
You are planning a home improvement project, remodeling your kitchen, converting your attic into useable rooms, or adding an extension?
Or perhaps you have taken on a restoration project and wonder who to have on your team?
Who are you going to call first? An architect or an interior designer?
Which is best for your project?
This post goes into the details of why and when you should hire one over the other.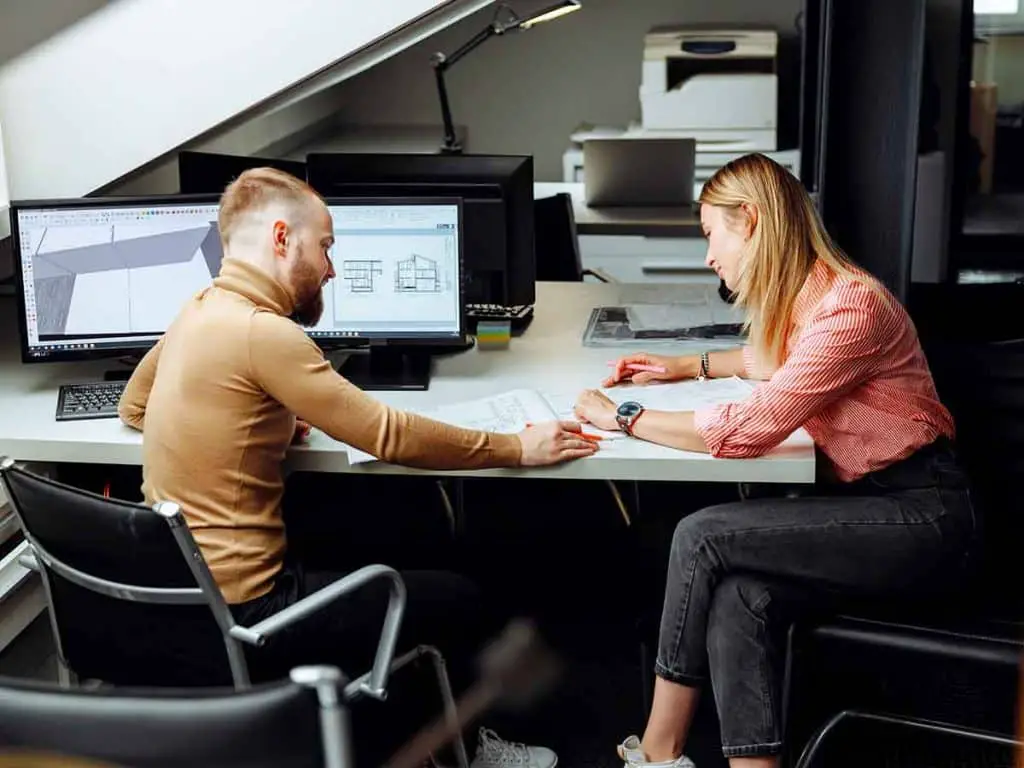 Difference Between an Architect and an Interior Designer
Some architects specialize in interior design, and some interior designers are certified to sign off on architectural improvements not affecting structural integrity.
Typically, you expect an architect to focus on creating and designing structures and spaces. An interior designer classes as an expert in artistic design and how you enjoy your living space.
But the differences are not clear cut, and you can get shared skill sets.
If you are building something new, redesigning the structure of an interior, or making extensive renovations, you need an architect.
If you are simply changing the décor and not making structural alterations, an interior designer will give you an excellent result.
A certified interior designer with some architectural qualifications will provide you with a combination of both skills.
Top Reasons for Hiring an Architect
If you are remodeling your home, an architect is best because architects are:
Qualified to sign-off on building plans.
Able to deal with permissions and other legal requirements.
Excellent project managers to get your project done on time and within budget.
Knowledgeable and have links with local contractors and trades for routine and specialist work.
Creative and will spot opportunities to give you a better project.
Professionals with indemnity cover in case of accidents or other issues.
Experienced. It is your first remodel, but architects have done it all before.
Aware of potential pitfalls.
Up to date with the latest materials and technologies.
Experts at costing and budgeting for quantities of materials and necessary trades.
Able to present a visual 3D image of your project before you commit.
What About a Kitchen Remodel?
If you need to move structural walls, an architect is your best option.
Still, if you are redesigning the layout, a specialist kitchen contractor can work with you to create the kitchen of your dreams.
The advantage of using an interior designer for a kitchen is that they bring fresh ideas to the table. A professional will consider the need for adequate working space and layout and avoid creating inaccessible areas.
Interior designers have an eye for detail and harmony because they focus on using and working in a room like a kitchen.
Typical Project Scenarios – Do You Need an Architect?
There is no definitive answer to when an architect or an interior designer is your best option; it always depends on the specific project and often involves both skill sets.
1. Remodel
When someone says they are planning a remodel, what do they mean?
Often the remodel will involve a specific room (bathroom or kitchen) and is a bit more intense than a redecoration.
It may involve multiple trades and redesigning the room layout for plumbing and power. You can be knocking walls through or putting walls up.
Anyway, expect a construction project within the confines of your home.
Do you need an architect to remodel?
Maybe.
It depends on how extensive your remodeling is and if you need plans drawing up and approving.
An interior designer and a qualified interior designer may be all you need.
But you may prefer to use the professionalism and experience of a licensed architect to make sure your remodel is legal, efficient, and practical – particularly if you are remodeling a historic home with an extra layer of legal requirements.
2. Home Addition
A home addition covers various projects, from subdividing your master bedroom to creating a dedicated bathroom to adding an extra room with a sunroom.
The most popular home additions are:
An additional room (or two) built onto the side of your house, accessed from within the house via a connecting door or open-plan arrangement.
A bump-out adding a bit of extra room to an existing room to add a bathroom or additional bedroom.
Converted garage – if you have an attached garage, you can create more living space by ejecting the cars and remodeling the interior.
Sunroom – typically prefabricated and attached to the house with doorway access.
Converting loft storage space into living space – typically with the addition of windows or raising the roof.
Do you need an architect for home additions?
Any home addition involving creating a structure, legal permits, and substantial construction work will benefit from using an architect, and some may require one for legal reasons.
But not every home addition will need an architect, a suitably qualified constructor can complete the work and satisfy building codes in some cases.
3. Simple Extensions
The simplest extension is adding a sunroom – typically using an existing door and a prefabricated design that bolts onto the side of your house.
Others include garages and simple wooden framed additional rooms added at ground level.
States and countries have building codes outlining when you need an architect or when you can rely on a contractor for a simple extension.
You may not need an architect for a simple extension, but one will ensure that your project completes to the highest standards.
4. Kitchen Remodel
A kitchen remodel can range from stripping everything back to the walls and floor and redesigning the power outlets and fittings for an entirely new layout to a minor facelift.
Most kitchen remodels are best handled by a reputable kitchen designer and contracting team who specialize in kitchens.
However, if you want a bespoke kitchen with non-standard fittings or an eco-friendly kitchen, an architect will give you the kitchen of your dreams and project manage the contracting team.
5. Kitchen Extension
A kitchen extension is the same as any other extension but involves more plumbing and power than a sunroom.
Do you need an architect for a kitchen extension?
Possibly. You need to check state and country rules for legal planning permission and regulations covering kitchen extensions.
Some countries will require architects to certify the project as fitting all legal requirements.
Using an architect for your kitchen extension project will always ensure that you conform with relevant legislation, so hiring an architect is never going to make your project less successful.
6. Bathroom Remodel
You probably don't need an architect for a straightforward remodel to update your fittings and finishes with new for old.
A major remodel where you alter the plumbing, power, and room layout may be possible with a certified interior designer or specialist bathroom designer.
More complex bathroom remodels will benefit from an architect's expert oversight.
7. Adding a Bathroom
The need for an architect depends on relevant legislation and project complexity.
How are you planning your bathroom extension?
Are there structural issues, complex calculations, and new building work?
The scale of the project and the permissions you require will dictate the need to involve an architect or if you can work with an experienced contractor without an architect.
8. Internal Alterations
Licensed interior designers can sign off on most internal alterations.
When you contemplate internal alteration projects, you want to make your living space more attractive for general activities.
An interior designer has a strong focus on creating comfortable and attractive interior spaces, down to ensuring you have a power outlet in the right place for every family member. It is not just about paint colors and cushions.
However, if you plan a radical transformation of your internal space and mess with your load-bearing walls, hire an architect and possibly a structural engineer.
Using a professional architect from the start will save you from an expensive mistake and an unplanned demolition of your home.
9. Loft Conversion
Defining a loft depends on your country.
A loft can be a small space under the roof for storage, accessed by a ladder and restricted to crawl space.
Alternatively, a loft can be a large industrial space with the potential for transformation into a residential space.
Transforming an industrial space into residential living needs an architect.
It makes sense and is a legal requirement to have building plans and permissions in place before you start work; plus, a specialist project manager to oversee your unique transformation project.
Turning a loft storage area into an extra room is different.
A contractor specializing in this service may carry out your plans and register permissions because it is a known process they have carried out on similar homes to yours.
An architect will always give you a better project outcome but is probably not necessary in this case.
10. Attic Conversion
Attic and loft are often synonymous terms for the storage space below the roof of a home.
Typically, an attic is a larger room space, possibly accessed by integral stairs rather than a ladder. These larger attic rooms frequently have windows for ventilation and light.
Practically speaking, an attic room needs little more than a redecoration to improve the finish, and you have a valuable extra room.
There is no structural work involved, and you can work directly with an experienced contractor.
Otherwise, the attic is like a domestic loft, and the same rules apply; structural alterations, if necessary, benefit from an architect's expertise.
11. Garage Conversion
If your family is desperate for more living room and your garage shares a wall or more with your house, extending into a pre-built structure may cost considerably less than a brand-new extension.
The structural space is present, and for most garage conversions, you will not need an architect. But if you intend to build on top of the garage as part of your conversion plans, you may need an architect.
Follow the simple rule – structural alterations need an architect; interior modifications are for contractors and interior designers.
12. Building a New Garage
Do you need an architect to build a garage?
Can you build a garage on your property without planning permission?
Planning permission depends on local legislation – some garages require planning permission, and some fall within the permitted development rules. Before planning your new garage check your local building codes.
Do you need an architect for a garage?
It depends on what type of garage you intend to erect.
Most contractors offer a prefabricated garage as a standalone structure as a standard job.
Attaching a garage to the side of your house involves tying the new structure to the existing structure – most contractors know how to deal with this process.
Building a large garage, possibly with rooms above or including a garage as part of a new multi-story extension, will need an architect.
It is a more complex project involving structural calculations, plans, and legal requirements.
13. Decking
A landscape architect can design a perfect decked space.
Decks today are more than hard surfacing; they function as outdoor rooms, sometimes with built-in hot tubs, exterior lighting, and other features.
The more complex your deck, the more valuable an architect is to your project.
Perhaps you want to deck your roof or have an elevated decked platform you access from your bedroom?
These projects involve an appreciation of structural loads and building safety.
Involve an architect for any deck with the potential for catastrophic failure and injury.
14. Porch
Most porches function as a bit of weatherproofing around a door – handy for wet boots and umbrellas. These simple additions are predesigned and erected in a day by an experienced contractor.
Typically, porches fall within permitted development rules, but it is worth checking before installation – your contractor can advise you of the regulations in your area.
Perhaps your porch is more complex?
Or you need it to match the style of your historic property?
In this case, an architect helps design a bespoke porch in keeping with your property.
The advantage of an architect-designed porch is the potential for some additional features to improve the useability – integral shoe racks or solar lighting.
15. Conservatory
A conservatory or sunroom varies from a standard prefabricated design to a bespoke marvel of engineering.
The former is the typical project provided by contractors specializing in conservatories, and the latter is where you might want an architect.
A standard conservatory added to your house probably does not need an architect.
But, if you want to add a conservatory to your roof, over a garage, or as an elevated extension – you need to consider structural issues. More complex projects like these benefit from an architect, and you may legally require a certified architect to create the plans for approval.
How Much Does an Architect Cost?
Most architects will give you a quote on an hourly or day rate; they calculate how long they think it will take them to complete your work.
The amount you pay depends on the architects' professional level and involvement – drawing up the plans or complete project management.
The factors affecting the architect's fee involve:
Competition – expect to pay more if architects are in short supply.
Project complexity.
Level of expertise – plans drawn up by a technician cost less.
Value of the project build – can be 5-10% of the project cost.
Unlike restaurants, architects don't give you a menu of services with a fixed price – you need to collect quotes.
Most people feel anxious about asking for a quote because they feel it is necessary to carry through and commission the work.
But you can make preliminary inquiries of some architects by email to get an approximate costing for your project.
Your email should cover:
Outline of your project.
What you expect from the architect.
Request for an approximate cost.
If you approach 5-10 architects, you can produce a shortlist of potential candidates for a telephone or personal conversation.
Initial consultations are usually free and without obligation.
The post on hiring an architect elaborates on the proper steps and ways to go about finding one.
Is It Worth Hiring an Architect?
When there is no legal obligation to have an architect sign off on your project, why not save the money?
An architect is a specialist in all building matters.
You hire a plumber to fix your boiler because although you could do the job yourself in theory, the plumber has the experience to do the job right the first time.
You pay an architect to save you from the expense, disappointment, and consequences of learning from your mistakes.
Hiring an architect will always improve your project because they bring experience and knowledge to the process you would have to spend years acquiring.
If you have a building project and you can afford it, it is always worth hiring an architect.
If it is not worth hiring an architect, most architects will tell you that they can't add anything more to your project – so you have nothing to lose by consulting an architect in advance of planning your house project.
When is it Better to Hire an Interior Designer?
It is best to hire an interior designer if your end goal focuses on your internal decor.
A certified interior designer (with architectural qualifications) can sign off on some internal structural work, and they will give you a highly finished interior that works for you and your family.
The top reasons for using an interior designer include:
Save time and money; they know who to call and where to go for what your room needs.
Style – working with an interior designer brings out your style preferences in a way that works harmoniously.
Project management – you set the budget and walk away from all the hassle.
Polish – an interior designer brings extra pizzaz to your décor.
You may have an excellent eye for color and design, but an interior designer has the experience of creating and styling a portfolio of rooms and reliable contacts amongst retailers and contractors.
You get a gateway to a better range of materials and trades by using an interior designer on your project.
How Much Does an Interior Designer Cost?
The only way to find out about the cost of an interior designer is to get some quotes.
The cost of hiring an interior designer depends on:
Reputation – if they style rooms for A-listers, expect a celebrity premium.
Professional qualifications.
Expertise – everyone has some specialties.
Project complexity.
An initial email to a range of interior designers describing your potential project and asking for an approximate quote will give you an idea of potential costs before getting too involved with one interior design firm.
Is It Worth Hiring an Interior Designer?
If the only interior work involved is repainting the walls, it is not worth hiring an interior designer.
If you intend to remodel a room, buy new furniture, and make alterations to improve livability, then an interior designer is an asset.
An interior designer can show you options for color schemes, layouts, and furnishings so you can make an informed choice about what suits you before you buy your first can of paint.
Also, the interior designer can talk to your contractors, order the correct quantity of materials, and add unique design ideas that won't occur to you until much later.
If you are short of time and want to stick to a budget, hiring an interior designer will meet your goals with minimum effort.
Which Comes First – Architect or Interior Designer?
If your remodeling project is extensive and requires an architect's and interior designer's specialist input, hire both simultaneously.
You want the design concept and implementation to be consistent and in sync from the outset.
They can recommend specialist contractors for the trades they design.
Which Comes First – Architect or Contractor?
Your architect and contractor work together as a team to deliver your house remodeling project.
When you put together a new group that has not worked together, you get a period of "storming and norming" while team members work out their relationships with each other.
This process is time-consuming and can be disastrous if the teams don't gel.
Hiring the architect first means you can delegate hiring the contractor to one that the architect knows and works with on previous projects. You avoid the initial storming phase, and the project team can move straight to delivery.
But you may prefer a specific contractor, in which case ask your contractor for an architect recommendation.
Again, you avoid the initial stages of them getting to know each other's working style.
The essential point is that you put one person (the architect) in charge of the project.
If you don't have a clear chain of command and authority, your project will take too long and potentially exceed its budget.
Conclusion
House remodeling can be challenging, but the end goal is to achieve a home that suits you and your family.
There are some projects where you must have an architect certifying the work and others where you can choose to work with an architect, interior designer, or individual contractor.
Each project is different, and the choice of which professional you want on your remodeling team depends on your preference, the project's complexity, and how much budget you have available.
Architects are in the business of making homes better at every scale and are not just for building new houses.
Remember, an initial consultation costs nothing, and it is worth at least chatting to an architect to find out what they can do for you and your project.