Best Balcony Facing: 10 Things to Consider (+ Useful Tips)
Are you considering adding a balcony to your property or searching for a property with a balcony?
Should you download a compass app and check which way the balcony faces?
Is there a significant difference between a balcony facing East and one facing North?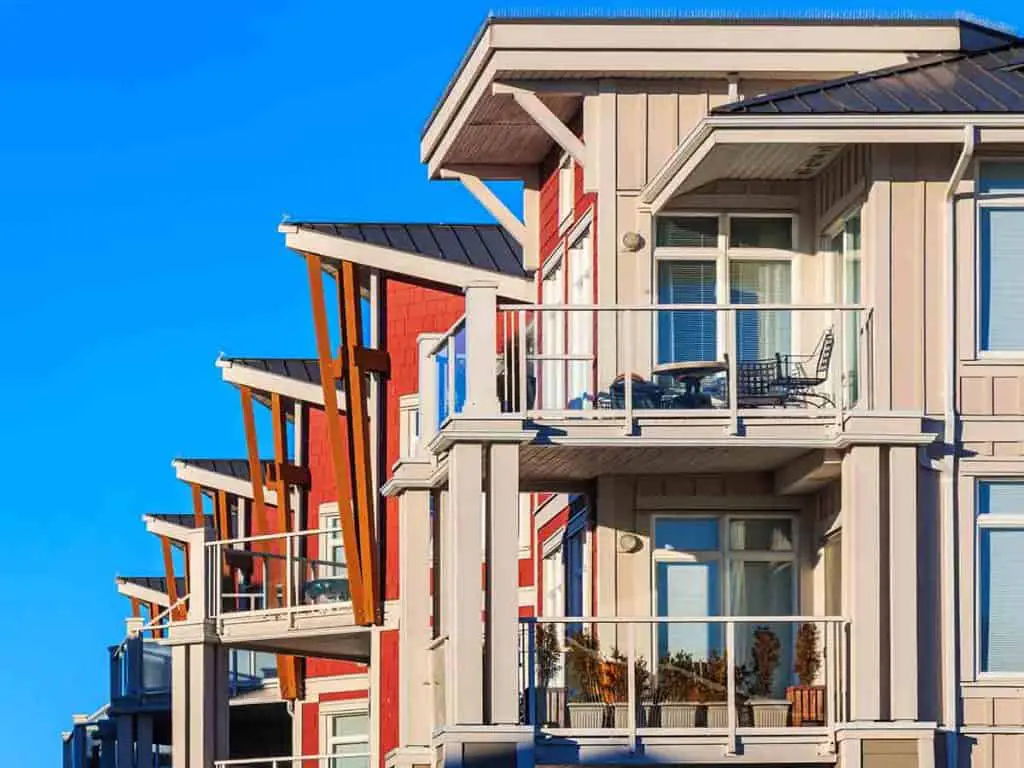 1. How Do You Want to Use Your Balcony?
Balconies vary in size, from a barely-there safety rail to a spacious balcony suitable for an elevated garden creating a small green oasis.
The size of the balcony and its facing direction dictates what you can do with it.
Although a balcony is typically a small space, most people value a balcony because it provides:
Access to outdoor space in an apartment.
Safe airflow into the rooms.
A place to airdry laundry.
A place to grow plants.
A place to store bikes and other sports equipment.
A space to barbecue and dine al fresco.
A quiet place to relax and enjoy the sunshine.
Room for exercise or meditation.
Outdoor space for a pet like an indoor rabbit.
A homeowner's association may have rules concerning what you can do on your balcony.
For example, many places have rules against feeding birds on your balcony because you will probably attract pigeons in an urban setting.
One pigeon is cute, but a flock of pigeons classes as vermin.
Your balcony facing direction dictates how much light you get and the impact of weather on your outdoor space.
2. North Facing Balcony
In the Northern hemisphere, the quality of light from a North-facing balcony is prized by artists for being consistent and cool.
If you live in a hot state like Florida or Texas, a North-facing balcony gives you plenty of light but reduces the heat.
Pros:
Combination of light and coolness in a hot climate.
Ideal for shade-loving plants like ferns and some herbs.
Less sun damage on your furniture.
Cons:
Not as suitable for enjoying the sun in a cold climate.
Furniture can remain damp all day.
Not ideal for growing edible plants.
Verdict: A North facing balcony is ideal if you live in an area where you suffer from extreme heat or enjoy painting pictures.
Plants for a North-facing balcony depend on the actual sun levels you get during the day. But you can grow some flowers like begonias, Impatiens, Fuchsia, and Bleeding Heart for a colorful splash.
If you prefer edibles, try leafy greens like spinach, lettuces, and Asian greens because they like cool and shade.
The best herbs for a North-facing balcony are mint and parsley.
3. South Facing Balcony
A South-facing balcony in the Northern hemisphere gets the maximum sunlight and heat.
A South-facing balcony gives you the best growing conditions if you live in a colder climate.
Pros:
Maximum heat and light for sun lovers in every season.
Morning due rapidly dries, ensuring your furniture is comfortable for most of the day.
Ideal light levels for all plants other than shade lovers.
Excellent for drying laundry.
Cons:
Risk of scorching and dehydration for your balcony garden.
Sun bleaching of furniture and textiles.
It can be too hot and suffer from excessive glare.
Use more water to keep your plants alive.
Verdict: Except in extreme heat, a South-facing balcony is ideal for enjoying the sunshine and growing plants.
Planting options – all the edibles and sun-loving flowers thrive on a South-facing balcony. You can grow shade-loving plants using other plants to provide a cooler area.
Companion planting works well on a South-facing balcony, and you will need frequent watering in summer or an irrigation scheme.
4. East Facing Balcony
An East facing balcony gives you sunlight up to noon and then shade in the evening.
Pros:
Ideal for morning activities like breakfast and sun salutations.
Provides plenty of light for a range of flowers and herbs.
In a hot climate provides a cool retreat in the afternoon.
Better growing conditions for some vegetables like cherry tomatoes and leafy greens.
Cons:
Not ideal for people who want an afternoon barbecue in the sun.
In colder climates, the balcony is only warm for a few hours in the morning.
Verdict: An East facing balcony gives you some of the benefits of the North and South-facing balconies, and if morning yoga is your thing, then it is a lovely space for your needs.
The best plants for an East-facing balcony include herbs, leafy vegetables, geraniums, lilies, and bulbs like daffodils and snowdrops.
5. West Facing Balcony
In direct opposition to the East, a West-facing balcony gets sun all afternoon and evening.
Pros:
Ideal for evening meals, barbecues, and exercise after work.
Plenty of light for growing plants – like a South-facing balcony in options.
Provides a cool morning option in a hot climate.
Cons:
It can be too hot in the evening when you want to be outside.
Verdict: A West facing balcony provides maximum sunlight in the evening, so it is ideal if you want to use your balcony after work. Plus, it is almost as good as a South-facing balcony for growing plants.
Best plants for a West-facing balcony include all the options for a South-facing balcony.
If you prefer shade-loving plants, you need to use other plants to provide screening as these are not ideal.
6. How to Tell Which Way Your Balcony Faces
The simplest way to determine your balcony facing direction is to use a compass as a phone app or a regular compass for hiking.
Otherwise:
Observe the sun in the morning – it always rises in the East. If you can't see the sunrise, your balcony probably faces West, and if the sun rises on the right, your balcony faces the North.
Look at the satellite dishes in relation to your balcony – in the northern hemisphere, most satellite dishes point south.
If your balcony faces a street or an even route number, you know your balcony faces either North or South.
If your balcony faces an avenue or an odd route number, then your balcony faces either East or West.
7. How to Keep a Balcony Cool in Hot Weather
If your balcony gets too hot, you can take steps to cool things down:
Use plants to create a cooler microclimate – large green plants provide shade and absorb some sunlight.
Use a misting fan to keep your plants happy and cool the air.
Evaporating water provides a cooling effect – you can buy an evaporative water-cooling system or put a bucket of water and ice among your plants.
Water features – you can have a mini pond with a solar fountain in an old half barrel or a more elaborate falling water feature.
Ceiling fans move the air and provide a cooling or warming effect.
Screens – from simple to electronic, screening the balcony during the hottest part of the day can help reduce the temperature.
Awnings provide shade from the overhead sun – but ensure you can take them down or fold them away in high winds.
Light colors help to reflect away heat and light.
Depending on your budget, you can opt for installed electronic screening or less expensive low-tech solutions.
The Balcony Cool-Down post has more details.
8. How to Warm a Cold Balcony
If you live in a colder climate, you may feel you don't get to use your balcony during the colder months, but you can increase your balcony's cozy credentials:
Add heating – patio heater, fire pit, or radiant heater mounted on the wall; a little heat to keep off the chill makes enjoying your outdoor balcony less sun dependent.
Add shielding from the wind – perhaps consult an architect about your best options for stopping the wind from chilling your balcony.
Invest in warm throws and blankets to enjoy hot chocolate while watching the snow fall in the morning.
9. How to Grow a Garden with an Unfavorable Balcony Facing
Not every balcony facing is ideal for growing flowers, vegetables, and herbs.
How can you exercise your green thumb with an unfavorable balcony facing?
Match your plants to your balcony and climate – there is a plant that thrives in every position, and that includes a cold, dark balcony.
Position your plants to get the best light – elevate your plant pots with hanging baskets and stands, so your plants get the amount of light and heat they need.
Create microclimates by grouping plants together – companion planting and providing shade; most plants prefer to socialize.
Provide water – you can use a jug regularly, misting equipment, or an irrigation system. Your plants need the right amount of water for growth and health; if watering is an issue, opt for drought-resistant plants.
Scale the plants to the space – miniature cherry trees, not full-sized.
Plants in containers need regular feeding.
You can grow edibles on any balcony; if the light is an issue, consider microgreens and sprouting seeds – you get the nutritional benefits of home growing without the long growing season.
On a small balcony, match the edible crops to the facing direction and consider the crops that add the most value to your life.
Consider growing exotic mushrooms from a kit if you have a dark and cold balcony in the winter. A hot South-facing balcony may allow you to pick a summer full of berries or a perfect sun-ripened peach.
Consider the impact of seasonal changes – a winter balcony with dying plants is depressing.
You can rotate your plants, so that summer plants become indoor plants during the winter, or you can use evergreens to provide constant green throughout the year. A dwarf conifer and fairy lights provide winter sparkle.
You can plant short-lived summer annuals on top of bulbs, so you get more growth to come as the annuals die back.
Finally, if you don't want to put effort into balcony gardening but want a green oasis, consider faking it.
Realistic artificial plants can give you the ambiance of a green oasis without needing to water, buy soil or consider appropriate light levels.
You will need to provide them with the occasional wash and replace any that get damaged by sun bleaching, but if you want the mood-boosting impact of green plants without the actual plants, then faking it still gives the brain a natural boost.
10. Other Considerations
Although the cardinal direction of your balcony impacts the useability of your balcony, other considerations determine how much you can enjoy your balcony.
An overlooked balcony, one too close to a noisy road, or one with an unattractive view may not encourage you to gain the most benefit from this additional space.
If you have an unattractive balcony, it is worth asking an architect to give you some suggestions for improvements – adding glazing can turn your balcony into a conservatory.
It is a pity not to consider how to use your balcony to its full potential but be aware there may be restrictions from the homeowner's association.
Conclusion
A desirable balcony facing adds value to your life.
Still, you can make the best of your balcony regardless of cardinal direction by working with your available conditions and considering simple modifications to improve livability.