16+ Beautiful Things Architects Design (w/ Examples)
Do architects only design buildings?
In reality, architects design much more than buildings, but in the public mind, engineers and architects' work becomes confused.
Engineers want to make their structures safe and functional. Architects have that goal as well, but they also want to add beauty and charm.
What do architects design beside buildings?
There are sixteen examples below of areas where architects work and create outside of the building field.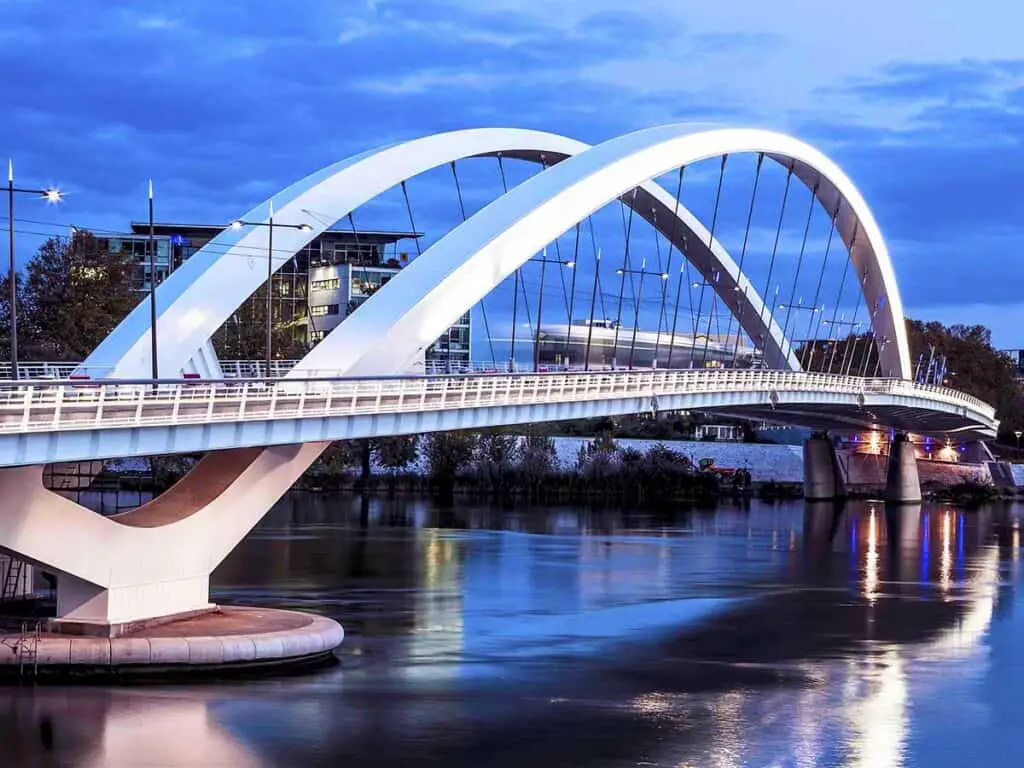 #1 Bridges Ancient and Modern
Do architects design bridges?
Yes, architects – as well as engineers – design incredible bridges that attract visitors and create destinations as well as getting you from A to B.
Bridges provide safe passage across demanding terrain.
A bridge stands for centuries while the buildings around it rise and fall. They become landmark destinations that people use and enjoy.
Venice: Rialto Bridge
Venice is the destination of artists, tourists, and lovers for its romance, architecture, and history.
Rialto Bridge is the brainchild of Antonio da Ponte in the 16th Century and is the oldest bridge crossing the Grand Canal.
His bridge is photographed, painted, and admired to this day.
Singapore: Henderson Waves Bridge
RSP Architects (US Firm) gifted Singapore with its tallest bridge (118 feet at the highest point) connecting Telok Blangah Hill Park and Mount Faber Park.
The official opening was on 10 May 2008 to foot and bicycle traffic.
The design concept is a cross between wave and snake.  It spans the Henderson road, and this undulating wave is also the longest pedestrian bridge in Singapore.
This bridge is a triumph of mathematics, engineering and is stunningly beautiful.
Australia: Sydney Harbor Bridge
Sydney Harbor Bridge is the world's largest steel arch bridge and opened in 1932 after six years of construction.
You still pay to cross the bridge with a vehicle, but you can walk across for free.
The broad deck (most expansive in the world) provides an eight-lane highway, a footpath, and a cycle track.
Hungary: Budapest Chain Bridge
William Tierney Clark designed this historic chain bridge to replace the pre-existing pontoon bridge. It linked Buda and Pest to play a role in unification in 1849.
The Germans destroyed it in 1945, but restoration saw the bridge rebuilt by1945 using the original towers.
China: Eco Bridge, Chongqing
Taranta Creations imagines a Chinese dragon spanning the river with a gridded roof reflecting sunlight and glare away from the road.
This bridge is currently under construction, with a target opening for the winter Olympics in 2022.
#2 Dams
Dams hold water back and release it when needed for power (hydro-electric) and utility, and there are at least 845,000 human-made dams in the world.
The United State's largest dam is the Grand Coulee Dam in Washington State. It has a turbulent political history with conflicting opinions and goals.
Architects and engineers created and built this dam, but they are not a "name"; they worked quietly in offices and the army. This massive construction does not bear their names – that glory goes to presidents and promoters.
The Grand Coulee Dam is an example of the unseen work of architects hidden away in public offices and buildings creating monumental structures.
#3 Public Monuments
Changes in memorial architecture mean that modern public monuments focus on the emotions felt by the masses rather than the deeds of the few.
Gaeta Springall Arquitectos' design for a memorial center to the victims of violence in Mexico is a combination of public park and memorial structures in Chapultepec.
It retains a quality of forest, open and built spaces.
It is a design and construction project but also a public artwork and tool for community engagement.
Public monuments are an example of the social role architects play in moving people past old hurts and wounds.
#4 Sculptures
Architects design buildings as sculpture; think of the Gherkin in London and the Chrysler Building in New York. But Architects also design sculptures.
Sculpture and architecture complement and contrast each other. Sculptures in the urban or rural landscape add more meaning and interest to the space.
Pablo Reinoso started training as an architect and now produces sculptural public works that integrate into the landscape while making a powerful artistic statement.
Benches feature heavily in his work reimagined, but still functional.
#5 Furniture
Architects, as furniture designers, have a long and notable history.
VegaHouse (Japanese architecture firm) uses bamboo and iron to make modern stools with a traditional flair.
Then there are:
The Barcelona chair – Ludwig Meis van der Rohe
Rocking Chaise – Frank Gehry
The sixties iconic Ball Chair by Eero Aarnio
Mesa Glass Table by Zaha Hadid
Double washbasin by Graft.
Famous architects and lesser-known ones are all happy to design furniture. Architect-designed furniture claims iconic and collectible status.
#6 Cars
Le Corbusier and other architects take cars as inspiration for buildings.
But do architects design cars?
Architects design in 3D – what is a building but a gigantic 3D object, so it is not surprising that architects move into designing other items such as cars.
It is worth noting that architects design the architectural elements of the vehicle and not the engines.
Successful architect car designs include the Dymaxion car that never went into production because of an unfortunate incident with a politician in 1933.
More recently, Foster and Partners (architects) have teamed up with Aston Martin to makeover the iconic London bus.
Architects are working with their design skills in car development across the globe.
Pininfarina
Pininfarina is an Italian design house that began with Ferrari, Alfa Romeo, and Peugeot, and at the Geneva motor show, it introduced the Battista – an electric hypercar.
The company started with Battista 'Pinin' Farina in 1930. The nickname pinin refers to his family position as the youngest brother of eleven children.
#7 Racetracks
All the famous and the up and coming road racetracks and other sporting venues across the world use architects as part of the team to design the layout, the buildings, and the way people and cars interact.
Horse racing and architecture began in Roman times with the Hippodromes and evolves through to street and road racing circuits today.
Track designers for cars, bikes, horses, and people have multiple considerations: track, pitlanes, audience seating, and safety features.
The architectural challenge also involves considering the underlying terrain and taking advantage of landscape features to create interest and excitement on the racetrack.
Hermann Tilke dominates the FI racing circuit field, but other architects work in designing sports grounds across the globe.
Do architects design roads as well as racing tracks?
Architects work in urban planning, and part of that is road design – especially if those roads need innovative new materials or qualities like noise reduction.
#8 Boats
Naval architects design boats – military, pleasure, or cargo.
Designing boats is part of the broad field of architecture.  This role straddles the fields of engineering and architecture.
Can you think of an architectural boat designer?
Beneteau has a portfolio of architects designing yachts for racing and pleasure. Some architects create boat exteriors, and others develop the interiors.
#9 Toys
Do you think toys are beneath an architect's notice? Architects take an interest in any object, and that includes toys:
Tsumiki (Kengo Kuma) – simple wooden modules that stack together to create anything from an abstract shape to a representation of an animal.
Tyng Toy (Anne Tyng) – a 1940's toy with plywood building models to let kids create rideable toys and other structures.
Dolls houses – building or drawing plans for dolls houses are a natural extension of architects' roles. Brooklyn Museum has the Rietveld's Dolls House on display. More recently, a group of architects designed, built, and sold dollhouses to raise funds for disabled children.
Most architects designing toys no longer describe themselves as architects, but the design skills they bring to the table make them successful toy designers.
#10 Fashion
Clothing is a structure that covers a 3D shape, and accessories add detail and interest. Dressing the human body has parallels with designing a building.
What do design architects do in the fashion industry?
Anything and everything from shoes to hats and everything in between.
Architecture inspires fashion, and some fashion designers start life as architects:
Virgil Abloh – Louis Vuitton menswear.
Hussein Chalayan – more art than fashion and part of the architecture curriculum in some schools.
Tom Ford – an architect graduate designing fashion and directing films.
Iris Van Herpen collaborates with architects to create astounding items of wearable art.
#11 Jewelry
Some jewelry designers and creators take their inspiration from architecture, and some architects turn their inspiration to creating jewelry.
Diego Delgado-Elias (Paris-based architect) creates silver rings celebrating the tools of the architect's trade – drawing tools like protractors and set squares.
Ayça Ozbank is an architect that loves cities and creates statement jewelry that reflects her favorite cities' architectural theme.
#12 Film and Games Backdrops
Is it real, or is it digital?
3D rendering allows architects to create impossible locations for film sets and games. Most of the time, you don't notice because the buildings are so realistic and functional.
Futuristic and period films use architects' creative services to imagine, design, and re-create cities that filmmakers would otherwise find impossible – think Gotham City, Inception.
Creating these 3D renderings of buildings like the Notre Dame cathedral for Assassins Creed means that this game scenery can help in the restoration of this iconic building recently ravaged by fire.
Architects provide a sense of realism to the most fantastic film scenes by creating structures that look as if they exist.
#13 Origami
Origami is the process of creating a 3D shape from a 2D paper, and origami inspires and influences architects in building and interior design.
Complementing this creativity is origami and kirigami designs (source) created by architects to reproduce the form and function of iconic buildings.
#14 Children's Playparks
Architects design fantastic, everyday playgrounds and children's play areas. The water playgrounds designed by architect Robert Cirjak in Croatia is one such example.
In Japan, Tezuka Architects created knitted nets for a colorful and tactile playground.
Across the globe, architects create and refurbish playgrounds to enchant children of all ages.
#15 Dog Houses
Why shouldn't man's best friend benefit from a cleverly designed architectural dog house?
Architects have been designing dog houses for decades.  Some like the Willy Guhl cement dog kennel is now a desirable collector's item.
Many architects take place in fundraising campaigns, and one for a dog's charity featured incredible dog kennels – the Bow Wow Haus.
#16 Cakes
Dinara Kasko moved from architecture to patisserie. She uses her 3D printing and imagination to create amazing cakes that defy belief with their complex geometry.
You can recreate her designs with her unique molds. These are not just cakes; these are edible structures.
Wedding cakes and architecture are a natural fit as a creative outlet for anyone with architectural skills.
Architect: Creator of Many Things
Architects are dreamers, creators, planners, builders, and artists.
Wherever something needs vision, fantasy, and functionality, you are likely to find someone with architecture skills lurking and creating magic.
Things architects design cover anything that needs a design or inspiration – a testament to the vast array of architects' career choices.
Architects are born to create, and their materials are anything they come across from fabric, leather, steel, and cake mix. Architects reimagine everyday objects and processes and make them unique.
The word architect conjures up a creator of buildings, but architects are designers and fabricators.
Architects take inspiration from the world to create structures, and those buildings and design processes then inspire others to make jewelry, handbags, and other artistic objects.
Often, that artistic designer of the most innovative new product is at heart an architect.