8 Steps to LEED Accreditation for Professionals
Unsurprisingly, with their sensitivity to the impact of structures in the landscape, architects founded an organization, US Green Building Council (USGBC – source), to focus the entire building industry on the need for a green and sustainable approach to buildings that are kind to people and the planet.
From that beginning, learning how to become LEED certified (for projects) measures and defines green and sustainable building in today's world.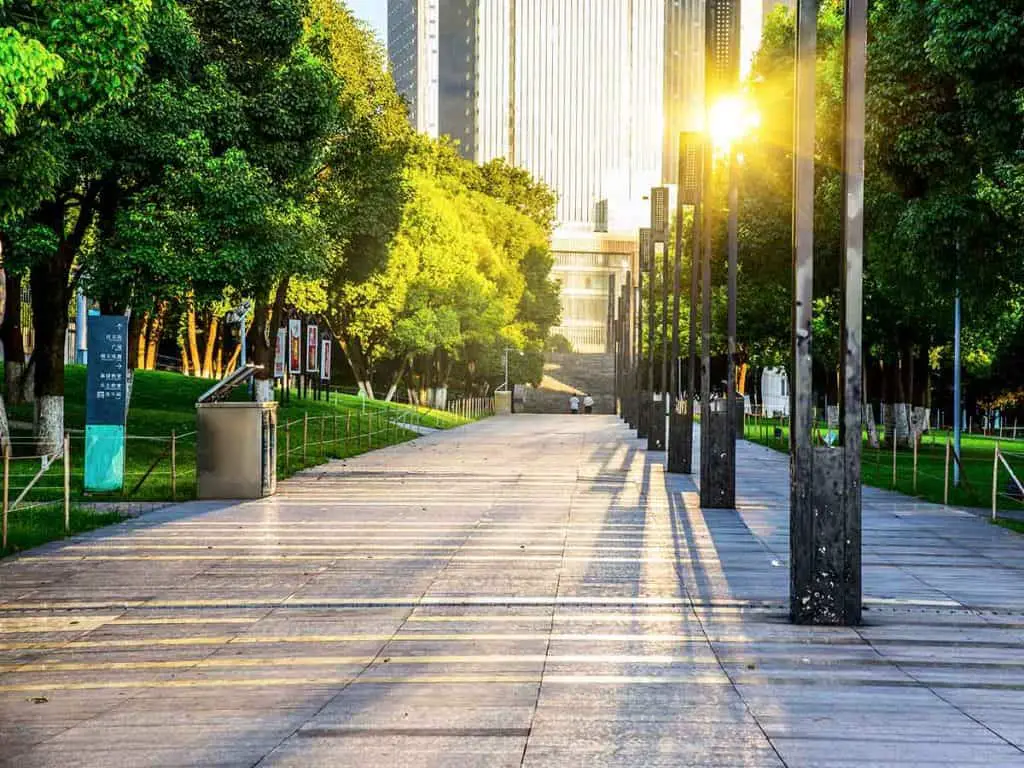 LEED Certification or LEED Accreditation?
LEED certification is for buildings (provided they meet the standards) to display a plaque to show their green credentials.
There are schemes covering building design, construction, interior design, building operations management, maintenance, and neighborhood development in both the commercial and domestic arena.
USGBC outline how to become LEED certified for any project. The project earns points that lead to platinum, gold, silver, or plain certification.
LEED accreditation is for the people who work in the building industry. You can take a two-hour exam to prove your green construction proficiency and earn a certificate to demonstrate your abilities and values.
Understanding the Terminology
The terminology and processes for LEED certification for a building are like those for accreditation. This post concentrates on the LEED accreditation process.
USGBC's role is to set the LEED standards for certification and accreditation. The website explains how to become LEED accredited and each stage involved.
GBCI is the Green Business Certification Inc, and it is a certification body for LEED and other rating systems across the world. If you have a building that needs certification, you work with GBCI for third party verification.
On the other hand, if you, as an individual, want to gain LEED accreditation for professionals, you go through USGBC.
Prometric Testing is a US company specializing in providing examination centers across the globe (160 plus countries) to enable people to gain certifications and licenses in many disciplines, including LEED.
You can't go direct to Prometric; you need to go through USGBC to access and book a test date.
LEED GA represents the entry-level accreditation as a Green Associate; the correct term is LEED Green Associate. You take one exam and receive the certificate.
LEED AP represents the advanced professional qualification for sustainable practice. You can take the exam if you hold the Green Associate certificate or take a combination exam.
You always see this term associated with a specialism. LEED accreditation for architects usually is LEED AP BD+C.
Types of LEED accreditation include:
BD+C – Building Design and Construction
O+M – Operations and Maintenance
ID+C – interior design and construction
ND – neighborhood development
Homes
LEED GA vs. LEED AP
The LEED GA is the entry-level certification indicating an understanding of current green building practice.
To gain this qualification, you need to pass an exam and gain 15 hours of relevant continuing professional education in the two years following the exam to maintain your accreditation.
This accreditation is the best way to indicate an interest in green building practices and is the gateway to the LEED AP accreditation.
The LEED AP with a specialty (most architects opt for BD+C) shows you as a professional with expertise in green building practices.
It is best to have worked on a LEED-certified project, and you either need to hold the LEED GA and then take the specialty exam or sit a combined LEED GA and a specialty exam.
To maintain the accreditation, you need to amass 30 hours of continuing professional education in the two years following the exam.
Step by Step Guide to LEED Accreditation
The process of gaining LEED accreditation is straightforward and involves the usual study and examination stages.
Step 1: Get a USGBC Account
If you are not already a member, you need to create an account with USGBC. Creating an account is free; membership requires an annual fee.
Your organization may be a member, giving you access to many resources, but you still need an account to access the accreditation process.
You can join USGBC as an individual and pay between $59 and $129, depending on status.
As a member, you get a lower examination fee – $200 for members and $250 for non-members.
Step 2: Commit to Taking the Exam
With your USGBC account, you register to take the LEED examination – either the Green Associate as a first stage or the combined exam with specialty if you want to obtain your professional accreditation speedily.
You book your time and date with Prometric Testing at a convenient location and pay a fee to sit the exam.
Step 3: Ready to Take the Exam
It is time to study because when you take the exam, you face 100 random multiple-choice questions in two hours, and you need to prepare to show your knowledge. It is a closed book exam.
You can access free resources, pay for a study pack, and attend workshops for direct in-person learning with others.
As a bonus, if you choose to complete some USGBC courses, you can earn digital badges to display on your LinkedIn account while working towards your accreditation.
Step 4: Turn Up for the Exam
Obviously, you can't pass the exam if you don't turn up at the examination hall on the due date and time. Allow yourself 30 minutes before the examination to allow for identification checks and bathroom trips.
If you leave the examination hall for any reason, you don't get back in, and your fee is not refundable.
If you turn up late, you miss your chance to sit the exam, and there are no refunds; you will need to reschedule and pay another fee.
You need to provide a valid photographic ID in the form of a driving license or passport – check the center's requirements to avoid issues on the day.
Update for 2020: You can now take the LEED exams online (source)
Step 5: Take and Pass the Exam
It would be best to allow two hours and twenty minutes for the examination because the two-hour multiple-choice section is bookended with two optional ten-minute sections – a tutorial at the start and a survey at the end.
You need a minimum score of 170 out of the maximum 200 for a pass. At the end of the computer-based test, the screen displays your score – you don't need to wait for the results.
Step 6: Promote Yourself
You can download your certificate (through your USGBC account), post a digital badge on LinkedIn, and use the name and logo to showcase your skills and accomplishments.
You have earned it, so flaunt it.
Step 7: Maintain Your Accreditation
To keep your LEED accreditation, you need to complete 15 hours (Green Associate) or 30 hours (professional) continuing professional education in the two years after sitting the exam to retain the qualification.
Log your Continuing Education (CE) hours and ensure that you take advantage of any available resources to complete the necessary development hours.
Step 8: Go Further
If you only complete the Green Associate step, set yourself up to add a specialism (or two) to your accreditation.
Most architects opt for the Building Design and Construction module, but others may better suit you and your career.
What If You Don't Pass?
You can sit the examination three times in a short space, but you need to wait six months before you can try again if you fail three times.
You pay a fee every time you sit the exam, so the costs mount up quickly – it is worth making sure you study hard and pass the exam the first time.
Study Resources
A primary resource for all things LEED is USBGC courses (source), and you can sign up for a year's educational subscription or purchase individual courses as necessary.
Alternative suppliers of study materials include:
Green Building Educational Services (source) provide a range of study materials and support for all the LEED exams. If you visit their website, you can try some sample LEED questions for free while considering your options.
GreenCe Sustainable Design Education (source) offers a range of free exam preparation and free online courses to help you study for the LEED accreditation.
GBRI (source) offers a range of online study courses with a money-back guarantee if you fail to pass the first time. These online study courses offer remote tutor assistance and live study sessions.
Whatever your learning style, you will find the right learning course for you at a reasonable cost.
Exam and Study Tips
Preparing for any exam or test involves some basics:
Learn the source material.
Read the questions.
Focus on the essentials.
Practice questions.
For the LEED exam, the best tips are:
Know What You Need to Know
There is a candidate handbook that tells you what you need to know – the LEED GA Handbook (source) and LEED AP Handbook (source).
It is not like a thesis where you need to go and do lots of reading around the subject (you can do that if you want). The handbook spells out the information tested.
You are going to get 100 random multiple-choice questions, but these come from the source material.
Learn the Key Facts
It is a closed book examination, so you need to know the crucial standards, codes, regulations, and definitions.
All the study providers give you handy checklists of the critical numbers and rules, so memorize them. You need to pick out the right answer from the crowd, and guessing the answer is not the best strategy.
When it comes to definitions and meanings, the LEED exam wants you to use the trademark versions, not any short or popular forms, so they expect you not to use LEED GA but LEED Green Associate.
Spend time being clear on the exact definition.
Read the Questions and All the Answers
Sometimes examiners like to phrase the question in a misleading way – the use of the word 'not' can change the way you approach the answer.
Read the question twice, and be sure you understand what they are asking.
Then read all the answers. You score points for the best answer chosen from a range of possible solutions – there may be more than one "right" answer, but the examiner wants the best option.
Don't Spend Too Much Time on One Question
You have 100 questions to answer in 120 minutes. Simple arithmetic tells you that you have a minute per question, including reading the question and all the answers.
Plus, included in that pack are 15 questions that score no points! These beta questions are there for research purposes.
You can flag questions to come back to, you can review your answers at the end – so don't get hung up on one question and waste your time when you could be earning points on another question.
Practice, Practice, and Practice Some More
Prepare by doing as many past exam questions as you can to get used to the style and presentation.
The most effective way of learning information is to test your power of recall. The questions you get wrong highlight where you need to concentrate your efforts.
Finally – Is LEED Accreditation Worth It?
Green building practices are not a passing fad; they are here to stay because it makes sense to use our resources wisely – there is no Planet B.
Clients increasingly want reassurance that they have hired an expert who knows how to build sustainably.
The LEED accreditation is worth it because it reassures clients you have the professional expertise and share their green values – plus a host of other competitive benefits that LEED accreditation and certification provide.