Architect Dress Code: 6 Scenarios Solved (for Female & Male)
Not so long ago, people adhered to a rigid dress code.
On the one hand, you knew exactly what to wear on any occasion. The rules were clear.
Now, a formal dress code only applies at weddings and occasional social events.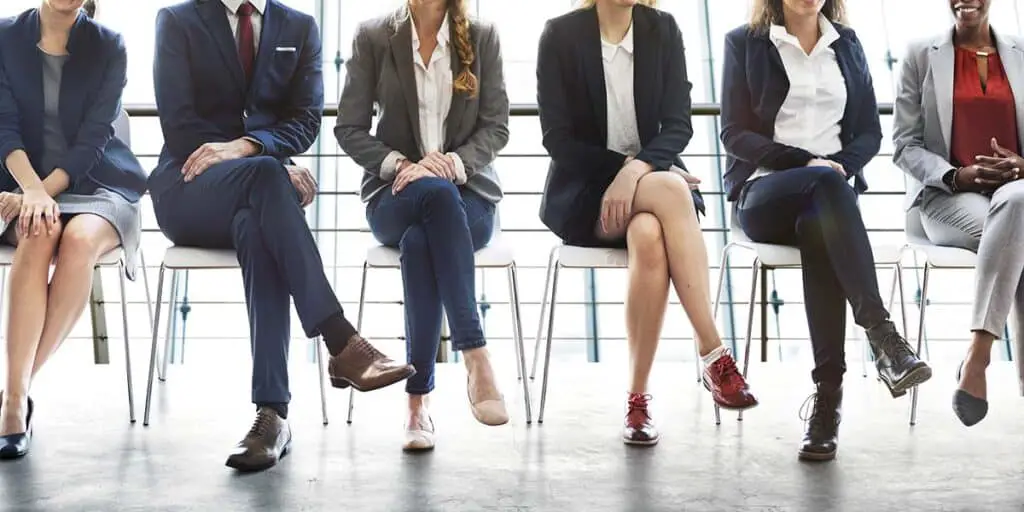 The Unwritten Code
Is the dress code dead or dying?
No, the dress code still exists in many situations, but with unwritten rules.
People expect you to know instinctively what the dress code is for you.
The absence of codified rules available to everyone can result in embarrassment.
You can feel like an outsider while you get to grips with the dress code in your workplace and the places you go as an architect.
It does not help that every office has a different approach depending on the firm's culture.
So, how do architects dress?
1. Regular Workday in the Office
After working for a while, you feel how to dress to fit in with everyone else.
The big issue with what to wear in the office comes in the first few weeks and preparing for a new job.
Check the Staff Handbook
If a staff handbook is available, see if it has a section on the office dress code.
Some staff handbooks are part of your terms and conditions, which means a manager can treat it as a disciplinary matter if you fail to meet the dress code.
The dress code cannot discriminate against you for your gender, race, or any other illegal reason. Still, most dress codes refer to a generic – office smart/smart casual/office casual.
Some dress codes may be specific about the standards and nature of clothing.
If the staff handbook specifies a dress code, then follow it.
Ask in Advance
It is not unreasonable to ask what the dress code is in that office when starting a new job in a new office.
Your manager or boss will then tell you that they expect professional wear, office casual, and have a dress down Friday every month. Or whatever their expectations are about workday clothing.
Asking the question saves you the expense of investing in a week's worth of smart business suits when everyone else wears casual clothing.
First Day in a New Office
If you are unsure about the office's dress code, opt for business formal on the first day.
For men, that is a suit, shirt, tie, and polished dress shoes.
Women have more choices with pantsuits, suits, skirt and jacket, dress and jacket, with closed-toe shoes.
You may turn up and find you are overdressed, but you are the newbie, and that is acceptable; you look around and check what everyone else is wearing, and the following day you can turn up in smart casual if that is the dress code.
As part of your induction, someone will mention the dress code.
Underdressing for your first day in the office is worse than overdressing.
You will spend the first day feeling out of place and attracting attention for the wrong reasons.
Overdressing shows you take the job seriously and want to make an excellent first impression, and your boss and colleagues will appreciate that approach.
What is Office Casual?
Office casual depends on the office, and it can vary, so watch what the partners and managers wear and copy their style.
The climate may also play a role in what is acceptable office wear.
It is exceptional for office workers to wear shorts in most European countries, but a suit with trousers is typical in Australia.
Office Casual for Male Architects
This clothing style can range from not a suit but dress pants with a jacket and tie or smart casual pants with a shirt and no tie.
Other options include polo shirts, turtlenecks but most offices tend to avoid denim.
Office Casual for Female Architects
Women have many more clothing options, which can give an issue with identifying suitable office clothing.
Pick a professional but relaxed wardrobe and stick to it as a uniform – aim for modest tops, smart skirts (knee or just below), dresses, pantsuits, and jackets.
Despite gender equality, most women tend to dress up a bit more for the office to help project a professional appearance.
Footwear
Sneakers may be comfortable, but unless you know they are acceptable, stick to more formal shoes.
2. Client Presentations
Presenting to clients or meetings with clients needs a professional appearance.
These are the days when you wear formal office attire with suits.
Professional Wear for Male Architects
A man's professional uniform is a suit consisting of dress pants with a matching jacket – include a plain shirt and a sober tie, and you look like an accountant, lawyer, or any other professional.
You can add some style elements – cufflinks, tie pins, and a brighter patterned tie.
Your shoes should be dress, shoes and clean and polished.
It would help if you were comfortable but give a professional appearance.
If your personal style includes a three-piece suit rather than a two-piece, then it is not a problem; it's part of your brand.
When you become a world-famous architect with clients begging for your attention, you can turn up in double denim.
Until then, aim for a smart, professional appearance that meets the client's expectations.
Professional Wear for Female Architects
Women's clothing options give you many choices, but you blend in better with the man's suit's female equivalent.
You have the option of pantsuits or a skirt, but pantsuits mean you don't need to worry about a ladder appearing in your stockings.
The female architect's dress code can include a dress and jacket as a professional suit combination.
You need to be comfortable in your professional clothing because you can give a more relaxed presentation.
You have a choice between sober colors (black, navy, grey) and blending in with the team or adding a splash of color and standing out as a female architect.
Ultimately you want your client to have confidence in your abilities as an architect, so modest professional wear keeps the focus on your design.
3. Site Visits
Appropriate wear for a site visit depends on the nature of the site, the weather, and the people you are meeting.
Construction sites can be hazardous, and you would need to wear safety boots and a hard hat.
If you are looking at a hotel's interior for interior design, you can dress for a regular office day.
The dress code for a male architect and a female architect for visiting a construction site is the same – casual pants (jeans may be acceptable), sturdy boots, warm sweaters in winter, high visibility waterproofs, and a hard hat.
The site you visit may specify appropriate wear.
When the site is nearing completion and meeting clients to discuss the progress, you may opt for more formal wear.
If it is a greenfield site in the middle of summer, you may opt for sneakers and casual wear.
If site visits are a regular part of your working week, you will get into the habit of keeping clothing to change into for the site in your car or office.
Your aim on a site visit is to be safe and comfortable.
4. Architecture Job Interview
Unless the job interview instructions state otherwise (perhaps a meeting on-site), interview etiquette involves your best office formal wear.
Preparing for the interview and dressing up appropriately shows you want the job and respect the interview process.
5. Student Life
Architecture students are like every other student, and you dress casual or smart depending on your personality.
Unless your architecture school imposes an architecture dress code, you can dress in whatever clothing you own.
The exceptions to this rule are when working in an area where you need safety equipment. In these areas, you wear the recommended clothing to protect your feet and body parts from injury.
Plus, you may be presenting work to project sponsors, and it is polite to give a professional appearance.
6. Formal Social Events
Most social events have a relaxed dress code, but a formal social event as a student or a professional architect is different.
A formal social event will usually indicate the dress code as a black tie or, more rarely, a white tie event.
Black tie events are for charity dinners, award ceremonies, and any event that specifies this requirement.
White tie events (or full evening wear) are for prestigious state dinners and royalty.
Black Tie for Male Architects
You have the option of a single- or double-breasted black dinner jacket, black dress pants, black shoes, white shirt, and a black bow tie.
You can wear an optional cummerbund or a waistcoat, but not both.
Black Tie for Female Architects
A formal dress (below the knee) that lets you sit comfortably and with a modest cut tends to fit the dress code.
Unless the invite specifies black dresses, you have a free choice of color and style.
Jewelry is tasteful, and you can wear heels and sandals.
White Tie for Male Architects
The strict dress code is a single-breasted tailcoat in black wool, which you wear unbuttoned.
The white shirt has a detachable collar and cufflinks, and you wear a white bow tie. The outfit includes a white waistcoat and black shoes.
White Tie for Female Architects
The last formal occasion remaining: when you need a full-length ball gown and gloves for shaking hands with royalty and dancing.
This occasion expects you to bling to the max.
Less Formal Social Events
Both men and women can wear stylish evening or day wear for social events where the dress code is not specified.
Slightly more extravagant than office casual and better than dress down shopping, but other than that, you dress up as much or as little as you are comfortable.
Typically, if it is a work event with colleagues and clients, you keep your clothing appropriate to the occasion – a backyard barbeque or dinner and dance need different styles.
Other Questions People Ask about Architect's Dress Code
Some odd ideas are floating about concerning what architects should wear and look like. Here are some of the most frequently asked questions.
Why Do Architects Wear Black?
Architects are not exclusively wearers of black (that would be undertakers) because all the professions have a reputation for wearing black.
In the sixties and seventies, the fashionable man about town would opt for a black suit and a black turtleneck as the style  – a bit edgy and Avant-Garde.
Fashions have changed, and so have dress styles.
Black as an attire color is a safe choice for most professional architects and architecture students.
As building designers are already preoccupied with many details to resolve, giving thoughts to fancy outfit is one too many items for the busy mind – when in doubt, go for black.
Why Do Architects Wear Round Glasses?
Some architects wear glasses, some wear contact lenses, and it is a personal choice as to what suits your face and your vision.
Harry Potter wears round glasses, and so does Elton John. Neither of those is an architect.
Round glasses are a classic look, but they are not exclusive to architects.
What Shoes Do Architects Wear?
Obviously, every architect wears special architect shoes, hand-stitched by Norwegian elves.
Seriously, architects wear the most appropriate shoes for the occasion – boots for construction sites, smart shoes with suits for design presentations, and sneakers on casual occasions.
Do Architects Wear Suits?
Increasingly professionals like architects are opting for smart casual clothing for everyday work clothes.
But there are times when only a suit will do, and these include interviews, client presentations, and giving the keynote speech at a seminar.
Sometimes architects wear suits, but it is not compulsory.
Why Do Architects Wear Bow Ties?
The significant disadvantage of a formal tie is that it can fall onto your desk and smudge your ink.
In the days when architects worked with pen and ink, that is an issue and could ruin hours of work, so a bow tie is a practical solution to formal neckwear for men.
In reality, some architects wear bow ties, but there isn't any hidden meaning. It is just a fashion choice, and not every architect wears a bow tie – certainly not on a workday.
The dress code for female architects does not include a bow tie, nor does the one for men.
Why Do Architects Wear Turtlenecks?
The turtleneck suits most people. It is comfortable, and it comes in and out of style.
Turtlenecks are big with arty students, rappers, and other style icons.
It is another fashion choice – some architects wear turtlenecks, but the dress code for architects does not specify turtlenecks.
You can still be an architect if you prefer a shirt.
Is There an Architect Dress Code?
Debrett's etiquette book does not have a section reserved for architects, and the style police won't enforce a uniform for architects.
Architects don't have a strict dress code; they live and work in the same world as everyone else and follow the same dress rules for offices, interviews, formal occasions, and construction sites as any other professional worker.
References:
https://www.architecturaldigest.com/story/how-to-dress-like-a-designer