Should You Buy a Used Mobile Home? (4 Things to Consider)
Many people opt for a manufactured home at various life stages because it is more affordable than a conventional home or seek a lifestyle benefit.
But whatever your reasons for considering living in a mobile home, is buying a used mobile home a good idea?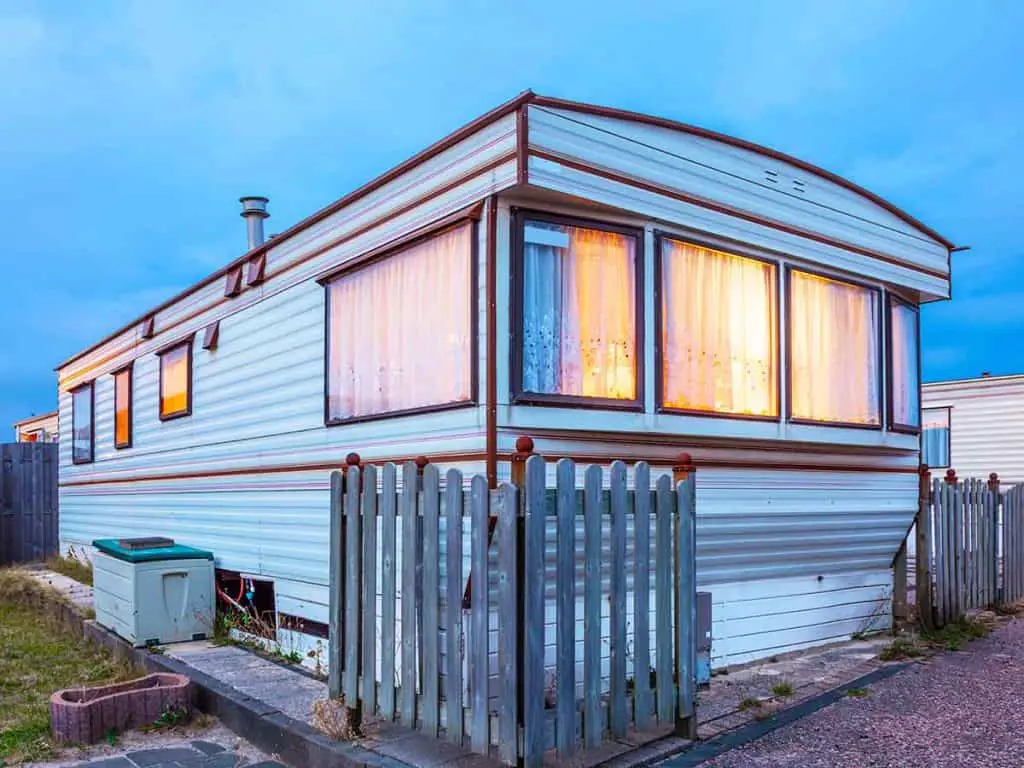 1. Why Buy a Used Mobile Home?
The reasons for buying a used mobile home vary according to your circumstances.
Typical reasons include:
Saving money – an older mobile home can cost under $10,000 and not require loan finance.
Poor credit – a lender may force the decision.
Time pressure – you may need your mobile home quickly.
Temporary accommodation – if you are building a house, you may need to live onsite.
Fun – some people enjoy refurbishing mobile homes as a hobby.
Affordable holiday home – for family and as an income stream.
Option to downsize in retirement and release equity.
Ethics – buying second-hand reduces your impact on the planet.
Potentially cheap business space.
Lack of other potential accommodation in your area.
Your circumstances and preferences will dictate if buying a used mobile home is best for you and your family.
2. Is a Used Mobile Home Cheaper Than a New One?
It should be a no-brainer – slightly used means cheaper, right?
That rule does not hold for vintage wines, antiques, classic cars, and historic houses, and used mobile homes are not always cheaper than new ones.
A used mobile home can come with or without its land base.
A mobile home can come onto the market as a used mobile home through:
Repossession.
Trade-in for an upgrade.
Private seller moving on.
The price of a used mobile home vs. a new mobile home depends on the condition, location, and availability.
Mobile Homes without Land
If the used mobile home comes without its foundations, its history will include more than one transport event.
Government-backed lenders disqualify all mobile homes that move more than once.
If you want a mobile home cheaply, are willing to pay cash, and don't need to make a profit on resale, then you can pick up a sweet deal, especially amongst the older mobile houses.
You can find these deals in all the usual online marketplaces as well as local resellers.
But pay attention to your local rules – some states won't let you transport a single-wide into some zones or houses that are older than set criteria.
If you intend to install your purchase on a park lot, you may find the park has rules about age and condition.
A used mobile home without land is often cheaper than a new one, but you need to factor in additional transport costs, furnishings, and repairs.
Mobile Homes with Land
Buying a mobile home with land is like buying a conventional house.
Condition and location can inflate the price to give the seller a profit and make it more expensive than purchasing new.
However, in a state where land is costly, getting access to land is challenging, and buying a mobile home on its foundations may be the more affordable and less demanding option.
A real estate broker will handle the sale in most cases, but ensure you get one with experience in manufactured homes.
Sometimes you negotiate directly with the park or with the seller.
Repossessed Mobile Homes
If mobile homeowner defaults on their mortgage, the lender can take possession of their mobile home as part settlement of the debt. At this stage, they can opt to auction it off to recoup some of their losses.
But the lender has another option – if they decline to lend money on a new manufactured home to a potential borrower with a poor credit score and a low deposit, they can make a counteroffer.
They can offer the repossessed home with a favorable loan and a low deposit.
The price may be more than buying a new one, but the borrower does not have other options.
Used Mobile Home Availability
Used mobile homes are a finite resource, and if you have a significant player in the area buying up all the available used mobile homes to house a workforce, the prices will increase.
In an area with high demand, the instantly available used mobile home may cost more than a new one with a factory waiting time.
Warranties and Appliances
A new mobile home comes with:
90-day condition warranty.
A year's structural warranty.
A year's warranty (at least) on appliances.
A used mobile home comes with:
60-days habitable warranty.
You have sixty days from installing your used mobile home on your site (or when you take it over) to ensure it is habitable.
In practice, this means you need to inspect the wiring and water systems so that the seller covers the cost of the repairs. After 60 days, you bear the charge, not the seller.
Before you can occupy your mobile home, most states demand an inspection to certify it is fit for inhabitation.
This inspection covers structural integrity, ability to survive transport, wiring, plumbing, and other elements.
It is worth paying a professional to inspect before buying a used mobile home to make sure you know how much you need to spend to pass these inspections.
New manufactured homes come with new appliances and finishes. Your used mobile home may have no appliances and need extensive redecoration.
If you compare the purchase price, transport costs, appliances, and renovations as a total to the cost of a new manufactured house, you may pay more.
However, if you enjoy remodeling mobile homes, this feature may be the attraction of buying used.
Plus, you can finish your mobile home to your exacting standards, and you don't need to complete the work in one session.
3. What to Look for in a Used Mobile Home
If you are buying a mobile home sight unseen, then it is worth paying for a full inspection by a manufactured home specialist (unconnected with the seller) before you make the purchase.
In practice, high transportation costs mean you are more likely to buy a mobile home near to you and within viewing range.
However, if you can't physically visit the used mobile home, ask for a video tour and ask questions about the condition before deciding on a professional inspection.
To assess your used mobile home for condition, pay attention to:
Outside Appearance
Does the mobile home present as attractive and well maintained?
Owners who care about the appearance of their mobile home are likely to stay on top of routine maintenance.
When you approach the used mobile home, check:
Sidings – neat, tidy, and no evidence of buckling or damage.
Roof – not sagging or damaged.
Skirting – present and with adequate vents for ventilation.
Windows and doors – properly sealed and not distorted or cracked.
Steps and deck – leveled and in excellent condition.
Potential Water Damage
Water destroys mobile homes and conventional homes, but it acts remarkably quickly with a manufactured house structure.
You look for evidence of water damage in all the usual places:
Windows and doors – check for leaks around the frames.
Bathrooms and kitchens – get a good look at the floor underneath the floor coverings.
Sagging or soft floors while walking around.
Water damage on the ceiling.
Bowing walls ad mold patches.
Extensive water damage may mean the cost of repairs and renewals is prohibitive.
Quality Wiring
Electrical hazards in a mobile home can kill you through direct shock or starting a fire.
As an initial assessment, check the breaker box is modern, neat, and has the appropriate switches. Find out the last electrical inspection or rewiring of this mobile home.
Look at every outlet; check that they work by plugging in an appliance.
You are looking for clean outlets with no yellowing or scorch marks. When you plug in the appliance, it should work and not trip any circuits.
Stay on the Level
Part of living in a mobile home means checking (at least every other year), your mobile home remains level. The ground under the foundations can move and change the mobile home from being level to being on a slope.
The manufactured house needs to be level to avoid distorting the structure, putting strains on the connections, and prevent it from shaking.
You can check the level with a spirit level or use your mobile phone – the iPhone has a built-in tool, and so do most other smartphones.
Look Underneath
You look underneath the belly to check that the vapor barrier and insulation are intact and undamaged.
At the same time, you can check the foundations are in place and in good condition.
If you buy a used mobile house in an earthquake zone, you will probably find it on pier supports. The pier support should fully support the mobile house beams – you don't want a gap between the house and the pier.
Also, examine the tie downs – in place, free from rust and cracking.
Code Compliant
If the house is habitable, you expect it to meet the HUD code with all work keeping it within regulation.
Inspect the HUD tag on the outside and ask about the current owners' maintenance history and any remodeling. Ideally, all work is certified as HUD compliant.
Park Rules
If you buy a used mobile home in a park, you buy into the park community.
It is worth finding out what the park offers for its lot fees and what the rule book covers regarding remodeling, pet ownership, and resale.
The used mobile home and the park come as a package deal, and either one could be a deal-breaker.
Hire a Professional to Review
You can decide if a used mobile home is worth pursuing on your initial inspection.
But before you part with the cash, pay a professional to do a full review and report.
You can expect to spend under $500 and get a realistic appraisal of the condition and essential work.
Investing a few hundred dollars before you buy can save you from making an expensive mistake. Plus, you can use the report in your price negotiations.
4. How Much Will You Pay for a Used Mobile Home?
The price of your used mobile home depends on:
Location and if it includes the land.
Condition and age.
Type – single-wide, double-wide, or more.
You can expect to pay from $10,000 to over $100,000 depending on what is available and local competition for this home.
Should You Buy a Used Mobile Home?
If a used mobile home meets your needs and is value for money, it is a good investment.
As with any purchase, you need to research, investigate the deal, and compare your options. A used mobile home can make an already affordable housing alternative more budget-friendly.
Still, you need to make sure you buy a habitable home or one that is not too expensive to remodel.