Architect vs. Engineer: Which Is Right for You? (Choose Critically)
If you are asking yourself – Should I study Architecture or Civil Engineering? First, consider your feelings for buildings – does their appearance matter?
If a building's appearance matters to you, then you are probably inclined towards architecture.
Perhaps your interest lies in bridges and metal structures more than houses and offices.
In that case, you may be asking – Should I study mechanical engineering or architecture?
Now you need to ask if you enjoy the mathematics and the challenge of creating something that works from a tiny robot to a towering building.
If you are interested in how things work and have a solid appreciation for math, then mechanical engineering may suit you better than architecture.
The choice between architecture or engineering degree is not straightforward as both lead to rewarding careers, so how do you choose?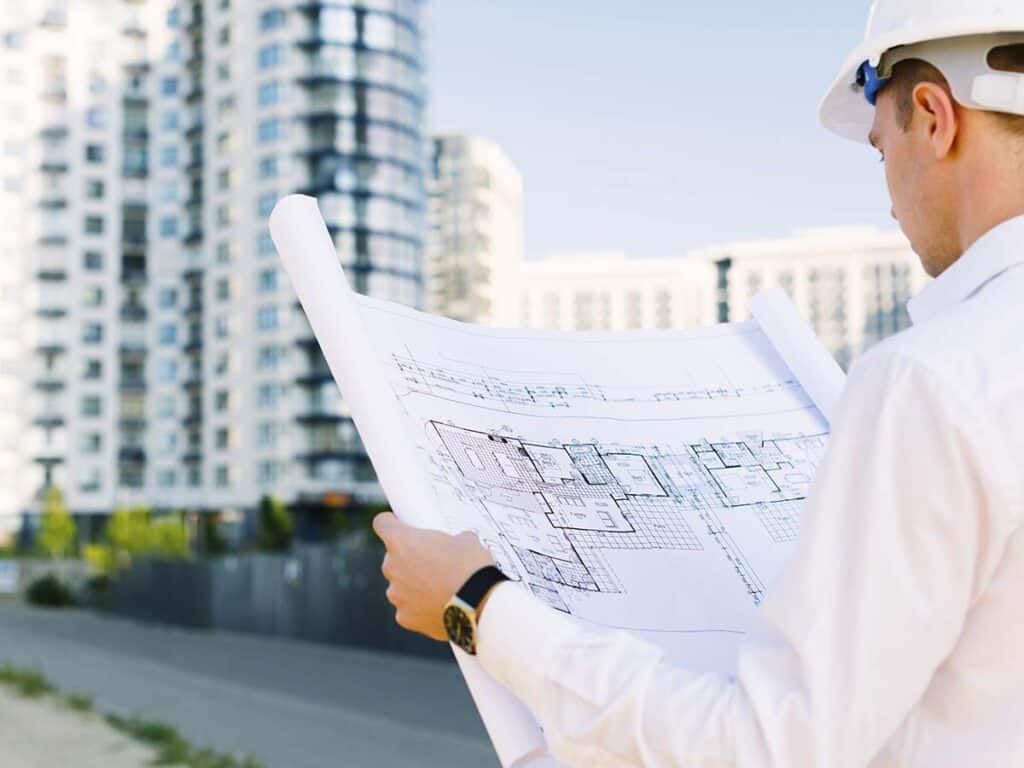 What is Your Passion?
You will spend several years studying and then decades working, so your life will be a lot happier if you have a passion for your chosen profession.
Plus, learning for and passing exams is a whole lot easier if you enjoy the subject matter or if you pursue it because there is where your passion lies.
Is architecture or engineering harder for you?
The subject you enjoy encourages you to engage, study, and produce your best work, so it is worth checking out what passions drive architects and what appeals to engineers.
Architecture
Architects have (or should have) a deep love of art, design, buildings, environment, and people.
It is a broad subject, but architecture aims to make life better for humans by creating spaces they can inhabit for work and play.
Plus, they aim to provoke an emotional response with their designs.
Engineering
Engineering students select one field of the broad collection of engineering roles, and they specialize. A civil engineer is different from a chemical engineer or a mechanical engineer.
There are points (like calculus and the study of forces) where they cross over, but engineering has a tighter focus.
Engineers solve problems, improve how things work, and invent new machines, structures, and objects.
What Skills Will You Develop?
There is some overlap between the skills developed through studying engineering and architecture, but the skills you gain depends on your interests and future ambitions.
Architect's Skill Set
The combination of taught hard and soft skills of a qualified architect include:
Practical design with sketches and digital tools (CAD and 3D rendering).
Building and construction – knowledge of techniques and legislation.
Analytical, thinking, and reasoning.
Communication and interpersonal interaction (customer service).
High level of initiative.
Engineer's Skill Set
The exact knowledge that an engineer needs depend on the branch of engineering that they choose.
The broad skill set includes:
Technical knowledge involving calculations, materials, practical and digital.
Teamwork
A high level of attention to detail and problem-solving.
Communication skills.
Analytical thinking.
Data analysis.
Numeracy and statistics.
Project management.
Resilience – many engineers work in challenging environments.
Architects get involved with their projects but from an overseer and designer stance. Engineers are most likely to work their way through various practical hands-on roles needing manual dexterity and practical working skills.
Job Roles
The overall approach to job scope and roles is that architects design and engineers build.
It is a bit simplistic because some engineers are employed to design structures and hand over the riveting and welding to another team, and some architects have practical construction experience.
But the mental divide between designing and making remains.
Architects' Working Life
What an architect does depends on the career path they follow, but you would expect to spend your day:
Communicating with clients, fellow consultants, and contractors.
Creating plans and designs (and continually updating them)
Managing projects – budgets, workflow, and legislation.
Researching and detailing architectural details.
Creating models and sketches.
Engineers' Working Life
It is harder to pin down precisely what a typical engineer does on a working day because there are many different types of engineers.
An engineer working on designing rockets and missiles has a different working day to one in charge of building a giant dam. There are over 17 different fields of engineering and thousands of potential careers.
An engineer can:
Work in an office solving problems and making calculations (lots of them).
Work in a lab building and testing prototypes.
Work in the field building structures.
Be called out to work out what went wrong and play detective.
Maintain structures or machinery.
What you do as an engineer depends on what sort of engineer you decide to be and what roles you want to perform, from consultancy to maintenance.
Prospects After Graduation
Some roles are available because you are a graduate, and some others are available because of your architecture or engineering degree.
Architect and engineering graduates have plenty of opportunities to follow their chosen profession or do something completely different using their transferable skills.
Architecture Students
After graduation, most architecture students progress by working in architects' offices either in the public or private sectors.
Some go on to gain their license and qualify to design buildings and call themselves Architect. But there is a broad scope, including following one of the following or different career paths.
Landscape architects – injecting greenery into and enhancing the quality of the built environment.
Urban planners – making cities work better for people and the planet.
Restoration – breathing new life into old buildings.
Research – the digital landscape creates new tools and ways of working.
Lighting – indoors and out.
Design – everything and anything that needs design skills.
Media – games, and film.
Engineering Students
Engineering students can go anywhere and everywhere.
There are some specific roles associated with each engineering option, but you will find engineering students in management, finance, IT, technical writing, research, and management consultancy.
Taking mechanical engineering as an example, graduates move into roles with:
Engineering, construction, transport, and manufacturing companies.
Research and development.
Consulting engineers.
Public departments.
Military.
Not-for-profit organizations.
Reaching the Top
Both architects and engineers need to gain a professional license in their state to describe themselves as an architect or an engineer.
This process involves extra work experience and examination success beyond the graduate level.
Licensed Engineer
Individual state rules may vary, but in general, the path to becoming a licensed engineer is:
Hold an ABET-accredited degree – takes around four years (source).
Before or after graduating, pass the Fundamentals of Engineering exam – six hours of multiple-choice at an assessment center.
Around four years of relevant work experience.
Pass the Professional Engineer exam in your branch of engineering – around eight hours of exam time (source).
You can expect a minimum of eight years to achieve professional engineering status.
Licensed Architect
The state rules vary, but the process involves:
Hold a relevant accredited degree – takes around five to six years (source).
Gain relevant documented experience – logged and certified over specified areas.
Pass the Architect's registration exam (source).
The work experience must cover all the specified areas with sufficient hours logged – it can take four or more years, depending on your work experiences.
In theory, you can become a licensed architect in nine years. But most architects take an average of twelve years or more to achieve licensed status.
This post detailing the possible paths to becoming an architect goes in-depth on what it takes to get there.
Salary Levels
Is architecture or engineering better for salary levels?
| | | | |
| --- | --- | --- | --- |
|   | Bottom 20% earn less than | Top 20% make more than | Average |
| Architects | $41,304 | $113,558 | $68,486 |
| Civil Engineers | $48,224 | $119,177 | $75,810 |
| Mechanical Engineers | $46,675 | $111,828 | $72,246 |
| Electrical Engineers | $62,048 | $151,673 | $97,011 |
(source)
Engineers typically get more money than architects in salaried positions, but on the other hand, architects tend to score higher in job satisfaction.
Civil engineering or architecture is an interesting comparison as the two professions are similar and work closely together on projects.
Does the License Make a Difference?
The Bureau of Labor Statistics compiles records of licensed professionals, earnings as a median average, and the outliers. Architects still receive less money than engineers in most cases.
But individual experiences vary.
| | | | |
| --- | --- | --- | --- |
|   | Bottom 10% earn less than | Top 10% make more than | Average |
| Architects | $48,700 | $137,620 | $80,750 |
| Civil Engineers | $55,380 | $144,560 | $87,060 |
| Mechanical Engineers | $57,130 | $138,020 | $88,430 |
| Electronics Engineers | $63,020 | $155,880 | $101,250 |
(source)
The license is a factor that improves the earning potential of both engineers and architects.
Part of this uplift may result from the possibility of running your own business as a licensed professional and benefiting from a share of the profits generated by your efforts.
What is the Main Difference Between the Two?
Architecture and engineering, particularly civil engineering, have cross-over points in the scope of their work.
What can an architect do that an engineer cannot?
Both civil engineers and architects design bridges, dams, buildings, and other structures.
What does an architect bring to the table that is different from a civil engineer?
In a word – art.
People prefer to pay an architect to design their house rather than a civil engineer because of the design touches, the appreciation of how light transforms a room, and the human touch.
A civil engineer will design a building that will stand up, resist earthquakes, or whatever other structural parameters you give them. But most civil engineers do not concern themselves over concerns that the building will echo ancient Greece or delight the eye.
Finally
Architects consistently earn less than engineers, but they consistently rate higher for happiness and job satisfaction – money does not buy happiness.
Architecture is a longer journey than engineering, but all philosophers tell us that a longer, happier journey is part of living a fulfilled life.
Engineers and architects look at the world in a slightly different way and attract different people. In making your decision, you need to work out what makes you happy and what skills come easily to you.
People who lean towards the arts tend to gravitate towards architecture with its art-heavy curriculum. On the other hand, engineers in all fields create extraordinary objects that retain iconic status for decades.
Architecture or engineering degree?
Consider your options by visiting and looking around both schools. Then choose the course that you find exciting and engaging for your unique combination of character traits and skills.
Architecture or engineering degrees will both open many doors.
References:
https://newschoolarch.edu/academics/school-of-architecture-and-cm/infographic-architecture-vs-engineering/