Architect vs. Interior Designer: Can One Be the Other? (Explained)
Most people are clear in their minds that architects create structures and interior designers make them livable. But can one person fulfill both roles?
Can you be an architect and an interior designer?
Architects build more than buildings (bridges, dams, parks), and Interior Designers create more than house rooms (offices, hotels, yachts, retail spaces, leisure centers).
Both are designers with a historical perspective and an artist's eye.
You can approach the combination of architectural and interior design (ID) skills from an architect with interior design skills or an interior designer with architectural skills.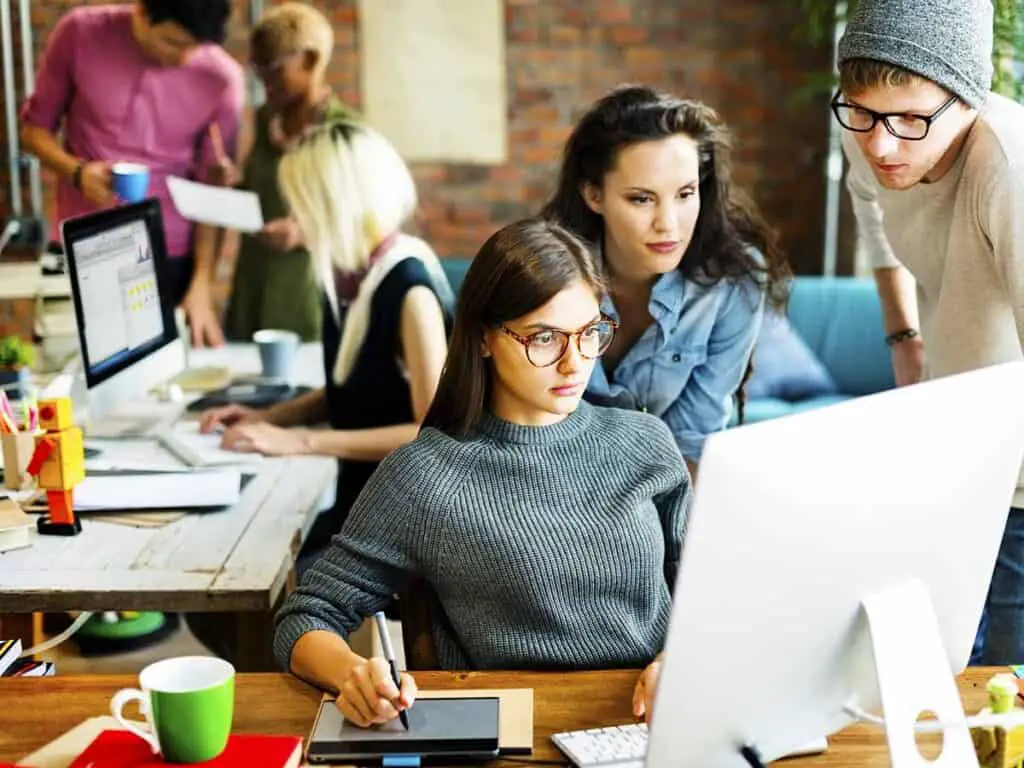 From Architect to Interior Designer
To call yourself an architect, you need to go through ten to fifteen years of study, examinations, and work experience to gain your license.
A licensed architect can legally design commercial buildings and buildings over three stories and plenty of other projects.
Most architecture degree courses include interior design as part of their studies, so an architect is in a great position to offer interior design services.
Some states require you to license as an interior designer to provide registered interior design services (source).
An architect with an interest in interior design can opt to certify as an interior design architect. These architects specialize in creating functional interiors.
Skills Base
An architecture degree or an associate degree in ID gives the necessary level of design skills as a foundation for pursuing a career in interior design. You can also add certificates and diplomas in interior design to your qualification portfolio.
The skillset for both architecture and interior design are similar:
Creativity – color, light, shade, and form.
Problem-solving – reshaping and using internal space.
Historical perspective – trends evolve and repeat.
Spatial awareness – people need to use or live in the space.
Computer skills with 3D rendering, designing, and other tools.
Can You Be an Architect and an Interior Designer?
Theoretically, you can be both.
You can be an architect and an interior designer at the same time. Many design firms provide architectural and interior design services under one roof. It is a distinct advantage for a business to offer a cohesive design style from beginning to end. The clients also get the complete project management from building design and construction to final furnishing.
The idea is the same as a general accountant or lawyer providing a full portfolio of services.
In practice, most architecture firms choose to specialize with one type of architect involved in the building's design and construction and another team on fitting out the interior.
You can be both, but most opt to specialize.
Interior Design on the Side
If you have the time and energy for a secondary business, then interior design is a complementary fit for a licensed architect.
When you are an employee architect, you can choose to take on freelance design work in interior design – provided the firm does not prohibit the undertaking.
Interior design allows the playful use of colors and textures as well as intelligent use of space; they are an extension of an architect's design skills.
Architects as Interior Designers
Philippe Starck (source) is an architect and designer with a strong ethical message and a creator of unique spaces inside hotels and other buildings.
The Rockwell Group offers a team that combines architects and interior designers to create a unique experience in the built landscape.
Katerina Antonovich (source) combines the roles of engineer, architect, and interior designer to create sought after luxury interiors with a futuristic yet classical approach.
Charles Zana (source) is an architect whose interiors are artistic (but functional) installations appearing worldwide in public and private spaces.
Can architects do interior design?
These and plenty of other architects do interior design superbly. Architects, as interior designers, have a long history because interior design brings a building to life for most people.
Starting as an Interior Designer
You don't have to do an architecture degree to become an interior designer. You can choose to focus on interior design in your studies and license as an Interior Designer as a recognized professional.
Interior design can cover everything from choosing soft furnishings to restructuring the interior layout with internal building work.
An interior designer may pay attention to the décor, but they are different from internal decorators.
Legal Matters
You need a license to call yourself an interior designer and work without supervision in a commercial space in some states. You don't need a license to work as an interior designer in residential property in most cases.
On the whole, the world of interior design is less regulated than architecture.
The advantage of obtaining the license is the ability to sign off on interior design documents and give your clients confidence in your skills.
Your route to license includes a degree and work experience, but it is more varied than the architecture route.
You either have:
A bachelor's or master's ID degree (CIDA or non-CIDA) (source), or
A bachelor's or master's degree (other major) and an ID certificate or diploma, or
An associate degree in ID.
(source)
The final step is passing a three-part examination:
Fundamentals: multiple-choice exam (125 questions)
Professional: multiple-choice exam (175 questions)
Practicum: interactive exam based on case studies
(source)
To retain your license, you need to re-register every year and compete between six and eight hours of continuing education.
Interior Design Skills
The skills are like architecture but intending to make a functional, attractive space for people to use.
The skillset includes:
Creativity – color, shape, form, what matches, what pops, and how to put together a "look"; most people expect an interior designer to be artistic with flair and style.
Attention to detail – the client expects a quality finish with every detail planned and executed to perfection.
Finger on the pulse – trendsetting and matching. Interior design styles evolve and change. Your client expects to get advice on what works now and in the future.
Sustainable practice – a state like California expects eco-friendly practices as standard. Your clients expect you to be on top of the best technology and materials for the planet—especially commercial operations with an eye on their corporate responsibility and green points.
Communication – you need to hear the client's vision, interpret it, and persuade them with your design. You have interior contractors, material suppliers, and plenty of other people to manage and enthuse.
Computer designs and creative sketching – your client expects an artistic presentation, and the ability to freehand sketch while interviewing really helps sell your service (for architects and interior designers).
Project management – along with creativity and communication, you need to organize everything around you to ensure that the design project completes on time and within budget.
Interior Design and Architecture
There is a cross over between architecture and interior design on the functionality of rooms.
Interior design covers everything concerning the interior:
Window placement (and curtains over them) to allow natural light into the room.
Lighting and power outlets.
Fitted cabinets.
Furniture selection.
Surface finishes.
Room layouts (and the paths through rooms).
Eco-friendly features.
Color and style schemes.
It helps if the architect and the interior designer have the same vision of how the finished room looks and functions.
Can an Interior Designer Become an Architect?
The route from architect to interior designer as an additional or full-time role is straightforward.
Going from interior design to architecture is possible but relatively more complicated; you need to gain the relevant architecture experience and qualifications to be a licensed architect, taking 8 to 10 years to accomplish.
Architecture firms with interior design teams offer the possibility of a crossover between the professions if you find your interests lie in that direction.
When a client is looking at a hotel or home's remodel, they may ask, is interior design and architecture the same thing when changing the inside?
The confusion arises from the substantial overlap of skills and interests. Both work on creating usable spaces for people and need to comply with legislation to make those structures safe yet beautiful.
Architects vs. Interior Designers
Do architects do interior design?
Yes, and plenty of architects choose to specialize in that field.
Do Interior Designers do architecture?
Some aspects of it, yes, but an Interior Designer does not have the skills or the legal status to design a building. But having an Interior Designer as part of the architectural team means that you end up with a more useful structure for human use.
Both architects and interior designers have skills and creativity, and both are design professionals in the building industry and have many career opportunities outside real estate.